A rose from dad - Angel Stories
By: Maggie Castaneda
December 2007

Here is my story of an encounter with an angel. It was a Sunday morning I got up as usual doing my laundry etc. Then I got the urge to go to the flea market. I asked my son, do you want to go to the flea market with me? He said yes, so we went. I went around to the venders feeling happy, and generous. Seeing the need of the people. I bought what I wanted, and gave to the people in need selling bread etc, and to those asking for donations for church, which I normally don't. I am never sure where the money goes. But something in me told me to go ahead and donate.

So then when I was done with my rounds. I told my son lets go buy some Chinese food for your father to go as he asked. So we bought some food, and were headed to the car in the parking lot. In the corner of my eye. I could see a young man in a grey pin stripped suit , with a nice lavender shirt on, clean cut, kind of standing up from a scrunched position like he just landed in the middle of the parking lot.

He saw that I saw him, and asked can I have a moment of your time in Spanish. I said, "yes". I told my son if he is selling something we are not buying anything. But he had nothing to sell just a long stemmed white rose in his had. He said, "I am a person that has had a lot of bad things happen to me". "I know you have a good heart ,and a good life". I shook my head yes. He said, "you know this" I said yes. I knew this because this is something I pray about constantly. Why people are mean to me if I have a good heart? And why am I not happy or satisfied with my life, why do I want more? He said he wanted to give me this rose. I took it, and he asked if he could have a hug. Normally I do not give out hugs, but I was not afraid. His face was like porcelain ,and his eyes were a calming blue. He looked like my daughter friend which I love him like a son. So he did not look like a stranger. I gave him a hug , and he left in the opposite direction. I turned around , and he had his head turned around looking at me. I waved good bye, and hugged my son ,and said what a good day, I even got a flower. I raised the flower to the sky ,and said thank you daddy, and I blessed myself. For I knew this was a sign from up above, a gift from daddy. I turned around again to look at him, he was gone. I was shocked and weeped like a baby as I got in my car.

I knew my dad knew I was thinking of him on his birthday ,and wanted me to have some peace in my life, and stop grieving. He got the rose I lit for him, and returned a white rose to me. White rose is the sign of peace. I am told angels usually give you a sign something you recognize. I knew what that white rose ment.

You see prior on Dec 14th is my dads birthday, I was so sad. I was working ,but more than anything I wanted to be at the cemetery with my father on his birthday he passed in August of 2005. My mom in 2003. So I wanted to do something to let him know I was thinking of him. So I had a little white rose candle, my daughter had given me as a gift. I was saving it for a special occasion. So what better occasion than my fathers birthday . So I lit the candle all day in front of a 5x7 picuture I have of my dad at work.Crying off and on all day missing my father still grieving. The following Saturday I couldn't get to the cemetery fast enough to be with my father and mother and spend time with them.

So I came home told my husband the experience and put the white rose in a long tall vase. That rose was getting more beautiful by the day. It last 2 weeks without me watering it ,and seems to glow at night. I talked to some spiritual friends about the experience ,and they all agree I had an encounter with an angel. Yes it was a sign.

---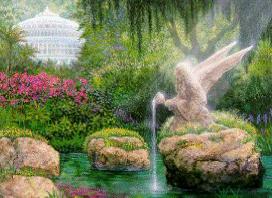 Some may never see with earthly eyes these heavenly beings or know that they exist. Many are unaware of the numerous ways they have protected and guided us. We would like to share with you the stories of people who take pleasure in expressing how real angels are.
---
More Saints
---
---
---
---
---
---
---
---
---
---
---
---
---
---
---
---
---
---