BEAMING HAPPINESS - Angel Stories
By: abby
Last year, as I grew closer to God I caught moments where I would still doubt Him. Then as summer came, something was missing. I still can't point that something out, but I knew it was gone. I caught on to this and realized that my relationship with God was disintegrating. And it almost felt as if I didn't care, but deep down I wanted that "something missing" to come back.
During what I think was the month of July, I really had trouble believing. I would have random thoughts of"I don't believe in God" or"God doesn't exist, he's not answering my prayers". For the most part, I couldn't feel anything when I thought these things. That something missing wouldn't prove me wrong like it always had.
Then, one night as I was lying in my bed, I prayed to God to prove to me he exists in my dream. I begged for Jesus to visit me, and I told Him that I didn't care if I remembered the dream or not, I just wanted to hear something from Him.
I woke up SMILING at about 5:00 A.M. and felt something. I was happy. Not that cheesy, corny happy when you can't stop smiling. That kind of happy that makes your heart beam and overwhelms you so much that you can't even think or cry, just breathe. I have never felt that way before. The first thing that came out of my mouth was,"Jesus". I could feel the air around me and it almost felt as if someone touched my face. God had answered my prayer.
I do not remember the dream, but I do know that NOTHING but Jesus could have made me feel that way. I may be unsure about a lot of things, but I know that Jesus came to me that night. You may be reading this and be thinking that it wasn't him, but listen to me: When you feel that beaming happiness, you'll know.
---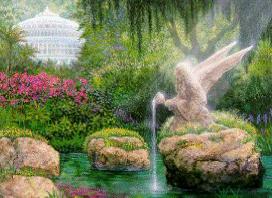 Some may never see with earthly eyes these heavenly beings or know that they exist. Many are unaware of the numerous ways they have protected and guided us. We would like to share with you the stories of people who take pleasure in expressing how real angels are.
---
More Saints
---
---
---
---
---
---
---
---
---
---
---
---
---
---
---
---
---
---