No Title - Angel Stories
By: Amy
I just found out I was expecting another baby, I just took the pregnancy test in the early morning while my other children were sleeping. I was shocked to find out it was positive.I allready had 4 other children to care for, and was nursing my 11 month old son at the time. so I was scared saying, how am I going to do this.How am I going to afford another, It was a windy morning and I was looking out the window looking out at the quiet small town and my back yard. I noticed a bird on top of a big pine in the back yard. I stared at the bird thinking how beautiful. How strange it was still staying on the tree top with all the wind that was blowing. A peace came over me and I felt that this child was meant to be, and I would deal with it, whats one more child.
Anyway, Emalie was born , my beautiful baby girl, and on her arm, almost as a tatoo, was a tiny bird simular to the bird I had seen the morning I found out I was expecting. She is a very sweet girl and loves jesus allready and is only 4 years old. I really think that the bird on her arm and that I had seen that morning was a symbol of the holy spirit. I have since had one more beautiful baby after her, his name is timothy and is almost 2. He is a special needs child and I am so blessed to have 6 beautiful children that God sent me. This was all Gods plan and I am ever greatful, and know that I am on the path to Gods will. praise Jesus.
---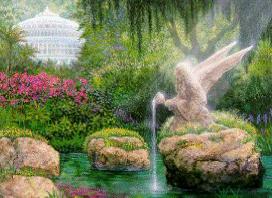 Some may never see with earthly eyes these heavenly beings or know that they exist. Many are unaware of the numerous ways they have protected and guided us. We would like to share with you the stories of people who take pleasure in expressing how real angels are.
---
More Saints
---
---
---
---
---
---
---
---
---
---
---
---
---
---
---
---
---
---