A Blessed Life - Angel Stories
By: Emma
i have had many experiences with angels even though im still really young. The first incident i can recall is when i was 5 or 6 years old and i was just in my room looking out of my window when then clouds just changed! i can't really explain it but they turned into a vision of the Virgin MAry. It looked like a stained-glass window and it was one of the most beautiful things i can remember.

another experience i barely remember was when i was praying with my plastic rosary in church and all of the sudden it turned to gold. i was very little and that is all i can remember

the next happened when i was around nine or ten. i was diagnosed with lupus as a really young child. I ever knew this until recently, but i was expected to die because of my illness. I just remember hating all the doctors visits and i hated being different from all my friends. So one night with my father i told him i didn't want to be sick anymore and i started weeping. we prayed together and that night i was healed. my mother didnt belive this so we went to my schedualed doctors appointment anyway in the city. while walking to the big hospital thing, i saw a man who looked homless walking around the park. he was african american and wore baggy clothes and was holding a can of beer (but i dont remember him drinking from it) i came out of the doctors office a while later and was apperantly healed. i walked with my parents back to our car and the homeless man came up to us and started talking to us. i cant say i remember any thing even though he talked to us for a while. but i know he put his hand on my head and told my parents "you know, your daughter is healed, right?"

recently my dad told me that this man appeared to him many times throughout his life after that. his name is alexander and we know beyond a doubt that he is my daddy's gaurdian angel. i am so thankful that he answered my daddy's prayers.

now just this summer at a catholic summer camp i had the most amazing experiences of my entire life. my councelors told me and my friends about how they were baptised in the spirit and how the holy spirit dwelled in them now. we were so awestruck that we asked our good friend and main go-to spiritual guide about this. that night before bead an instence happened in our cabin when he and some other very spiritual people came into our cabin to pray with us. during our prayer, they lapsed into praying in touges. a deacon then baptised all of us in the spirit. it felt like ants crawling through my viens but it was so beautiful and wonderful that i wanted to laugh and cry at the same time (which im sure i did). i was thrown back in my bed and was sort of unconcious, but not really. its hard to explain. then later that week while me and some friends were singing to God and giving him glory, the same man who baptised us started talking, but i was weird cuz it didnt seem like him. Well, actually he has the gift of knowlege where Jesus can use you to talk through in order to actually speak to people. it was beautiful! i think i cried. He told us how much he loved us and alot of wonderful things. this hapened two or three more times. also, the Lord sent us a vision where we were in His Holy temple and walking toward him, though i was so downcast i didn't want to look at Him! i walked toward his throne and up these 3 stne steps, then He was there and He embraced me! i felt like my heart was being squeezed and i lost my breath and was thrown backward. i can remember His beautiful light! it was really really bright and he told me He loved me. thats probably about when i began to feel the holy sprit's presence in my palms when i prayed. every time i prayed i felt like i was floating. then i was sent a message from God in which he told me what i should do in my life and how i should serve Him and other people with the girfts He gave me. weeks after camp ended i went to a praise and worship where i recieved the gift of tounges. and now, God has given me another beautiful gift. the gift of knowlege! i am so grateful and thankful and will forever sing God's praises!
---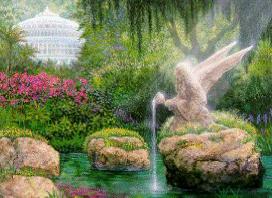 Some may never see with earthly eyes these heavenly beings or know that they exist. Many are unaware of the numerous ways they have protected and guided us. We would like to share with you the stories of people who take pleasure in expressing how real angels are.
---
More Saints
---
---
---
---
---
---
---
---
---
---
---
---
---
---
---
---
---
---