whatever you do to the least of my brothers - Angel Stories
By: Manny
many years ago now, i was in a destitute state. had recently suffered a divorce, and was very unsure of my own direction. i lived in a mid sized town in west michigan, and my encounter was not direct, but rather directed. i was walking down the street, and as usual in my own state. it was january or february, and very cold. my pace and gate were direct and focused. i was going home. i'd just finshed work for the day. i had no car, no money yet to speak of, and i my my left shoulder was pulled back. pulled hard enough to make me stop and turn. i looked down, and there was this old man (must've been like 60) no coat, on a day that i recall being near zero. in short i didnt live that far away, i gave him my coat. (i had others) the last $10 i had, and the rest of my pack of smokes.
i guess that by itself doesnt say much, but when i got home, i was standing in my kitchen making whatever it was i had. (probably mac and cheese or something) and i felt "lifted" like someone was holding me up. i felt weightless. it was weird, and i wouldnt have given it much more thought except that i kept hearing "thank you" it was like a whisper, and no matter which direction i turned it was always behind me. well, in short, my opinion will always be that it was a directive and a choice. i was given a car the next day by a freind who was moving out of state.
---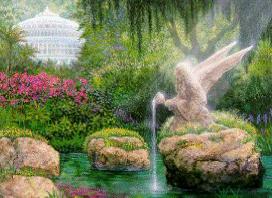 Some may never see with earthly eyes these heavenly beings or know that they exist. Many are unaware of the numerous ways they have protected and guided us. We would like to share with you the stories of people who take pleasure in expressing how real angels are.
---
More Saints
---
---
---
---
---
---
---
---
---
---
---
---
---
---
---
---
---