St. Michael and the Church Lights! - Angel Stories
By: KevinGH
A few years ago, while praying during my hour of Eucharistic Adoration in our parish church I felt compelled to walk up in the back to the choir loft. From this vantage point you can kneel, and look down over the pews, and towards the sanctuary. Our church is moderate in size, not a chapel by any means. I was all alone, during my hour of 5-6 a.m. It was winter time, definitely still very dark outside. The interior of the church has a dozen or so light fixtures, each having many lights. During the once-a-week night we have Adoration, these lights are dimmed. Since I was up in the back, the light was even dimmer. As I finished the Rosary, I felt compelled to pray the St. Michael prayer. At that time I mostly knew it, but knowing it was always on the back of our missal, I grabbed it. I begin the prayer and inside I say to myself "I can't read this too good" - INSTANTLY the church lights go significantly brighter - I say the prayer, chills inside, and begin to exit the choir loft. At this time the lights go back down to dim.
Think what you will, but of course this happened without me thinking in any way it was...going to happen! That very day I ordered a St. Michael medal & necklace. Got it, had it blessed by our pastor, and on the back I had the date of this "happening" engraved. St. Michael, pray for us against the evils of Satan - amen!

---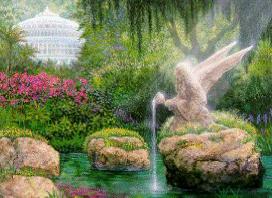 Some may never see with earthly eyes these heavenly beings or know that they exist. Many are unaware of the numerous ways they have protected and guided us. We would like to share with you the stories of people who take pleasure in expressing how real angels are.
---
More Saints
---
---
---
---
---
---
---
---
---
---
---
---
---
---
---
---
---
---