To The Rescue - Angel Stories
By: Marjorie Navara
My Angel Story is really about three encounters that I had with Angels. #1: My Dad died 20 years ago and he had cancer and was in Hospice in the Hospital for 6 weeks. During that time, my Mom stayed with him every day except for one day. He died in July and in February she had a Stroke and was still getting over the affects of the stroke and she was tired the day she didn't go to the Hospital. When I went to tell my Dad, he said not to worry because his Mom was with him. I was a bit confused until he assured me that his mother, who had passed away before my parents were married, was with him and as I looked up to where he was looking, I saw her image and she nodded and said she would stay with my Dad while I went to work. I never told anyone of this encounter and when he was dying, he was again looking in the corner of the room and his mom was there again and said everything would be OK, it was his time to go. Both my Mom and I were with him when he died, peacefully.
#2: For several years on a Sunday in September, our local Catholic Church would have a Fall Dinner. At this particular Dinner, I was selling tickets for the meal and when my shift was over, my Mom who had been sitting with me, wanted to go home because she was tired. My Mom had Osteoporosis and walked with a walker and since our church had no elevator, she was carried by wheelchair into and out of the church. But with everyone busy, she didn't want me to burden anyone and she said that she would climb the stairs to the outside door. Well, I managed to get her upstairs, but I knew that she wouldn't be able to walk to the car and she said that I should go get it. I was reluctant to leave her alone and out of the corner of my eye, a lady came and said: Go, and get your car, I'll stay with your Mom. So, I did. When I brought the car up to the church and I was putting my Mom in the car, I turned around to thank the lady and she was gone. It was like she never existed and even Mom said that she hadn't noticed anyone around her. But, I knew, her angel was with her when she needed her.
#3: My Mom had to have surgery in 2004 for a torn ligament above her left knee and she ended up in a nearby Nursing Home for Therapy. This happened in October and she was home by December 15th, just before Christmas. She was doing pretty good and one night before Christmas, I awoke and saw an angel sitting by my Mom and she told me to go back to sleep because it wasn't her time yet. She was tired but on the mend and enjoyed Christmas Eve day with the family. Then at night we would start to plan what she wanted for her Funeral Mass. I'm not real sure why, but it was urgent for her to have me write down everything she wanted and so I did. She asked me if I thought I could play the Organ for her Funeral and I said yes. And I did. Except the song that I played and sang while her casket was being closed, to this day I have not been able to play again. It was: Hail Mary, Gentle Woman. Both Mom and Dad always liked listening to me play both at home and in church. My sister, who had retired and was living with us, was angry that we would even consider doing this, but Mom and I knew that it was the right thing to do. On January 20th, my sisters, I have 2 and I went to daily Mass. The Mass intention was for my Mom. When we got home, I had brought Holy Communion for her and she was still in bed and I asked her if she wanted Communion right away or after I had washed and dressed her for the day. She said she wanted it right away. So, I gave her Communion and while she was saying her prayers, I went to get the water ready for bathing her. After I was done and she was dressed, I turned to take the water into the Bathroom and as I looked back at her, she was having a Massive Stroke. You have to know my sister, when I called her in to stay with Mom so that I could call 911, she broke. All she could ask Mom was why she couldn't talk and Mom looked so afraid. It was a very icy morning and when the ambulance came, I wanted to go with her, but again her angel told me to stay and give the paramedics all of mom's medicines she was taking and that she, the angel, would go with her. My sister was of no help. I stayed with my mom for 10 days in the Hospital before I said that I wanted to take her home. Mom had expressed to me beforehand that if at all possible, she wanted to die at home and I felt I had to make it happen. So, on the 28th of January, I brought her home along with a Hospice Nurse and the nurse was with us for 2 full days and then on Sunday afternoon I called the Hospice Nurse and asked her to come back that Mom was having a really hard time breathing and her Blood Pressure was all over the place. So, she came back and I got the rest of the family over to the house and at 11:45 pm at night, my Mom took her last breath. She never regained conscienceness after she had the stroke on the 20th. Each day I would pray the rosary for her at her hospital bed, each night I would sleep in her room and during the day one or the other of my 2 sisters would stay with her. I am the youngest in my family and have never married. I'm not sure, but I always knew that God put me on earth to take care of my parents and it was something I'll always treasure. Because my Mom died in January, we had to hold off on Burial until April. The months in between, I felt like something was missing - not settled. After we were able to bury Mom, the angel came one more time and told me that they were safe and not to worry anymore. All their pain and sorrow were gone. I was both happy for them and sad for me. My Mom passed away in 2005, 8 years ago, and when you lose both your parents, I know what it feels like to be orphaned. But, I do hope and really do know that I will be reunited with them again. I'm just grateful that the Angels helped me to see that God will and has taken care of us for all time.
My stories end there. Just a foot-note. I am caretaker now for Cats, some 25 of them. I guess God has given me a new job of taking care of animals that need food and friendship and it works both ways. The first cat that I had came the year my Dad passed away and she just died last July. I thought when she came that she was a 'male' turned out she was a 'female' and she was pregnant and had 5 babies and over the years she pretty much produced all of the cats I now have. Its difficult to say, but she taught me to be humble, to give and expect nothing in return, and to care for others no matter if they are humans or animals. She will always have a place in my heart.
God Bless all the 'little' Angels that God sends our way.

---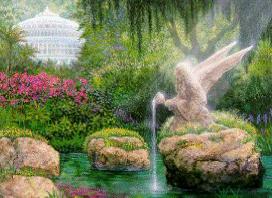 Some may never see with earthly eyes these heavenly beings or know that they exist. Many are unaware of the numerous ways they have protected and guided us. We would like to share with you the stories of people who take pleasure in expressing how real angels are.
---
More Saints
---
---
---
---
---
---
---
---
---
---
---
---
---
---
---
---
---