Holy Angels Among Us - Angel Stories
By: Rebecca
I really did not know where to start with the documentation of my experience, however, I often feel I should begin with a validation of my sanity. I assure you that I am an average person, of average intelligence, and not suffering from hallucinations. I knew that I must share this experience with others, but was unsure as to how to proceed entirely. Although, I have discussed this dilemma with others, my son, Gabriel encouraged me to write the experience in its totality and create this website.
I hope my efforts to share this with each and every one of you will find some benefit. It is not easy to "put yourself out there" especially for a person like me--a rather private person. I hope sharing this most incredible life changing experience will find a home in your heart. My intent is to present you with an honest description of the event. My hope is that the message is strengthen your faith.
One night when I was about 9 years old, my brothers and I were sent to sleep at bedtime. As I lay in bed, I suddenly saw a powerful light near my side of the bed. The light had pastel colors, but was such a white brightness, the likeness of which I had never seen or have ever seen since. I was not sure what this was so I sat up and tried to see what was in the room. I was almost afraid at first, and then the laughter came. I heard the most beautiful, heartwarming and endearing laughter.
There they were, several beautiful beings, almost dancing in flight as they laughed at my fear of them. I became instantly in awe of these most beautiful of God's creation. They had beautiful, kind and nearly transparent faces. Each of their gowns glimmered with a slight hue of a different color radiating from each of their gowns. These angelic beings were only about 6.5 inches tall with 2.5 inch wings. They stayed with me while not saying anything. They performed as if they were sent out for the purpose of making their presence known to me. My brothers were now asleep next to me. I tried to wake my younger brother and he would not awaken. I then reached out for my youngest brother and told him to look. We sat there in awe.
The angels were so happy and their happiness and beauty made me want to hold them and bring them close to my heart. I reached out to the angels; they laughed and disappeared back into what seemed like another dimension. I lay there quietly the rest of the night hoping the angels would return. We woke the following morning and I told my mother. She refused to acknowledge that I had seen anything. I often expect that reaction now, but every time I have met someone that I knew was struggling with faith or fear, I would share my story with them. I am now 54 years old and with much sadness I tell you that they have never returned. This event greatly impacted my entire life. I love going to Church. I love the part of the Mass/Church Services where we sing Holy, Holy, Holy with all the Choirs of Angels.
I would like to say that I subsequently lived charmed life, but that would not be the case. I have lived a life often with financial, health, or other of life's struggles, but I always found my way out keeping in mind that I was not alone. I knew that somewhere in this multidimensional life that there were Guardian Angels looking after me. I have spent a good portion of my life in search of the God that created those beautiful creatures.

---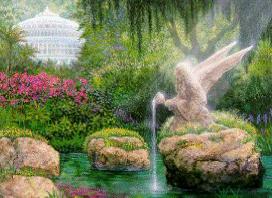 Some may never see with earthly eyes these heavenly beings or know that they exist. Many are unaware of the numerous ways they have protected and guided us. We would like to share with you the stories of people who take pleasure in expressing how real angels are.
---
More Saints
---
---
---
---
---
---
---
---
---
---
---
---
---
---
---
---
---
---