The Tallest Angel - Angel Stories
By: Karine-Geraldine Buchanan
This story happened in 1991. I was an art student in college and I had to walk a few miles with my heavy art work. This was proving to be very difficult however I decided I had to do it since it was evaluation night and I had no money for a cab.

The previous night I had a dream about the name Moses it was being repeated to me in many different languages. As I was walking out of nowhere a black man about 7 feet tall came and asked me if he could help me carry my art work. I told him I still had quite a walk he told me it was no problem. Upon walking I asked him his name and he told me it was Moses, I told him of my dream the night before and he told me it was very interesting.

We finally arrived and he told me I would be okay from now on and I thanked him. I picked up my things and turned back to have a last look at him and he was nowhere to be seen. I believe he is, always was and always will be my guardian angel. I thank God for assigning him to me.
---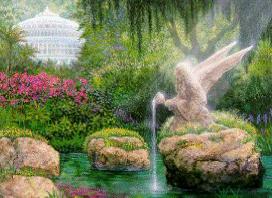 Some may never see with earthly eyes these heavenly beings or know that they exist. Many are unaware of the numerous ways they have protected and guided us. We would like to share with you the stories of people who take pleasure in expressing how real angels are.
---
More Saints
---
---
---
---
---
---
---
---
---
---
---
---
---
---
---
---
---
---