The sign - Angel Stories
By: Wren
One day I watched an old Fulton Sheen show in which he told about making a pilgrimage for Mary. To show his faith in her he brought no money to pay for his hotel and relied on her to help him in this area. Towards the end of his trip when he was starting to get nervous about the bill he met a group of tourists who paid for his hotel and some in exchange for his translating for them.

This story delighted me. Is it really so easy to ask and be given? I stepped into my lanai and with a happy, playful voice said, "Ok, God. Show me a sign."

It was a cloudy day and I didn't expect anything because the sky was completely cloud covered. Then, within about five seconds of my request a large white cloud formed. But it was not the comforting vision most people would expect. It was in the form of the devil, and the detail was amazing! I was terrified!

I called out to my husband, but he took his time and it was gone before he got there. Seeing the seriousness in my face, he believed me and asked what it looked like. I told him it had the horns and beard but strangely enough, the face looked like his mother's.

This marked the beginning of a very difficult time in my life. A few months later I was let go from my job and my mother in law, who I considered the most evil person I knew, started developing dementia. Within two years she was in a wheelchair and on a Holy Thursday we brought her to live with us. We've been taking care of her in our home since.

Now I no longer ask for signs. The only other sign I've been given is that the purple passion flower in my yard has been producing red flowers. I take it that she is our passion and our care of her will bring us, and maybe her, closer to God.
---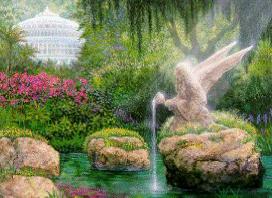 Some may never see with earthly eyes these heavenly beings or know that they exist. Many are unaware of the numerous ways they have protected and guided us. We would like to share with you the stories of people who take pleasure in expressing how real angels are.
---
More Saints
---
---
---
---
---
---
---
---
---
---
---
---
---
---
---
---
---
---