Angel of Death or Angel of Mercy? - Angel Stories
By: V
Many years ago I met a gypsy woman 'by chance' in the street who told me that she could see not one but several guardian angels around me. She said that this was necessary for some people because some people are more at risk than others. She was not the first person to tell me this.

Although I am highly skeptical of psychics, fortune tellers, and all forms of 'mancy', I instinctively believed that woman. Sometimes I have a strong sense of a protective force around me, and when I think about some of the scrapes I have got myself into, my survival cannot be explained by logic or chance, but only through divine intervention and God's protection.

I will not recount all my life and death experiences - they are too many - but I will share one extraordinary experience with you.

When I was younger I suffered with a deep depression. One lonely Christmas Eve, in the depths of despair, I went into my bedroom and stood before my crucifix on the wall. Looking at the crucifix, I prayed humbly to Our Lord, asking Him to spare me the suffering of this world. I begged Him to come and take me out of my body.

Within seconds, I felt an intense heat rise within me, as if I was burning up from within. At the same time, I heard an extremely loud sound - deafeningly loud - of something like rushing water or a strong wind, not in my head - but in the room. I could feel my Self slowly rising up. Not my physical body - my eyes were open and my feet were firmly on the carpet - but my Self.

I felt great fear. Terror, even. Silently, in my mind's 'ear', I thought: "NO! I don't want this." The sensation of heat and rising instantly began to dissipate. But the sound did not. It was like a rushing waterfall inside my bedroom. My eyes were open and I could see nothing unusual, but I could hear this deafening sound.

The sound of rushing wings?

I felt disoriented and dizzy. As if I'd just come off a fairground ride. I put my hands out and stumbled towards my bed, where I sat, taking deep breaths and taking in the everyday, familiar surroundings of my bedroom. Very slowly - not immediately - the whooshing sound faded away and disappeared.

And today I am alive to tell this tale, 10 years later.

Now what do you make of that? Did I imagine it all? Was it the angel of death coming to collect me? Or was it my guardian angel(s) fighting off the Grim Reaper, because God knew it wasn't yet my time?

I'll let you decide.



---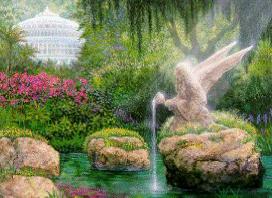 Some may never see with earthly eyes these heavenly beings or know that they exist. Many are unaware of the numerous ways they have protected and guided us. We would like to share with you the stories of people who take pleasure in expressing how real angels are.
---
More Saints
---
---
---
---
---
---
---
---
---
---
---
---
---
---
---
---
---
---