Encounter with an archangel - Angel Stories
By: June Warner
It was a glorious golden day, the 19th day of September, 1973
and it was a Wednesday and the sky was blue.
The sunset was blazing with a glorious orange and red. It was about 6.30p,m when I said evening prayers with my son David. He was approxinately seven years old and had been discussing some problems at school about bullying and other unpleasant happenings

I told him to remember that he had a guardian angel who. if he were to pray to him for protection he would overcome his difficulties.
We finished our prayers and David went into the bathroom to run his bath. I sat on his bed thinking of what he had told me about his unhappiness at school. As I sat meditating on the subject and of his guardian Angel of whom I had told him there appeared before me quite suddenly, a being of extreme beauty with a glory of copper coloured hair whose strands were finely groomed. This beautiful hair formed an aureole around his beautiful head. He had eyes of cornflower blue and he wore a garment of snowy white the collar of which was square shaped and it was embrioderd with sparkling gold. His eyes were
heavenward and his appearance was as white and pink as marble. His eyebrows were as strands of pure gold and his mouth like a rosebud, in shape and colour. The whole room became freezing cold. I could not speak to him as he knelt before me. I was so deeply moved by this my spirit sp9ke for me,sayng
'I should be kneeling to you'
I felt myself being moved then in the spirit and I was turned to face the window in the opposite direction. I was led by the Archangel through a passage way which led to Jesus in the Blessed sacrament. Jesus was the Host and He passed between us and we worshipped Him together.

Then I was returned to the bed and the angel left me.

David my son, was outside the bedroom door and unable to enter.
He told me later, that he had seen a bright blue light under the door and tried to come into his bedroom where I was being visited by the Archangel.

I sat in an armchair downstairs in a trance like state. I don't know for how long

When I was able I told him all about what had happened and
that I knew how great God is and that He is watching over us.
After that David was not so afraid of bullies and was able to cope with situations more easily.
When I became very ill two years ago I faced death wondering how things would be for my family. a priest at my church prayed to the Archangel Raphael for me. This was the Archangel who I believed had visited me and so I joined the priest wholeheartedly in prayer for my deliverance from probable death.
I am now to all sense and purposes cured and I am resuming my
life with more interest and devotion to God then ever.

This wonderful night of Wednesday September 19th in the year 1973, gave me an encounter with a divine prince of Heaven and a servant of the Most High.

This is my story of my encounter with an Archangel. One who stands near the throne of God and one who cares enough for me God's most unworthy servant to visit me in great beauty and majesty and later deliver me from death by the Grace of God.

Sonalways believe in Gpod and in His angels archangels and saints It's true they are real, they do exist and by the Grace of God more us us will encounter them.










---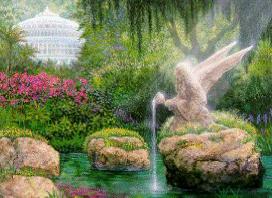 Some may never see with earthly eyes these heavenly beings or know that they exist. Many are unaware of the numerous ways they have protected and guided us. We would like to share with you the stories of people who take pleasure in expressing how real angels are.
---
More Saints
---
---
---
---
---
---
---
---
---
---
---
---
---
---
---
---
---
---