Godsend - Angel Stories
By: Char S.
It was a chaotic time of my life. My marriage had fallen apart, my job was not going well, I was in a state of depression and could not provide necessities for my young sons because of the self-doubt and negative focus. I felt all alone in a desparate time.
On this particular night, I had just climbed in my bed and layed my head on my pillow, when I heard footsteps coming towards my bedroom. I was paralyzed with fear, I closed my eyes in hopes whoever it was would just leave. I felt a hand brushing my hair from my face as to comfort me. Still completely frightened I could not move. What seemed like a slowing of time was actually all a matter of a few minutes, if not seconds. Now I felt a cool breeze blowing on my face, I thought to myself, I need to get out of this situation, I opened my eyes and jumped out of bed. In front of me stood a very tall transparent figure of an elder man. I blinked and he was gone.
The next day was a new day for me. I knew in my heart I was not alone and could not let my beautiful sons see their mother in such a sad state any longer.
I thank the Lord for sending me this vision of hope. It gave me the nudge necessary to get on with my life in a positive way.
---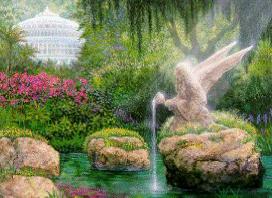 Some may never see with earthly eyes these heavenly beings or know that they exist. Many are unaware of the numerous ways they have protected and guided us. We would like to share with you the stories of people who take pleasure in expressing how real angels are.
---
More Saints
---
---
---
---
---
---
---
---
---
---
---
---
---
---
---
---
---
---