By Catholic Online (NEWS CONSORTIUM)
6/19/2013 (2 years ago)
Catholic Online (www.catholic.org)
Described as a 'singularity,' intellect, personality will be able to live forever
Humans will be able to upload their entire minds to computers and become digitally immortal within the next generation. That's the projection of a Google Futurist Ray Kurzweil, who also predicts that the biological parts of our body will be replaced with mechanical parts as shortly as 2100.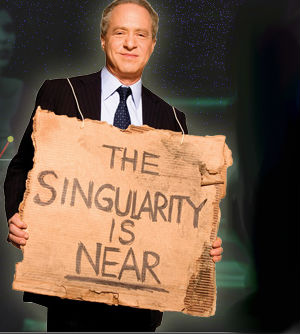 Google Futurist Ray Kurzweil also predicts that the biological parts of our body will be replaced with mechanical parts as shortly as 2100.
LOS ANGELES, CA (Catholic online) - Kurzweil, director of engineering at Google made the claims during his conference speech at the Global Futures 2045 International Congress in New York.

Becoming digitally immortal is an event called "singularity." Technological singularity is the development of "super-intelligence" brought about through the use of technology. "Singularity" was first referred to by mathematician John von Neumann in the mid-1950s.

"Ever accelerating progress of technology and changes in the mode of human life, which gives the appearance of approaching some essential singularity in the history of the race beyond which human affairs, as we know them, could not continue," Von Neumann said.

Kurzweil cited von Neumann's use of the term in a foreword to von Neumann's classic "The Computer and the Brain," predicting that the singularity will occur around 2045.

The Global Futures 2045 International Congress is the brainchild of Russian multimillionaire Dmitry Itskov and featured visionary talks about how the world will look by 2045.

"Based on conservative estimates of the amount of computation you need to functionally simulate a human brain, we'll be able to expand the scope of our intelligence a billion-fold," Kurzweil said.

Referring to Moore's Law, Kurzweil stated the power of computing doubles, on average, every two years quoting the developments from genetic sequencing and 3D printing.

In his book, "The Singularity Is Near," he plots this development and journey towards singularity in a graph.

This singularity is also referred to as "digital immortality" because brains and a person's intelligence will be digitally stored forever -- even after they die.

Kurzweil says that this will be possible through neural engineering and referenced the recent strides made towards modeling the brain and technologies which can replace biological functions.

Expanding on this idea, CEO of bio-tech company United Therapeutics, Martine Rothblatt, introduced the idea of "mindclones," digital versions of humans that can live forever and can create "mindfiles" that are a place to store aspects of our personalities.

"The first company that develops mindware will have [as much success as] a thousand Googles," she says.


---
Copyright 2015 - Distributed by THE CALIFORNIA NETWORK
Pope Francis Prayer Intentions for April 2016
Universal:
Small Farmers: That small farmers may receive a just reward for their precious labor.
Evangelization:
African Christians: That Christians in Africa may give witness to love and faith in Jesus Christ amid political-religious conflicts.
---
---
---

By Marshall Connolly (CALIFORNIA NETWORK)
Earlier this year, a robot beat a master player at the ancient game of Go. Now, robots are beating humans at soccer. Armies of engineers are working around the world to develop artificial intelligence and robots that can do what humans do, only better. They're making ... continue reading
---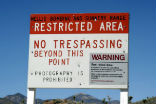 By Marshall Connolly (CALIFORNIA NETWORK)
UFO watchers have spotted a mysterious mushroom-shaped cloud over Area 51. The cause of the cloud remains unknown, but it is evidently connected to a fire at the secret military base. Viewers were unable to obtain direct footage of whatever caused the inferno, due to ... continue reading
---

By Kenya Sinclair (CALIFORNIA NETWORK)
After Microsoft's failure with AI teen "Tay," it should come as no surprise that more and more researchers are agreeing artificial intelligence requires a delicate balance between helpful tech and murderous exterminators. LOS ANGELES, CA (Catholic Online) - According ... continue reading
---

By Marshall Connolly (CALIFORNIA NETWORK)
Fast food workers, say goodbye to that grimy job with surly guests and overbearing managers. Your fight for $15 is over. No, you didn't win, someone has invented a machine that makes hamburgers better and faster than you do. LOS ANGELES, CA (California Network) - ... continue reading
---

By Kenya Sinclair (CALIFORNIA NETWORK)
Ian Burkhart underwent experimental brain surgery to help scientists pioneer technology aimed at reanimating paralyzed limbs - and it worked! LOS ANGELES, CA (Catholic Online) - Six years ago, Burkhart severed his spine when he went for a swim and was slammed into a ... continue reading
---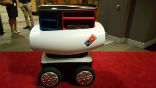 By Marshall Connolly (CALIFORNIA NETWORK)
Robots will soon begin to deliver your mail, pizza, and other parcels within the next few years. Plans are being developed around the globe to test, then roll out automated delivery systems for everything from packages, to mail to pizza. The rising demand for delivered ... continue reading
---

By Monique Crawford (CALIFORNIA NETWORK)
After securing $3.6 million to fund an up-and-coming piece of technology, an MIT-spinoff company based in Singapore shames Google's driverless car. LOS ANGELES, CA (Catholic Online) - With news of self-driving taxis popping up across the internet, it should come as no ... continue reading
---

By Monique Crawford (CALIFORNIA NETWORK)
Time is money and money is everything. It pays for your home, food, technology, education, transit and basic needs - but what happens when your time no longer brings in the money? What would you resort to if you knew you would starve? LOS ANGELES, CA (Catholic Online) ... continue reading
---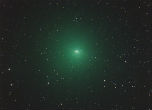 By Marshall Connolly (CALIFORNIA NETWORK)
A pair of green comets have zipped frightfully close to Earth, and it may be possible to catch a glimpse of one from your backyard. LOS ANGELES, CA (California Network) - Astronomers were caught by surprise when they detected a new comet on January 22 using the ... continue reading
---

By Marshall Connolly (CALIFORNIA NETWORK)
Astronomers have discovered the brightest galaxies yet, shinning so brightly, they do not even fall on a scale they use to measure luminosity. The discovery could help refine their understanding of the nature of the early universe and how galaxies formed. LOS ANGELES, ... continue reading
---
All Technology News