By Catholic Online (NEWS CONSORTIUM)
7/18/2013 (2 years ago)
Catholic Online (www.catholic.org)
Evil letter tells teenage terrorist survivor why she posed threat to Taliban society
In an evil letter highlighting their monstrous agenda, a Taliban commander has written to Pakistani schoolgirl Malala Yousafzai, explaining why they tried to kill her. Sixteen-year-old Malala was shot in the head by the group, but survived to become a spokesperson for education for women and girls worldwide.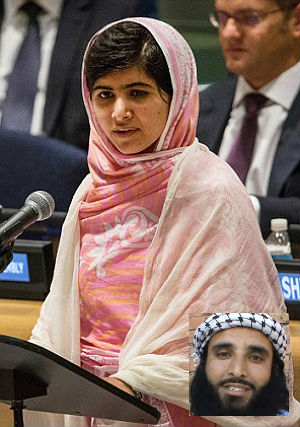 Terrorist Adnan Rasheed, inset, penned a thoughtful note to Malala Yousafzai as to why the Taliban tried to kill her. No thanks.
LOS ANGELES, CA (Catholic Online) - Wanted terrorist Adnan Rasheed claimed he was shocked to hear of the assassination attempt last October. Malala at the age of 15 was critically wounded by masked gunmen coming home in a school bus in Pakistan's north-west Swat Valley.

The shooting sparked worldwide condemnation and Malala was flown to Britain for treatment.

Speedily recovering, Malala was able to give a speech at the United Nations in New York on her 16th birthday last week. The incident, she says, has given her new courage to fight for the right of all children to have a free education.

The letter from Rasheed, freed in a mass jail break last year after he was arrested over a plot to murder Pakistan's former president, falls short of offering a full apology to Malala.

"When you were attacked it was shocking for me. I wished it would never happened and I had advised you before." He clarifies that she was shot not because she went to school, but because she had spoken out against the Taliban in Pakistan.

"Taliban believe that you were intentionally writing against them and running a smearing campaign to malign their efforts to establish Islamic system in Swat and your writings were provocative," he wrote.

"You have said in your [U.N.] speech yesterday that pen is mightier than sword, so they attacked you for your sword not for your books or school."

Rasheed added that he was not against the principle of girls being educated, just a western education - which he said followed a "satanic or secular curriculum."

The letter then takes on an odd tone as Rasheed tries to defend the assassination attempt.

Malala, he writes, had to be silenced because she was "running a smearing campaign to malign their efforts to establish Islamic system in Swat and your writings were provocative."

He then says that the Taliban is not against education for women, challenging her on why she was shot.

"There were thousands of girls who were going to school before and after the Taliban insurgency in Swat, would you explain why were only you on their hit list???" he asks.

"You and the UNO is pretending that as you were shot due to education, although this is not the reason, be honest, not the education but your propaganda was the issue and what you are doing now."

Rasheed also defends the destruction of schools in Swat Valley by the Tehreek-e-Taliban Pakistan, claiming they are being used by the Pakistani army, and "when something sacred is turned lethal it needs to be eliminated this is the policy of Taliban."

The letter then jumps the rails completely. Rasheed claims the Western nations are in "conspiracy with Jews and freemasons" he also calls President Barack Obama a mass murderer and claims polio vaccinations are a sterilization program.

Rasheed finishes his letter, dated on July 15th, that Malala should "come back home, adopt the Islamic and Pushtoon culture, join any female Islamic madrassa near your home town."


---
Copyright 2015 - Distributed by THE CALIFORNIA NETWORK
Pope Francis Prayer Intentions for April 2016
Universal:
Small Farmers: That small farmers may receive a just reward for their precious labor.
Evangelization:
African Christians: That Christians in Africa may give witness to love and faith in Jesus Christ amid political-religious conflicts.
---
---
---

By Kenya Sinclair (CALIFORNIA NETWORK)
China continues to test the limits of its DF-41 long-range intercontinental ballistic missile as tensions rise between the country and the U.S. over the South China Sea. LOS ANGELES, CA (Catholic Online) - According to The Free Beacon, Pentagon officials reported the ... continue reading
---

By Kenya Sinclair (CALIFORNIA NETWORK)
Following a 6.5 magnitude earthquake, nine have been reported dead and over 800 people suffered injuries - but God ensured the safety of one blessed little girl. LOS ANGELES, CA (Catholic Online) - According to NBC News, an 8-month-old girl was sleeping peacefully when ... continue reading
---

By Kenya Sinclair (CALIFORNIA NETWORK)
Nepal first recognized Christmas as a national holiday eight years ago, but the 2015 Christmas celebration will be its last. Nepali government officials announced Christmas is no longer recognized as a national holiday, prompting the Christian minority to rise together ... continue reading
---

By Kenya Sinclair (CALIFORNIA NETWORK)
China's government has destroyed over 1,500 crucifixes in Zhejiang province, China as part of a plan to eradicate the Christian communities. LOS ANGELES, CA (Catholic Online) - Christianity is spreading across China, leading the communist government to grow upset over ... continue reading
---

By Marshall Connolly (CALIFORNIA NETWORK)
A well-known ancient trade network may have stretched much father than previously believed according to new evidence discovered in Nepal. Chinese-made objects in a 1,600 year-old tomb suggests the Silk Road may have extended south into Nepal. LOS ANGELES, CA ... continue reading
---

By Matt Hadro (CNA/EWTN News)
Religious freedom advocates have condemned the Easter Sunday bombing in Pakistan that killed more than 70, while insisting upon reform within the country to prevent future such attacks. Lahore, Pakistan (CNA/EWTN News) - "We are horrified at this Easter attack, ... continue reading
---

By Monique Crawford (CALIFORNIA NETWORK)
The people of Mumbai are currently suffering the effects of smoke inhalation after an 18-story-high trash-filled landfill burst into flames. LOS ANGELES, CA (Catholic Online) - India's garbage crisis required 100 firemen, twelve fire engines and 8 tankers to ... continue reading
---

By Monique Crawford (CALIFORNIA NETWORK)
What should you do when farmers are given illegal genetically modified (GM) seeds to sow? Apparently the answer is to purchase the crops at a drastically reduced price to teach the biotech company a lesson while simultaneously forcing farmers into debt-related suicide. ... continue reading
---

By Monique Crawford (CALIFORNIA NETWORK)
ISIS propaganda videos continue to draw Muslim converts to the militant extremist group across Asia, including the Philippines and Indonesia. LOS ANGELES, CA (Catholic Online) - Since ISIS appeared in the Philippines in December last year, the extremist group has done ... continue reading
---

By Kenya Sinclair (CALIFORNIA NETWORK)
A 16-year-old girl was stalked and eventually lured to the terrace of her home one night, where she was brutally attacked beneath the cover of darkness. LOS ANGELES, CA (Catholic Online) - According to Daily Mail, the girl's attacker was a 19-year-old man, who left her ... continue reading
---
All Asia Pacific News