Bolivia Changes Law on Abortion: More Children at Risk
---
Court rules no longer requires judges to approve doctors to perform procedure
The South American nation of Bolivia has changed its laws regarding procured abortion. The nation's highest court has ruled that women seeking an abortion in cases of rape or incest will no longer need a judge to give permission for doctors to perform the procedure which always takes the life of another innocent human being. This will make it easier for women to facilitate abortion. Because every procured abortion always takes the life of an innocent child, the child becomes the second victim of the underlying crime of rape or incest.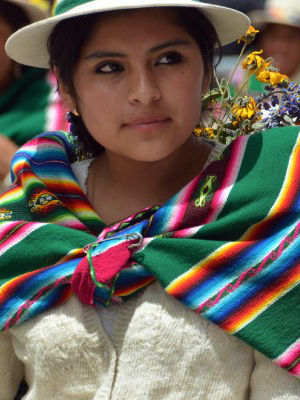 Latin America still has some of the world's strongest laws protecting the child in the womb. Abortion advocates say that poor and indigenous women living in rural areas are disproportionately affected by "unwanted" pregnancies and "unsafe" abortions.Of course, defenders of the lives of both the women and the children call for a different way of solving the challenge. They insist that every abortion is lethal for the child.
LOS ANGELES, CA (Catholic online) - Abortion is only allowed in Bolivia in cases of rape or incest, or if the woman's health or life is at risk. Of course, the meaning of that loaded phrase is elastic.
"This court ruling represents an important step for Bolivia," Malena Morales, interim head of Ipas in Bolivia, a global non-governmental organization which supports abortion on demand, said in a statement. "It removes some of the legal barriers that women face when seeking legal abortion care."
Saint Patrick's Day is coming -- go here!
Women in Bolivia had often been denied authorization from a judge to proceed with an abortion, leaving them no recourse than to turn to unsafe and illegal abortions, according to the abortion advocacy group. Of course, consistent Pro-Life advocates insist that every procured abortion takes the life of an innocent human being, a child in the womb, who becomes the second victim. In addition, Crisis Pregancy clinics are available in the Nation and offer a life affirming alternative.
The court ruling did give doctors more power to decide if abortions can proceed in cases where a woman's life or health is at risk. As in every Nation or State where such language is written into legislation, it opens pandora's box. What is meant by the phrase a "woman's health being at risk". The law did confirm that human life should be protected from the moment of conception and did not overtly decriminalize abortion, however. The effect runs contrary to that assertion.
The court also ruled that a women's decision to keep her child or take the life of her child through procured abortion should not be influenced by the personal views and religious beliefs of judges or lawyers.Of course, the Catholic Church properly asserts that the Right to Life of the Child is not simply a religious belief. The Fundamental Right to Life is a Basic Human Right revealed in the Natural Law. Medical science has proven what our conscience long ago affirmed, the child in the womb is our neighbor and it is always wrong to take the life of an innocent neighbor, no matter how young, old, rich or poor.
It was just the latest of several laws and court rulings handed down in Latin America in recent years which have the effect of decriminalizing abortion."Once again a Latin American court has ruled that governments should not stand in the way of women seeking legal health services. This opinion follows earlier favorable court rulings from Mexico City and Colombia, and adds to a growing body of national and international jurisprudence that affirms women's rights to legal abortion," Gillian Kane, Ipas senior policy adviser, and abortion advocate, said in a statement.
Colombia's constitutional court in 2006 ruled that abortion was permissible under certain circumstances, overturning a blanket ban on abortion. In 2012, Uruguay's senate voted to allow women to have an abortion during the first 12 weeks of pregnancy.This trend doesn't speak for the rest of the world. Some states in the United States, along with Spain and the Philippines, are making it harder for women to have an abortion and to access abortifacient contraception.
Pro-Abortion advocates in the United States say lawmakers in the states of Virginia, Wisconsin, Indiana and Texas are gradually making it harder for women to have an abortion. Lawmakers have sought to cut funding for abortion facilities called women's health clinics where abortions take place or by changing the rules for women wanting to take the life of her child by abortion.
Latin America still has some of the world's most protective laws for children in the womb. that is because of the lingering influence of the catholic conscience. Abortion advocacy groups say that poor and indigenous women living in rural areas are disproportionately affected by unwanted pregnancies and unsafe abortions.
Rather than finding an alternative which assists the poor woman as well as the poor child, they have turned the taking of innocent human life into some newly manufactured "right", one which actually denies the very FIRST HUMAN RIGHT - the Right to Life. You simply cannot have a right to do what is always wrong. 
Pope Francis calls for your 'prayer and action'...
---
Copyright 2018 - Distributed by THE CALIFORNIA NETWORK
Pope Francis Prayer Intentions for APRIL 2018
For those who have Responsibility in Economic Matters.
That economists may have the courage to reject any economy of exclusion and know how to open new paths.
---
---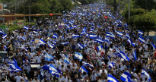 As unrest centered on protests of president Daniel Ortega continues unabated in Nicaragua, bishops in the country are calling for unity and ... continue reading
---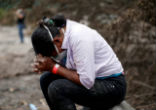 It's been one week since Guatemala's Volcan de Fuego (the Volcano of Fire) erupted. The initial eruption killed at least 110 people, while ... continue reading
---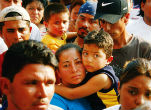 A ruling by the U.S. attorney general that victims of domestic abuse and gang violence may no longer qualify for asylum could "close the ... continue reading
---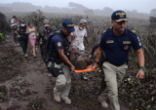 Imagine if your family, home, belongings and livelihood are suddenly gone and you are living in a world is coated in toxic ash. June ... continue reading
---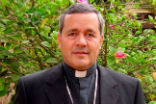 The Vatican announced Monday that Pope Francis has accepted the resignation of Bishop Juan Barros Madrid from his post in the diocese of ... continue reading
---