IMPLACABLE EVIL: Militant Muslim group Boko Haram terrorizes Nigeria
---
Kidnappings, murders, bombing - nothing could be put past this band of thugs
Boko Haram, whose name means that "Western education is sin" in the native Hausa language of Nigeria, has leaped once again into international headlines with the abduction of more than 100 schoolgirls. The group has bombed schools, churches and mosques; kidnapped women and children and assassinated politicians and religious leaders alike. Where did this vile organization come from? What are their goals?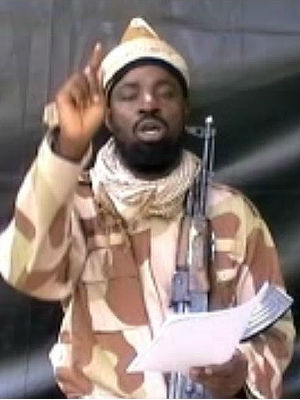 Abubakar Shekau, the leader of Boko Haram has escalated the violence. The group murdered and kidnapped Westerners and started a bombing campaign that targeted churches, mosques and government buildings.
LOS ANGELES, CA (Catholic Online) - Boko Haram says its aim is to impose a stricter enforcement of Sharia law across Africa's most populous nation. Nigeria is split between a majority Muslim north and a mostly Christian south. Attacks by the Boko Haram have intensified over the past several years. There are goals have reached as far as to plot the overthrow of the Nigerian government.
The group was founded 12 years ago by Mohammed Yusuf, a fundamentalist Islamist cleric who called for a pure Islamic state in Nigeria. Killed by the police in 2009, the incident was captured on video and posted to the Internet. Some say this only made Boko Haram even more violent and defiant.
Check out our fine selection of Bibles -- by going here!
Abubakar Shekau took control of the group afterwards and escalated the violence. The group murdered and kidnapped Westerners and started a bombing campaign that targeted churches, mosques and government buildings.
Abubakar Shekau remains elusive. It's not known if he's either dead or alive. Even his exact age is remains a mystery. Estimates range between 35 and 44 years of age.
The Nigerian military touted his death, only to retract its claim after he appeared alive and vibrant in propaganda videos.
Using the alias Darul Tawheed, analysts describe him as a ruthless loner and master of disguise. He does not speak directly with members, opting to communicate through a few select confidants.
There's a very good reason as to why the west should be concerned. "Our strength and firepower is bigger than that of Nigeria. Nigeria is no longer a big deal to us, as far as we are concerned. We will now comfortably confront the United States of America," he said in a release last year.
Most curiously, despite its supposed religious fanaticism, Boko Haram does not consider all Muslims as supporters and allies.
The group attacks certain mosques as members have spoken out against them. The group attacks are aimed at striking fear at the heart of the local population to prevent cooperation with the government, analysts say.
Although the northern populace of Nigeria mostly abhors the violence, there is considerable local sympathy and support for Sharia law, seen by many as the only way to end what is widely regarded as a corrupt and inept government.
Poverty is prevalent in the northern region, and as the military struggles to halt Boko Haram's attacks, the militant group is winning perhaps its most important battle: making Nigerians question government competency.
The United States has since put a $7 million bounty on Shekau's head and has also designated Boko Haram as a foreign terrorist network. Although it has provided technical and financial support to the Nigerian teams battling the insurgency, there has been a reluctance to put boots on the ground unless there's a direct national security threat to the West. Boko Haram's attacks have been limited primarily to Nigeria.
---
Copyright 2018 - Distributed by THE CALIFORNIA NETWORK
Pope Francis Prayer Intentions for FEBRUARY 2018
Say 'No' to Corruption.
That those who have material, political or spiritual power may resist any lure of corruption.
---
---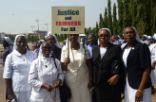 With widespread violence plaguing Nigeria, Catholic religious sisters in the country have united in the name of peace to counter the ... continue reading
---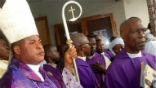 Pope Francis accepted the resignation Monday of a Nigerian bishop who had been rejected by many of the priests of his diocese since his ... continue reading
---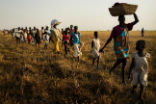 On Sunday Pope Francis announced that the first Friday of Lent would be a day of prayer and fasting for peace given the many ongoing ... continue reading
---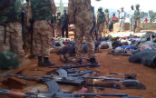 It is common in Nigeria that nomadic herdsmen clash with farmers over the use of land. However, in the past year in particular, raids by ... continue reading
---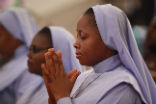 During a two day police operation, six women religious who were captured in Nigeria's Edo state two months ago were released unharmed on ... continue reading
---