GOOD NEWS: Enjoy your coffee and tea!
---
By Catholic Online (NEWS CONSORTIUM)
4/3/2014 (3 years ago)
Catholic Online (www.catholic.org)
Objective study finds that neither coffee tea dehydrate the user
People around the world continue to enjoy caffeinated beverages. It's estimated that the world drinks 1.6 billion cups of coffee and around twice as many cups of tea. Our relationship with caffeinated beverages is a most dysfunctional one, it seems: Something that brings a smile to our face in the early morning hours must be inherently bad, some reason. One of the biggest misconceptions is that coffee and tea dehydrates us. But is this really true?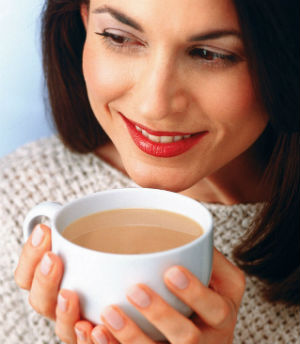 Our relationship with caffeinated beverages is a most dysfunctional one, it seems: Something that brings a smile to our face in the early morning hours must be inherently bad, some reason.
LOS ANGELES, CA (Catholic Online) - What research that does exist focuses is caffeine. Of this, one of the most frequently cited was conducted way back in 1928 with a sample of just three people.
Three entire men were studied over the course of two winters. The men were required at times to drink four cups of coffee a day. At times they drank mainly tea and at other times they abstained or drank water laced with pure caffeine.
Come light a candle for those who perished in the Fort Hood tragedy --
In the study, the volume of their urine was measured regularly. Researchers concluded that if the men consumed caffeine-laced water after a two month period of abstinence from both coffee and tea, the volume of their urine increased by 50 percent. When they drank coffee regularly, they became immune to its diuretic effects.
Very large doses of caffeine are known to increase the blood flow to the kidneys and to inhibit the absorption of sodium which explains why it could act as a diuretic, dealing with the sodium which hasn't been absorbed.
So, do caffeinated drinks affect the water intake we're told to be drinking every day?
Following a review of 10 studies by Lawrence Armstrong from the University of Connecticut, caffeine is a mild diuretic at most, with 12 out of 15 comparisons showing that people urinated the same amount, regardless of whether the water they drank contained added caffeine or not.
As the review indicates, most studies give people pure caffeine added to water, rather than cups of actual tea or coffee as you might drink at home. Is there something about the combination of substances contained in coffee and tea that make the difference?
Another study, where people drank nothing but tea for the 12 hour duration of the trial, there was no difference in hydration levels between them and the people who drank the same quantity of boiled water.
When it comes to the consumption of coffee, one study did find a 41 percent increase in urine, along with a rise in the excretion of sodium and potassium. The test subjects had abstained from caffeine before the study, so this doesn't tell us what would happen in people who are accustomed to drinking coffee.
A second study found no difference in hydration between those drinking water and coffee. More current research earlier this year tested test subject's blood for signs of kidney function as well as calculating the total amount of water in the body. The men in the study drank four cups of coffee a day, far more than the average coffee-drinker.
For those who continue to search for demons lurking in caffeinated drinks, take heart in the fact that there is always diet soda which contains the virulent poison "Aspartame."
---
Copyright 2017 - Distributed by THE CALIFORNIA NETWORK
Pope Francis Prayer Intentions for OCTOBER 2017
Workers and the Unemployed.
That all workers may receive respect and protection of their rights, and that the unemployed may receive the opportunity to contribute to the common good.
---
---