Kianna begins her process of learning her new 'trade' - Part Five
---
Kianna realizes she is being groomed to lead a life of prostitution
How the makeup palette of Amala's glittered in the sun! There were beautiful colors of every shade, for the eyes, lips, face. Dozens of brushes, wide and small stood nearby for application upon Kianna's 12-year-old face. A dash of violet on the brow brought drama. Shades of pink, artfully applied to her lips made them fuller and far more alluring. What Amala - and the people at the compound would do with this, Kianna thought, had far more sinister implications than she was willing to think about.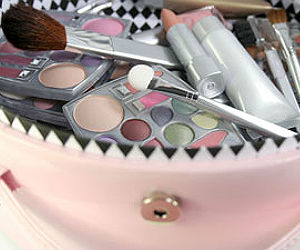 How the makeup palette of Amala's glittered in the sun! There were beautiful colors of every shade, for the eyes, lips, face.
LOS ANGELES, CA (Catholic Online) - Kianna' earlobes stung, freshly pierced, with the addition of drop earrings. Amala's confident hand had succeeded in making Kianna's face appear slightly older, but there was no disguising her wide, dark brown eyes that stared out with wonder at all the new changes springing up around her.
By her own account, Kianna had been at the compound for at least 10 days. From the day "Jo" had picked her up at the marketplace, until his "mother" began her brainwashing campaign, to Amala's tutelage in makeup clothes and confidence, it had been an eventful week-and-a-half for Kianna.
Starvation never takes a vacation --
Kianna knew that the people she had met on this leg of her life journey were up to sinister designs. While there was plenty of things for her to know, Kianna did have an inkling about the "facts of life."
Kianna's mind drifted back to the last year that her father had lived with them. He would disappear for a few days, and then return home drunk. Kianna and her brothers would cling to the wall when their parents would begin fighting, which would end with her father carrying her mother into a partition that served as their bedroom. The cries, the curses, the pummeling fists, and then other distinct sounds.
Kianna knew that her captors were grooming her to be a prostitute. She was familiar with the under-aged prostitutes who would gather in the marketplace where she begged for food and small change. They had makeup smeared across their faces, wore more colorful clothing and seemed less hungry than her friends. The wall separating the beggars from the prostitutes would come swiftly down whenever an expensive car would pull up to the curb. Dirty kids wearing rags along with the prostitutes in their brand-new pink and yellow clothing would all crowd around the windows for money or candy.
Amala, her teacher in the feminine arts of clothes and makeup was nicer than Jo's mom, but not by much. She had exacting and demanding standards. New at applying makeup, Amala would frequently bark at Kianna, "You're putting it on too thickly! Don't push the brush so far into your cheek!" Amala would become frustrated quickly and then just click her tongue and say, "Kianna! I don't know what I'm going to make of you!" Kianna dreaded the process of what she was soon to become.
Amala had promised that she would soon meet other girls her own age shortly. Kianna knew that there were other girls in her same situation in the compound. She would sneak peeks of the others being led around by older ladies in the hall. She also heard them late at night in her room, freshly outfitted with a bed. She heard other girls late into the night. Crying, whimpering.
Amala gave Kianna another once-over and said, "There! You look fine! In an hour, we will go to the main dining area where you will meet the other girls! You'll all become the best of friends as you learn what you need to do to stay alive here!"
Kianna, full of great apprehension, steadied herself and vowed to be like her mother - who viewed everything at face value and with wide-eyed courage.
A tear drifted down Kianna's left cheek.
Kianna's ordeal begins here --
Kianna makes a very special "friend" --
Kianna finds herself over her head --
Kianna maintains her resolve -- for what lies next --
---
Copyright 2018 - Distributed by THE CALIFORNIA NETWORK
Pope Francis Prayer Intentions for FEBRUARY 2018
Say 'No' to Corruption.
That those who have material, political or spiritual power may resist any lure of corruption.
---
---