Kianna's 'friend' makes his intentions clear - Part III
---
Our youthful heroine finds herself over her head in no time
Kianna found herself on the leather car seat of her newfound friend's Mercedes, a man as old as her lost father. His name was Satyajit, but he insisted that Kianna call him "Jo." He was navigating through the hot, dusty streets of Delhi, now more a world away with the car's blasting air conditioner behind smoky windows. "So, where are we going, Jo?"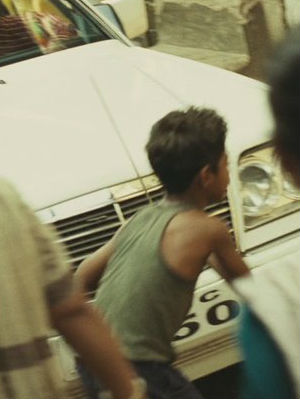 Kianna didn't recognize the landscape speeding past the car's windows - just deteriorating houses, disused markets, abandoned cars and the like.
LOS ANGELES, Ca (Catholic Online) - "I'll be taking to you my house, where you can eat lots of delicious things, and we can talk further," Jo said.
Kianna looked at all the glittering rings that decorated Jo's fingers
It doesn't have to be this way for children like Kianna -- see how you can help by going here!
"Do you live in town?" Kianna asked.
"I live at this compound outside of town," Jo said. Kianna didn't recognize the landscape speeding past the car's windows - just deteriorating houses, disused markets, abandoned cars and the like. She knew very little about the town she lived in, other than her family shack with her infirm mother and two younger brothers, and the few blacks from the marketplace where she begged every day.
Both Kianna and Jo spoke very little then. The car lurched forward, on expensive tires pummeling dirt roads, interrupted by Kianna's growling stomach.
Eventually, Jo commandeered the car up a winding road. Kianna vaguely remembered taking this road the time she did go to school on the bus. There were few homes and just a few scrubby trees and bushes here. Homes with high surrounding walls dotted the road. Some of the walls were lined with spikes, to keep thieves out - or some people in.
Jo pulled up to one of the homes with a high surrounding wall. It was large, the largest Kianna had yet seen. Jo parked and turned off the car's engine.
"We're home. My home is your home, and vice-versa," he said.
Jo led Kianna through the gates and a large courtyard, where there were plants, landscaping and fountains. It was all very beautiful - but uninviting. Kianna felt that this was not a home, but a place of business.
Jo then led Kianna to a kitchen with a long wooden table. An unsmiling, old woman placed a heaping plate of brown rice in front of her. Famished, Kianna began to scoop up the hot, burning rice with her own hands. "Kianna, please! Use a fork," Jo said, placing a utensil in her hand.
Kianna gobbled up the rice when the stern old woman then placed a platter of broccoli, deep-fried and spiced to perfection before her. It was a delicacy that Kianna was unaccustomed to, and she too began to make short work of the vegetable.
"Here, try some sauce with that," Jo said. He placed a small platter of sauce next to Kianna's plate, gulping this down, Kianna couldn't remember when she ever tasted food this good.
After she was satiated from the meal, Jo offered her a cloth napkin to clean her hands.
"So . does your family live in Delhi?" Jo asked.
"Yes. I live with my mom and my two brothers. I don't know where my dad is. My mom used to work in the textile plant in town, but the dyes in the cloth began to get to her, so she mainly just stays home and tries to get better," Kianna said.
"So - how does your family manage to live?" Jo asked.
"Mainly what I bring home from the market. A few rupees. Sometimes, when no one is looking, I steal some bread and milk. No one ever notices that those things go missing," she said.
"So, you're supporting your family? And you're only 12 years old?" Jo said with a warm smile. "That's wonderful."
"Yes, I need to go home to see them now. Is it okay with you if I take some rice along? With some vegetables?"
"Kianna, I'm going to show how you can help your family so that they're never go hungry again. And you don't have to steal or beg for change ever again," Jo said with a smile that was shark-like.
"How am I going to do that?" Kianna asked. "I haven't gone to school in years!"
"Just follow me, and we will begin the process," Jo said. The perpetually frowning woman that had served them appeared over Jo's shoulder.
Leading Kianna down a hallway, Jo opened a door. It was a room without pictures or windows on the wall. Nothing but a few sheets on a sparkling, clean linoleum floor.
"Here, wait here," Jo said, ushering in Kianna.
"What do you want me to do?" Kianna asked nervously.
Jo and the old woman stepped out of the room, turned off the light and slammed the door shut.
To be continued --    
You can read how Kianna can into her predicament Part I -- by going here --
And you can learn how she met her very special friend Part II -- by going here --
---
Copyright 2018 - Distributed by THE CALIFORNIA NETWORK
Pope Francis Prayer Intentions for APRIL 2018
For those who have Responsibility in Economic Matters.
That economists may have the courage to reject any economy of exclusion and know how to open new paths.
---
---