Internet causing people to lose their religion, scientists wonder why
---
The internet may not be good for religion.
Americans are losing their religion and according to one researcher the internet is to blame. About 18 percent of Americans now claim no religious affiliation.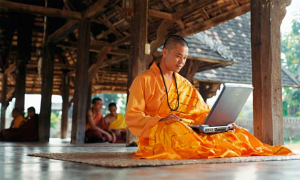 It may be that the internet exposes people to competing ideas that fit their natural disposition.
LOS ANGELES, CA (Catholic Online) - The internet may be making people into agnostics or atheists faster than any other influence in history. A new study shows that 18 percent of Americans now claim no religious affiliation, up from just 8 percent in 1990. That's about 25 million people.
Researchers publishing in the MIT Technology Review say that there is a significant correlation between increased internet use and decline in religious affiliation. However, they caution that correlation does not mean causation and say that the increase in internet use is probably only responsible for 25 percent of the decline.
Pray that all people grow in faith and love.
The detailed research was carried out by Allen Downey, a computer scientist at the Olin College of Engineering in Massachusetts. He also identified other factors which make people lose their religion, including college attendance, which is responsible for 5 percent of the change.
After correcting for obvious candidates such as income, education, social status, and where people live, about half of the decline in religious affiliation remains unexplained, likely due to another factor not evaluated by the study.
What is clear is that people are leaving religion altogether and becoming something else. Most people simply leave religion and continue to live their lives quietly, however a few join the "new atheists" who are particularly strident in their protests against religion. This small cabal has gained a massive share of attention in recent years with prominent lawsuits and billboards and other attention-getting behaviors.
It is likely that they have enjoyed success in recruiting others to their ranks.
Still, the internet seems to be a major factor in the decision to leave religion behind. The research did not focus on what aspects of the internet were most responsible, but it is likely that just as with college, individuals are exposed to a plethora of ideas and may find that they are naturally disposed to prefer other ideas.
The most common reason for religious affiliation is upbringing. The internet may challenge some of that upbringing by introducing new ideas before a young person is mature enough to handle them. More study will be required to determine how much of a factor the internet is and why it is having such an effect on people.
---
Copyright 2018 - Distributed by THE CALIFORNIA NETWORK
Pope Francis Prayer Intentions for July 2018
Priests and their Pastoral Ministry.
That priests, who experience fatigue and loneliness in their pastoral work, may find help and comfort in their intimacy with the Lord and in their friendship with their brother priests.
---
---