Polar bear diet: Fat, fat and more fat
---
How do these husky white bruins remain healthy on such a diet?
Polar bears - those white-hued iceberg living bruins that appear to be poster children for global warming, are remarkably healthy - by subsisting on a diet of fat, fat and even more fat. How can these sturdy survivors, who swim great lengths of water and endure unconscionably cold conditions continue to thrive on a diet like that? Researchers have a surprising answer to that question -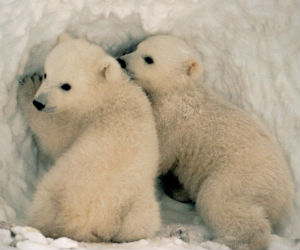 A baby polar bear drinks milk that's 27 percent fat - small change compared to the two percent us humans drink out of a carton.
LOS ANGELES, CA (Catholic Online) - The polar bear's white fur is a big help as it helps them blend in with ice floes to sneak up on their breakfast, lunch and dinner. Their body fat also helps them to stay warm.
More importantly, polar bears have genes that help them live on a diet that's overloaded with fat. This helps them withstand the sorts of human diseases that typically come with a fat-heavy diet.
Find out how you can fill the gaps to end world hunger - by going here!
A baby polar bear drinks milk that's 27 percent fat - small change compared to the two percent us humans drink out of a carton. Adults feed mostly on blubbery seals which allows them to build up so much insulation that bears can be 50 percent fat by weight.
It's highly unlikely that polar bears could survive as a species if they hadn't developed an ability to live on a high-fat diet. So what's their secret?
Researchers say they've found clues in the genes of polar bears. An international team has taken a close look at the polar bear genome to understand how this species split off from its close cousin, the brown bear.
The genes related to fur color have mutated, as expected. The changes occur in a genetic region that's linked to a human condition called Chediak-Hikashi syndrome, which causes loss of pigment in the skin and eyes.
These genes seem key to polar bear evolution are gives an indication as to how these animals handle their fatty diet. A gene called VCL is linked to heart disease in humans. In polar bears, this gene has undergone a dramatic evolution, compared with the VCL gene in the brown bear.
There's something else that's endangering this species, however. The sea ice that polar bears use as a platform to catch seals is shrinking, threatening the species' existence.
"Based on this evidence, we argue that potentially important reorganization of the cardiovascular system has taken place in polar bears since their divergence from brown bears," researchers write.
The rapid genetic changes might also have been spurred on by the long-distance swimming that polar bears do. Bears that have cardiovascular genes that help endurance are presumably at an advantage, so those genes are more likely to be passed on to future generations.
The report suggests that polar bears evolved quite recently - just 400,000 years ago. That may prove to be contentious. Another puts the split between brown bears and polar bears at four million to five million years ago.
---
Copyright 2018 - Distributed by THE CALIFORNIA NETWORK
Pope Francis Prayer Intentions for APRIL 2018
For those who have Responsibility in Economic Matters.
That economists may have the courage to reject any economy of exclusion and know how to open new paths.
---
---

A clean needle exchange program that distributes condoms is hosted in the parking lot of an Ohio Catholic hospital, and one Catholic ... continue reading
---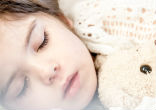 Just when you thought you made it through flu season unharmed, the Centers for Disease Control (CDC) announces the dangers of a second wave ... continue reading
---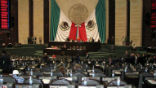 The Mexican Senate has approved a measure protecting the conscientious objections of medical personnel who hold moral or ethical objections ... continue reading
---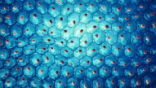 A new study involving patients in four countries has discovered that stem cells may stop multiple sclerosis and can even relieve symptoms. ... continue reading
---

Doctors from the World Health Organization have added a new disease to their list of potential pandemics, Disease X. The illness is ... continue reading
---