Fearsome beast once stalked Europe: New dinosaur identified
---
'Torvosaurus gurneyi' terrorized continent in the late Jurassic Period
It wasn't as big as the Tyrannosaurus Rex - but you definitely didn't want to cross paths with it on the European continent in the late Jurassic Period. Two scientists in Portugal have announced they have identified the largest carnivorous dinosaur to roam Europe. Over 30-feet long, the monster called Torvosaurus gurneyi claimed the prehistoric world for its own.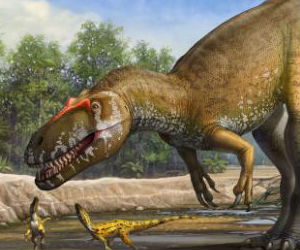 An imposing thunder lizard, the torvosaurus gurneyi was bipedal, weighed 2.5 to 3.6 tons.
LOS ANGELES, CA (Catholic Online) - "It was indeed better not to cross the way of this large, carnivorous dinosaur," paleontologist Christophe Hendrickx of Universidade Nova de Lisboa and Museu da Lourinha in Portugal says.
An imposing thunder lizard, the torvosaurus gurneyi was bipedal, weighed 2.5 to 3.6 tons. It had a skull almost four-feet long, boasted powerful jaws lined with blade-shaped teeth 10 centimeters long, and may have been covered with an early form of feathers, Hendrickx says.
Saint Patrick's Day is coming -- go here --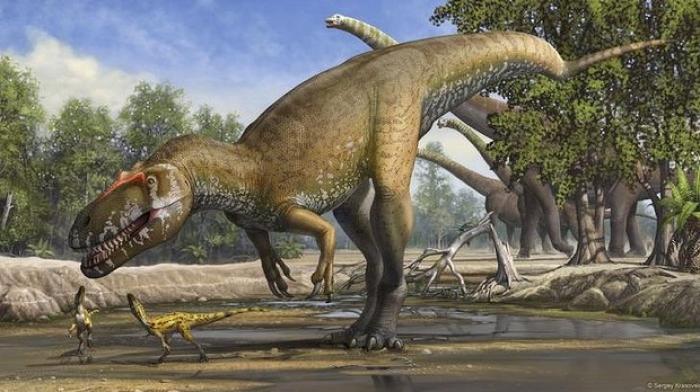 An artist's impression of the newly identified Torvosaurus gurneyi.
"Torvosaurus gurneyi was obviously a super predator feeding on large prey like herbivorous dinosaurs," he said.
Unearthed in Portugal by an amateur fossil hunter in 2003 in the rock cliffs of Lourinha, fossilized embryos probably belonging to this species were identified last year in Portugal.
Torvosaurus prowled the landscape during the Jurassic era; the region was a lush river delta with abundant fresh water and vegetation. The area teemed with dinosaurs and flying reptiles known as pterosaurs, primitive birds, crocodiles, turtles and mouse-sized mammals.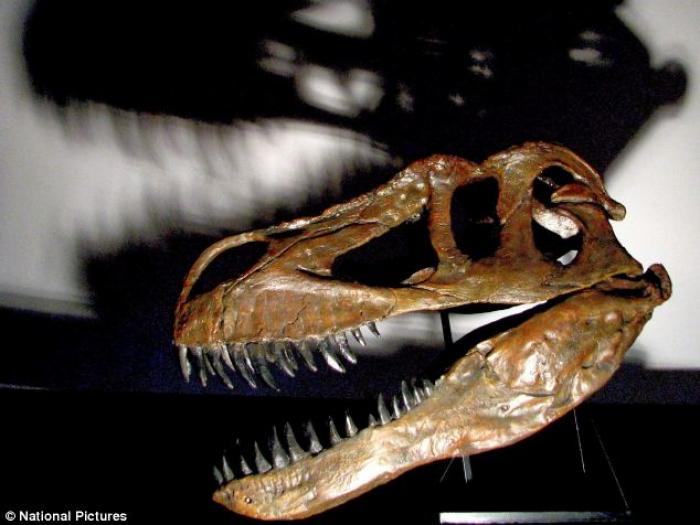 The enormous creature, named Torvosaurus gurney, was discovered in Lisbon, Portugal. It was more than 30-feet long and had razor-sharp four-inch-long teeth.
Paleontologist Octavio Mateus, also of Universidade Nova de Lisboa and Museu da Lourinha says that plant-eating dinosaurs living in the area included the huge, long-necked Lusotitan, the armored, tank-like Dracopelta and the spiky-tailed Miragaia.
Both scientists said this is the second species of the genus Torvosaurus. The other one, Torvosaurus tanneri, identified in 1979, and lived at the same time in North America and roamed the states of Colorado, Utah and Wyoming.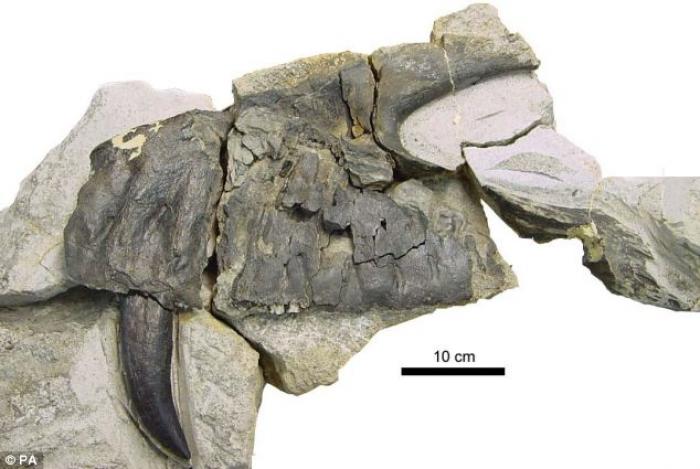 One of the original upper mouth palates of the Torvosaurus gurneyi is pictured. T. gurneyi had blade-shaped teeth up to 10 cm long, which indicates it may have been at the top of the food chain.
Its genus name, Torvosaurus, means "savage lizard." Its species name, gurneyi, honors James Gurney, the author and illustrator of the popular Dinotopia book series.
It must be noted that the Torvosaurus gurneyi was not the only meat-eating monster during this period. There was the European species of the well-known North American Jurassic predator Allosaurus.

An artist's impression of a Torvosaurus gurneyi compared with a human being. The beast, found in Portugal, is estimated to have been up to 10 meters long and weighing in at between four and five tons.
The discovery is literally, a "big deal." Torvosaurus gurneyi is not only is the largest known meat-eating dinosaur from Europe, but is the biggest land predator of any kind ever found on the continent, they added.
The bones were originally thought to belong to Torvosaurus tanneri, a dinosaur species from North America. But a closer look the shin bone, upper jawbone, teeth, and partial tail vertebrae suggested that the creature may warrant a new species name, Torvosaurus gurneyi.
There were larger dinosaur carnivores elsewhere, however. Such as the Tyrannosaurus Rex in North America, Carcharodontosaurus and Spinosaurus in North Africa and Giganotosaurus in Argentina. While these three dinosaurs were all larger, they all appeared on Earth much later than Torvosaurus, during the Cretaceous Period that followed the Jurassic Period.
"This animal, Torvosaurus, was already a fossil for 80 million years before the T-Rex ever walked the Earth," Mateus said.
---
Copyright 2018 - Distributed by THE CALIFORNIA NETWORK
Pope Francis Prayer Intentions for APRIL 2018
For those who have Responsibility in Economic Matters.
That economists may have the courage to reject any economy of exclusion and know how to open new paths.
---
---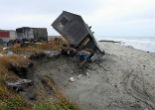 A heatwave is wreaking havoc on the Arctic as the Bering Sea ice melts a month early. These events are far from superficial. They impact ... continue reading
---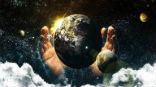 Sunday was Earth Day and Pope Francis called for us "to see the world through the eyes of the God the Creator." As news accumulates to ... continue reading
---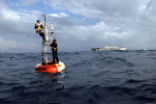 Scientists have detected evidence that global warming is affecting currents in the North Atlantic. These currents are responsible for ... continue reading
---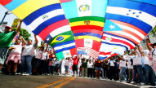 Human migration around the world has increased in the last 30 years. Here's why and where. LOS ANGELES, CA (California Network) - In the ... continue reading
---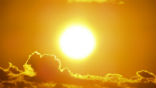 Scientists think the Sun may be approaching a record minimum in its recorded history, a state which could lead to a mini ice age in North ... continue reading
---