By Catholic Online (NEWS CONSORTIUM)
6/11/2013 (1 year ago)
Catholic Online (www.catholic.org)
Cadaver proves he suffered head blow before death
One of the most-studied ancient human specimens ever, Ötzi the Iceman mummy died roughly 5,300 years ago. Ever since hikers stumbled upon his astonishingly well-preserved frozen body in the Alps in 1991, researchers have extensively studied his remains in order to get a better idea of what primitive man was like. Now, it appears that Ötzi may have been the victim of foul play . a murder mystery extending over thousands of years.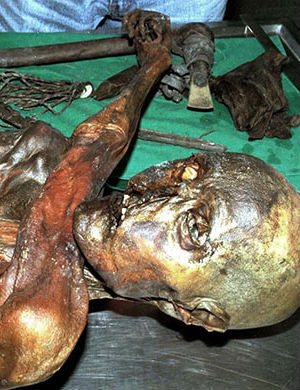 A wound reveals that Ă–tzi was hit in the shoulder with a deadly artery-piercing arrow. In addition, an undigested meal in the Iceman's stomach suggests he was ambushed, scientists say.
LOS ANGELES, CA (Catholic Online) - A wound reveals that Ötzi was hit in the shoulder with a deadly artery-piercing arrow. In addition, an undigested meal in the Iceman's stomach suggests he was ambushed, scientists say.

A CAT scan conducted a few years ago showed dark spots at the back of the mummy's cerebrum, indicating Ötzi also suffered a blow to the head that knocked his brain against the back of his skull during the fatal attack.

From what has been previously determined, Ötzi was a 45-year-old, hide-wearing, tattooed agriculturalist native of Central Europe. He suffered from heart disease, joint pain, tooth decay and probably Lyme disease before he died - but none of these were factors in his death. Scientists say he likely suffered head injury before he died roughly 5,300 years ago, according to a new protein analysis of his brain tissue.

In the new study, scientists who looked at pinhead-sized samples of brain tissue from the corpse found traces of clotted blood cells, suggesting Ötzi indeed suffered bruising in his brain shortly before his death.

The major piece missing from this seeming murder mystery is that it remains unclear whether Ötzi's brain injury was caused by being bashed over the head or by falling after being struck with the arrow, the researchers say.

The study was focused on proteins found in two brain samples from Ötzi, recovered with the help of a computer-controlled endoscope. Of the 502 different proteins identified, 10 were related to blood and coagulation, the researchers said. They also found evidence of an accumulation of proteins related to stress response and wound healing.

Research in 2012 showed traces of a clotting protein called fibrin, which appears in human blood immediately after a person sustains a wound but disappears quickly. The fact that it was still in Ötzi's blood when he died suggests he didn't survive long after the injury.

Proteins are less susceptible to environmental contamination than DNA, and, in the case of mummies, they can reveal what kinds of cells the body was producing at the time of death.

"Proteins are the decisive players in tissues and cells, and they conduct most of the processes which take place in cells," Andreas Tholey, a scientist at Germany's Kiel University and a researcher on the new Ötzi study, said in a statement.

"Identification of the proteins is therefore key to understanding the functional potential of a particular tissue," Tholey added. "DNA is always constant, regardless of from where it originates in the body, whereas proteins provide precise information about what is happening in specific regions within the body."



---
Copywriter 2015 - Distributed by THE NEWS CONSORTIUM
Pope Francis Prayer Intentions for May 2015
Universal:
That, rejecting the culture of indifference, we may care for our neighbours who suffer, especially the sick and the poor.
Evangelization:
That Mary's intercession may help Christians in secularized cultures be ready to proclaim Jesus.
---
---
---

By Nikky Andres (NEWS CONSORTIUM)
When an inter-tidal rock was found in the Sucia Island State Park in Washington State back in 2012, its discoverers had no idea that it would create or cause such excitement and hype. Embedded in the rock is a 17-inch bone fragment, that could not be immediately ... continue reading
---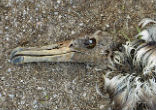 By Catholic Online (NEWS CONSORTIUM)
Humanity's rapid expansion as the global population increases is taking its toll on the environment. Climate change, overpopulation, pollution, hunting of endangered species and strip mining are running rampant worldwide. A series of shocking photographs now ... continue reading
---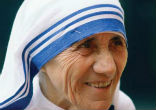 By Catholic Online (NEWS CONSORTIUM)
In spite of various published reports that Blessed Teresa of Kolkata will be canonized on September 4, 2016, the Vatican says that this remains hypothetical. "It is a working hypothesis, therefore there is no official confirmation to be given," Vatican representative ... continue reading
---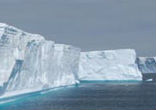 By Catholic Online (NEWS CONSORTIUM)
The rich get richer, the poor get poorer and those polar ice caps keep right on melting. Things have deteriorated so badly - especially the Larsen B ice shelf, that scientist now fear the entire Antarctica ice shelf will collapse by the end of this decade, in ... continue reading
---

By Atarah Haely (NEWS CONSORTIUM)
The worst news for spider haters in Australia and around the globe: a natural migration phenomenon where baby spiders are flying is possible and has recently happened in the southern part of Australia. MUNTINLUPA, PHILIPPINES (Catholic Online) - Referred to as "Angel ... continue reading
---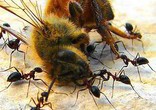 By Catholic Online (NEWS CONSORTIUM)
It is an alarming figure that may speak of a silent, ecological disaster. According to a federal study, more than two out of five American honeybee colonies died in the past year. LOS ANGELES, CA (Catholic Online) - The survey reports that the worst die-off ... continue reading
---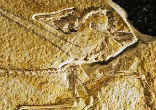 By Catholic Online (NEWS CONSORTIUM)
An asteroid, crashing into the Earth 65 million years ago, is thought to have caused the dinosaurs to go extinct. A group of dinosaurs managed to survive, and is thought to have evolved into modern-day birds. That theory has been around since the 19th Century. ... continue reading
---

By Atarah Haely (NEWS CONSORTIUM)
Inside a cave near Tena in Ecuador, a group of scientists filmed a catfish climbing up the wall to lick food from the roof. Climbing seems impossible for fishes, but evidence of an actual video showing an armored catfish making its way up the cave wall presents a new ... continue reading
---

By Nikky Andres (NEWS CONSORTIUM)
In the next century or so, one in six species of plants and animals are likely to be extinct in South America, New Zealand, and Australia. Species in North America are at a lower risk of being extinct. MUNTINLUPA, PHILIPPINES (Catholic Online) - According to a study ... continue reading
---

By Talia Ramos (NEWS CONSORTIUM)
Oxford University researchers observed a rapid decline among large herbivores living in the rainforests, savannah and jungles located in Southeast Asia, as well as in India and Africa. MUNTINLUPA, PHILIPPINES (Catholic Online) - According to the experts, this ... continue reading
---
All Green News