By Catholic Online (NEWS CONSORTIUM)
2/18/2013 (2 years ago)
Catholic Online (www.catholic.org)
Sixth such killer whale born in amusement park's history
The little shaver weighed in at 350 pounds. That's the report from SeaWorld Sand Diego, in California. A killer whale was born at the park's Shamu Stadium, making it the sixth time a killer whale has been born at the park in its 49-year history.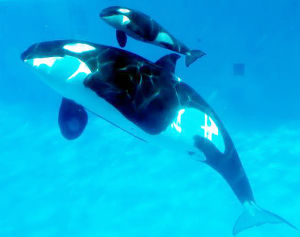 The baby whale instinctively swam to the water's surface to take its first breath seconds after being born.
LOS ANGELES, CA (Catholic Online) - The moment was captured on video. The baby whale is seven feet long, and was born after an almost 18-month gestation.

The birth took place under the watchful eyes of the SeaWorld's zoological team members after more than an hour of labor.

The baby whale instinctively swam to the water's surface to take its first breath seconds after being born.

The park's zoological teams members report the mother and baby appear to be healthy, but as with any newborn, the first few days are critical. The calf's sex is yet to be determined

"The mother and baby appear to be doing very well and our initial observations indicate this is a strong healthy calf," Vice President of Zoological Operations Mike Scarpuzzi says.

According to the online encyclopedia Wikipedia, the killer whale, also referred to as the orca whale or orca, and less commonly as the blackfish, is a toothed whale belonging to the oceanic dolphin family. Killer whales are found in all oceans, from the frigid Arctic and Antarctic regions to tropical seas. Killer whales as a species have a diverse diet, although individual populations often specialize in particular types of prey. Some feed exclusively on fish, while others hunt marine mammals such as sea lions, seals, walruses, and even large whales. Killer whales are regarded as apex predators, lacking natural predators.

Killer whales are highly social; some populations are composed of matrilineal family groups which are the most stable of any animal species. Their sophisticated hunting techniques and vocal behaviors, which are often specific to a particular group and passed across generations, have been described as manifestations of culture.


---
Copywriter 2015 - Distributed by THE NEWS CONSORTIUM
Pope Francis Prayer Intentions for June 2015
Universal:
That immigrants and refugees may find welcome and respect in the countries to which they come.
Evangelization:
That the personal encounter with Jesus may arouse in many young people the desire to offer their own lives in priesthood or consecrated life.
---
---
---

By Talia Ramos (NEWS CONSORTIUM)
Summer months bring an intense heat to farmlands and drought stricken parts of the world. The heat from the sun can damage not only crops that need regular water supply, but will also cause sickness, dehydration and death to farm animals. MUNTINLUPA, PHILIPPINES ... continue reading
---

By Hannah Marfil (NEWS CONSORTIUM)
The severe drought in California has recently alarmed residents of San Francisco, as its century-old sewer system takes a serious hit. Contrary to the popular belief that the drought might give the sewers a break, as it is expected to facilitate less water, it ... continue reading
---

By Atarah Haely (NEWS CONSORTIUM)
A mysterious object lit up in the sky on June 29 in the southeast. The source has since been confirmed as a space junk passing by and reentering our atmosphere. Sightings of the "fireball" were taken to social media, where people tried to guess whether it was a ... continue reading
---

By Linky C. (NEWS CONSORTIUM)
A normal life remains to be far-fetched for residents in the town of Monson, CA, located 200 miles from the northern part of Los Angeles. Residents in the area have already spent four gruesome months without running water in their homes. The four years of drought ... continue reading
---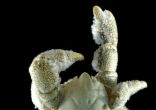 By Catholic Online (NEWS CONSORTIUM)
The Kiwa tyleri is a furry breed of crab that is only found in the hydrothermal vents in Antarctica. The species can only thrive in water that is between 945 and 104 degrees in Antarctica - making it rare indeed. Growing to only two inches in length, the Kiwa ... continue reading
---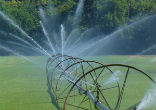 By Catholic Online (NEWS CONSORTIUM)
The water shortage in California, now dragging into its fourth year is being categorized as "extreme to exceptional drought." Everyone, including all western U.S. states is now expected to conserve - and not just in California. Below are the facts that everyone in the ... continue reading
---

By Atarah Haely (NEWS CONSORTIUM)
Scientists have cross-bred corals coming from different latitude with variety of temperatures underwater and found that there are some corals that adapt better in climate change than others. With the rapid decline of coral reefs, experts are hoping that this new ... continue reading
---

By Hannah Marfil (NEWS CONSORTIUM)
With the pressing idea that humans have to find suitable life outside Earth in mind, many projects and experiments are being conducted to find a livable environment on Mars. The planet is not yet suitable to live on but a new project suggests that they may have the ... continue reading
---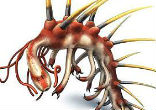 By Catholic Online (NEWS CONSORTIUM)
A spiny little organism rightfully called the Hallucigenia sparsa - so hallucinogenic was it in appearance, had scientists scratching their heads, literally unable to make heads or tails of it. Living in the Cambrian age of 508 million years ago, the ... continue reading
---

By Talia Ramos (NEWS CONSORTIUM)
Earth runs in an inconsistent speed, so to synch it up with the atomic clock, June 30, 2015 will be longer by a second. This extra second, added after midnight, is called a leap second. This is not the first time extra time has been added in order for several ... continue reading
---
All Green News