Kids, pastor make Stations of the Cross books
---
RHINELANDER, Wis. (Superior Catholic Herald) - Many of the youngest students at Nativity of Our Lord School are eager to share their thoughts about the Stations of the Cross. Each week, after participating in the stations, kindergarten through second grade students return to their classrooms clutching their personal booklets, prepared especially for their age group.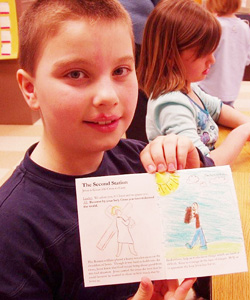 THE STATIONS, ILLUSTRATED - Second grader Zach Olds displays one of the pages in his booklet. (Catholic Herald/Mary Grieco)
"We always pray the stations with the children, but I have always wanted to find a way to make them more meaningful," said Fr. John Gerritts, Nativity pastor. When the previous books became worn and outdated, he decided to create one appropriate for his young parishioners.
He admits that when he considered ordering new books, the cost was a concern. But more importantly, he wanted to find just the right words that would be meaningful to the children.
"I wanted to try to make the stations relevant to their lives," he said. So he personally wrote meditations for each station and left a blank page next to each so the children can draw a picture showing how that station relates to a personal experience. "That way the books become their own," he added, and they can keep them for years to come.
Where words fail, drawings help
With help from a talented mother-daughter team, Cheryl and BrieAnna Simon, Gerritts soon had just the right book. Cheryl did the layout, while BrieAnna, an alumna of the school and now a college freshman, contributed simple, colorful drawings depicting each station. "It's so cool that all these kids are getting a chance to use these books," BrieAnna said.
For the very young children who may not yet be able to read all the words, her drawings are particularly helpful in understanding Jesus' journey to Calvary.
Some of the second graders, including Rachel Uhlarik, can already name all of the stations in order. "It must have been very hard for Jesus," she observed as she paged through her book.
Classmate Abby Oettinger said she is trying hard to learn how to pray the stations. "Sometimes I don't know what to say to God, and this book helps me know the right words. It is good we can keep it."
As their teacher, Margaret Barnes, was explaining how Simon helped Jesus carry His cross, some of the students asked for ideas on what they could draw. With some gentle nudges from their teacher, the budding artists soon came up with creative ways of showing how they could help others--from carrying in wood to helping a friend with a math problem.
The meditation for the fifth station concludes by saying, "God our helper, when we are in need you help us, as Simon helped your son, Jesus. May we follow your example and help all who are in need."
Even after this Lenten season is long past, many of these personalized Stations of the Cross booklets with their creative drawings will likely remain among school-days keepsakes.
---
This story was made available to Catholic Online by permission of the Superior Catholic Herald (www.catholicherald.org), official newspaper of the Diocese of Superior, Wis.
---
---
---
More Lent & Easter
---
'So it is written that the Christ would suffer and on the third day rise from the dead'
Easter / Lent News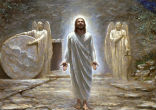 Christ is risen! Truly, he is risen! Jesus Christ has conquered sin and death. We know that God has the final word. And that word is love. ... continue reading
---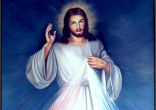 Though it started out from a revelation that was made by Jesus to Saint Faustina, it is now an official feast in the Catholic Church. ... continue reading
---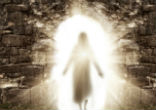 On Easter morning Pope Francis said God's announcement to his people always comes as a surprise, like the shock of the disciples who found ... continue reading
---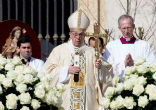 During his Urbi et Orbi Easter blessing, Pope Francis said Jesus' death and resurrection provide hope to a world marred by conflict, ... continue reading
---

The Easter Bunny is a symbol of Easter that is popular in western culture, especially with children. According to folklore, the Easter ... continue reading
---