FRIDAY HOMILY: It is the Lord!
---
Christ Calls Us to a Life of Faith and Love
Throughout the history of the Church we have seen ordinary men and women accomplish extraordinary things through their faith in God. Let us always remember St. Josemaria Escriva's words, "With a love like John's and a Faith like Peter's, what is there to stop us!"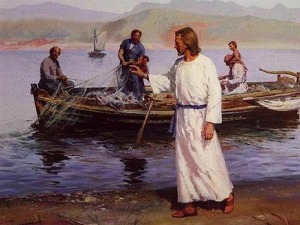 WASHINGTON, DC (Catholic Online ) - Many years ago, a friend and I decided to enter a fishing tournament. It was in early April in Kansas - yes, there are lakes in Kansas - and we decided to try our hand at competition fishing for crappie, a good tasting pan fish.
It was just the past summer when we had been fishing in a nearby reservoir when we caught 63 of them in a period of just a few hours. So we thought we could really compete.
The day of the tournament was cold and rainy. We set out in our little pontoon craft and started in. Every once in awhile another boat would come by and the usual conversations would take place.
"How's the fishing?" they would ask.
"Not too good, yet," was our reply.
"Catch anything?"
"Yes, we have." (We never let on that is was just one medium-sized crappie.)
"We're going to try around the point. We've heard there may be some there."
"Good luck!" (I'm not sure how sincere we were, after all it was a competition.)
After eight solid hours on the water, cold and wet and without the aid of "fishfinders," a fancy boat to run all over the lake and classy outfits, our rag-tag duo finally called it a day. We turned in one measly fish.
While we may not have needed the matching jumpsuits of some of our competitors or a high-speed boat on our small lake, we sure could have used some help in determining where the fish were located.
The disciples were having that same good fortune soon after the Lord appeared to them in Jerusalem. They had done just as Jesus had directed, traveling back north to the Sea of Galilee to await Him.
In today's gospel from John 21:1-14, St. John's lists seven who were present at the time, five of which were apostles - Peter, Thomas, James, John, and Nathaniel. He also indicates that two other unnamed disciples were there.
While they were waiting, Peter decides it is time to go fishing. Unfortunately, net fishing, which is normally done through the night, didn't prove to be at all fruitful. At daybreak, they were tired and the nets were still empty.
With their boat about 100 yards off shore, the disciples see a man standing on the beach, not knowing it was Jesus.
"How's the fishing?" he asks. "Did you catch anything?" (My paraphrase)
"No, not a thing."
At that Jesus tells them to put the net down on the right side of the boat and they will have some. Having just dropped the net, they realize that it is now so full of fish that they can't even haul it in.
A Love Like John's
In the midst of the chaos that must have been taking place on the boat, John cries out to the rest, "It is the Lord!" Obviously, even in the presence of so much distraction, the love for Jesus that possessed John so powerfully caused him to see something that other's had overlooked.
Love can do that to people. When we're in love, we're always on the outlook for the one that holds our heart. Just seeing them in the distance, walking toward you is enough to send you soaring!
That kind of love for our Lord was summarized beautifully in the Song of Songs, where the bride says of her bridegroom, "The sound of my lover! Here he comes springing across the mountains, leaping across the hills." There is a stirring in her heart that comes merely from the sound of his coming.
In St. John's gospel, he called himself "the disciple whom Jesus loved." He could just as easily be described as "the disciple who loved Jesus."
He was the disciple that would not leave his friend, even at the cross. He was the disciple that was entrusted with Jesus' mother. He was the disciple that ran to the tomb first but, halted before going in - not sure what he would find regarding the one he loved.
John writes a lot about love in his epistles. He cautions us to avoid placing our love in the world or the things of the world. He warns us that this can lead us to a perversion of love, involving the lust of the flesh, the lust of the eyes and the pride of life.
Knowing that love is the greatest weapon that the Christian has, calls us to "love another, for love is of God and he who loves is born of God and knows God." (I John 4:7) When we love God and our brothers around us, we see God at work in the world.
Nothing has shown this more poignantly in recently months that the witness of our Holy Father, Pope Francis, with the people. Young, old, rich, poor, healthy or sick; it didn't matter to the love that he expressed to those around him.
It is love for God and one another that makes us fearless in the midst of an adverse society. "There is no fear in love," St. John reminds us, "but perfect love casts out fear."
When we have that kind of fearless, relentless love, we become a force for righteousness in the world. Our love causes us to follow God's commandments, to live like him among our peers and make decisions that honor him and honor his Church. We can be counted for something, making an impact in the lives of others in monumental proportions.
Many years ago I heard the story of a former Jehovah's Witness missionary who knocked on the door of a Christian family. They warmly received him and, upon sitting down in their living room, systematically began to try and destroy their faith - that they might be persuaded to believe as he did.
They invited him back for dinner the next night and asked that he bring any dirty laundry. They wanted to be sure he was cleaned up and well fed. He took them up on their offer, seeing this as another great opportunity to get to them.
This went on for several nights until finally he began to ask them about their faith in Christ and, leaving the Witnesses behind, became a true follower of Jesus Christ.
Later on he would say, "You know, I could argue the Bible with them to the point where they had nothing to say to disprove me. I would always win that argument. But, I couldn't get away from their love. They had a love for me that was different than anything I had ever experienced as a Jehovah's Witness. I know that Jesus Christ was truly loving me through them."
A Faith Like Peter's
The scene on the boat reminds me a lot of what took place at the tomb. John was the first to arrive, but halted at the entrance. Peter, on the other hand, blew right past John and went into the tomb.
Hearing that it was Jesus, Peter didn't even stop and think what to do next. He tucked in his garments, dove in the water and swam to shore. Nothing was going to keep him from getting to the Lord. What faith he had!
If John exemplified love, Peter was the picture of faith. He was the first one to declare who Jesus was; he was willing to step out of the boat and walk to him on the water; and he was the one who refused to turn away even when the teachings of His Lord seemed so strange. "Lord, to whom shall we go?" he states. "You have the words of eternal life.
When we have faith like Peter's, nothing stands in our way of walking out our life in Christ. With the apostle, we are able to declare in confidence, "His divine power has granted us all things that pertain to life and godliness, through the knowledge of him who called us to his own glory and excellence, by which he has granted to us his precious and very great promises, that through these you may escape the corruption that is in the world because of passion, and become partakers of the divine nature." (2 Pt. 1:3,4)
Those are some pretty amazing words coming from a former fisherman. What a difference faith made in the life of Simon Peter! We see this not only in Peter but the other apostles as well. It was so notable that St. Luke writes of it in his "Acts of the Apostles."
Now when they saw the boldness of Peter and John, and perceived that they were uneducated, common men, they wondered; and they recognized that they had been with Jesus.
Throughout the history of the Church we have seen ordinary men and women accomplish extraordinary things through their faith in God. St. Paul speaks of it when he exclaims, Now to Him who is able to do exceedingly abundantly above all that we ask or think, according to the power that works in us, to Him be glory in the church by Christ Jesus to all generations, forever and ever. Amen. (Eph. 3:20)
When he spoke about the words and actions of John and Peter on the Sea of Galilee that day, St. Josemaria Escriva offered the following observation, "With a love like John's and a Faith like Peter's, what is there to stop us!"
As we can see, nothing certainly stopped the Church in the first two millennia. What could make us think that anything can stop us now!
A Catch Like Theirs
John's gospel is specific; there were 153 fish in the net. The Church Fathers, theologians and Biblical commentators have all weighed in throughout the centuries on the meaning of the 153 fish.
St. Augustine labored long and hard to find a mathematical meaning, determining that you can take the number of the old law, which is 10 and the number of the new law in the Holy Spirit, which he determined as 7 (from the seven-fold gift of the Spirit), you get 17. If you add up all the serial numbers between one and 17, you get 153. He concluded that the number stands for all those throughout history who are sharers in the grace of the gospel.
Others have taken other courses. St. Jerome postulated that 153 was the number of species of fish identified by the Greek zoologists of the time, indicating that the apostles would become fishers of men in every nation of the world.
However we might want to think of this, Jesus had brought a full catch of fish to the apostles for their nets and when they brought them in the nets did not tear. Whatever lay ahead for the apostles, they would have supernatural assistance to make sure the message went out and the harvest would come in.
Just weeks later on the Feast of Pentecost, the nets began to fill, first in Jerusalem, then in Judea, then Samaria and the uttermost parts, just as Jesus had instructed. Thousands upon thousands came into the Church.
When I think of the condition of the sea of society today, the turbulence of the waters and the lack of fish in our "finders," we can take heart that, filled up with love and faith, when directed by our Lord "we can do all things through Christ who strengthens us."
At every point in our journey of faith we are not alone. Through the readings of Holy Scripture, through the Holy Sacrifice of the Mass, through prayer and through our quiet times of meditation, we can always cry out, "It is the Lord!"
He is with us. He continues to guide us as the head of His Church.
Just last week at Easter vigil, the nets of the Church were full as those who made profession of faith were received into the One, Holy, Catholic and Apostolic Church. Let us always remember St. Josemaria's words, "With a love like John's and a Faith like Peter's, what is there to stop us!"
-----
 
Father Randy Sly is the Associate Editor of Catholic Online and a priest with the Personal Ordinariate of the Chair of St. Peter (http://usordinariate.org) established by the Holy Father, Pope Benedict XVI, through the Apostolic Constitution Anglicanorum Coetibus. He is currently the chaplain of the St. John Fisher Ordinariate Community, a priest in residence at Our Lady of Hope Catholic Church and Director of Pro-Life Activities for the Ordinariate. He is a popular speaker for parishes, apostolates and organizations.
---
Copyright 2018 - Distributed by THE CALIFORNIA NETWORK
Pope Francis Prayer Intentions for APRIL 2018
For those who have Responsibility in Economic Matters.
That economists may have the courage to reject any economy of exclusion and know how to open new paths.
---
---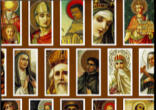 Calling the saints to mind inspires, or rather arouses in us, above all else, a longing to enjoy their company, so desirable in itself. We ... continue reading
---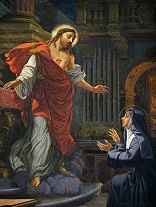 The heart is the center of a person, the place from which he/she makes the choices which will affect the world within them and around them. ... continue reading
---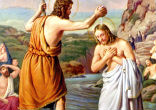 The consideration of Jesus' baptism, gives us an opportunity to remember our own baptism. If you do not know the date of your own ... continue reading
---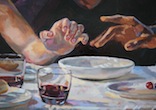 I gave my back to those who beat me, my cheeks to those who plucked my beard; My face I did not shield from buffets and spitting. HYTHE, ... continue reading
---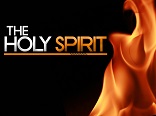 The Spirit makes one man a teacher of divine truth, inspires another to prophesy, gives another the power of casting out devils, enables ... continue reading
---