FRIDAY HOMILY: More Paul's from our Saul's
---
During this Year of Faith, let us ask God to raise up those who will take the Gospel to this generation
Today we celebrate the Feast of the Conversion of St. Paul. Imagine being a part of this new and dynamic group of followers of Jesus Christ. There had been a great outpouring of the Holy Spirit on the Day of Pentecost and the Church, then called "The Way," was exploding. The whole city of Jerusalem was buzzing with rumors. Then came the persecution and an enemy of the Church named Saul. No one would have predicted that he would later become the one through whom God would take the Gospel to the Gentiles.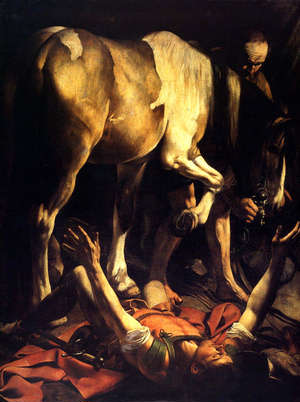 Conversion of St Paul. Rome, Italy
WASHINGTON, DC (Catholic Online) - "Saul, still breathing murderous threats against the disciples of the Lord." This extract from the Acts of the Apostles Chapter 9, verse1 underscores how radical the conversion of St. Paul really was.
Imagine being a part of this new and dynamic group of followers of Jesus Christ. There had been a great outpouring of the Holy Spirit on the Day of Pentecost and the Church, then called "The Way," was exploding. The whole city of Jerusalem was buzzing with rumors.
People were presenting themselves to the apostles and other disciples to be baptized. They would then meet in homes on Sunday, called the Lord's Day, after attending Synagogue on the Sabbath. There they would offer Thanksgiving and partake of Holy Communion, using bread and wine in the manner Christ had taught them.
Sure, there was opposition from the Jewish leaders and those from Herod's palace. In fact, many people were afraid to get involved out of fear from being ostracized. It was a dangerous time to be a disciple of Christ, but it would soon become even worse.
After the martyrdom of Stephen, the deacon, a major persecution broke out across the city of Jerusalem. It became so dangerous for The Way, that many of them fled into other parts of Judea, up into Samaria and beyond.
 At that time, a brilliant rabbi, Saul of Tarsus, who was a star pupil of the master teacher, Gamaliel, had assumed a personal vendetta against Christians. In Jerusalem, he proceeded to track down Christians in a house-to-house search and drag them off to jail.
Knowing that many had fled the city, Saul obtained letters from the high priest to take with him on a crusade to capture these Christ-followers and bring them back in chains. It was in the context of his preparations for this journey that those scathing words - "breathing murderous threats" - were used to describe his posture.
Then came his encounter on the road to Damascus and the rest, as they say, is history.
What a transformation took place during that encounter, but our Lord did not remove Saul's passion. Rather, he redirected it, that it might become a powerful tool for the gospel. He still was a force with which to be reckoned, however, now he was proclaiming the Good News of Jesus Christ with all of his heart, soul, mind and strength.
In the process of his conversion, there is no point where, like Peter, he is specifically given a new name. It is almost more of a side note by St. Luke, who writes at the beginning of Saul's first missionary journey, "But Saul, also known as Paul." (Acts 13:9a)
While that may be the first time he is called Paul, it is the last time he is called Saul. St. Luke did not want us to forget that something remarkable happened in this man "who once was blind but now I see" as that great old hymn declares.

The Saul's
The conversion of St. Paul shows us that anything is possible with God. You can take the worst sinner and enemy of the Church and, with the work of the Holy Spirit, he or she can become a friend of God.
Many years ago I was working on a special curriculum certification for Religious Education. At one of the seminars we were divided into pairs and given the assignment of writing a paraphrase for a couple of verses of Scripture. Our text was Colossians 1:28-29 - Him we proclaim, warning every man and teaching every man in all wisdom, that we may present every man mature in Christ. For this I toil, striving with all the energy which he mightily inspires within me.
We wrote the following: "We see in everyone the fantastic potential of being an effective disciple of Jesus Christ. For this reason we labor with all the energy the God gives us to challenge and teach everyone in order to bring this about."
Looking through God's lens, the venomous rabbi who was breathing threats was merely a lost soul who was about to come into his calling. He was being viewed through the eyes of potential.
In today's society it is so easy for us to write people off. We have often polarized our perspectives, seeing those who do not agree with us as only the enemy. It may not be as simple as that.
Our challenge right now is to look at the world through these eyes - eyes of potential that see what someone could become rather what they are right now.
It was not very long after I had written that paraphrase that I encountered a young man that - while not venomous and hostile - was still quite unimpressed with the things of God. He was also not that impressed with me - or so it seemed - since I represented a world of faith with which he was not involved or interested. It would have been very easy to simply write him off.
For some reason, I didn't. Over time, as I got to know him, we were able to share more and more about life and ultimately about the Gospel that I held so dear. I was not only able to bring him to accept my message but also to embrace it for himself. He was baptized and began living his life for Christ.
Not long ago I heard from this man again. He let me know that he was still living out his faith actively as a part of Christ's Church and wanted to let me know what a difference our encounter had on him.
The beautiful thing about the Gospel, is that we are able to have such divine encounters with many people over the course of our life. The Saul's are out there. Some are angry, hostile and working to overturn the things of God. Others are not as antagonistic. All of them, however, need to the redeeming grace of Christ applied to their lives. They need their own Damascus road.

The Not-yet-Paul's
Faith is, in many ways, a journey of discovery. Paul set out on the road to Damascus, not aware that there was another destiny awaiting him at the end. Many scholars have tried to determine exactly where on the road Paul's conversion took place. All we know is he was "nearing Damascus."
Paul's journey, however, was not just about encountering a blinding light at a certain place on the road but meeting a man at the end of the road by the name of Ananias. Led by the hand of his startled companions, Paul waited in his epiphany-imposed darkness for three days, not knowing what to expect.
At the same time Paul was awaiting his enlightening, God was preparing Ananias.
Just think for a second, what would it be like to get a message from the Lord to go and visit a man who had a reputation of doing evil toward Christians? He was also informed that the man is now in your city. What conclusion could you draw other than he was there to reproduce the same pattern of behavior there?
Yet, in obedience to the direction he received from the Lord, he went. Not only did he go to Saul but called him "brother!" The three days of darkness were broken by a man who Saul had never met before but who treated him with divine love.
Over the years I have met a lot of "not-yet Paul's." They weren't notorious enemies of the Church. They were, however, a bit rough around the edges when it came to spiritual things but they had been touched and didn't know what to do with what was happening to them.
In this Year of Faith, we need to take seriously our role of encouraging others in their relationship with God. We can think of Ananias as our model for this.
About forty years ago there was an interesting occurrence in our nation called the "Jesus Movement." In the height of the flower-power generation, a group of these young people started reading the Scriptures and had an amazing encounter with God. Excited about Spiritual things, they headed to church - any church. Those who had been raised in a church often went back to the place of their roots, but bringing a new passion for Christ combined with the outward signs of the sixties. They had long hair, ragged jeans, tie-died t-shirts, etc.
Often, the church didn't know what to do with them. These "Jesus people," as they often called themselves, didn't always act the way "normal Christian people" behaved. Many had no clue that many churches and denominations also had a special vocabulary - ways of talking as believers - that everyone was supposed to learn. It was not unusual for these young people to feel unwelcomed or even downright dis-invited from a local congregation.
The churches that did welcome the new converts profited immeasurably. With understanding and patience they brought this rag tag army along. As a result, these parishes experienced many blessings from what these young people contributed to the life of the faith community.
I know because I was one of these people. Raised in the Episcopal Church and very active as an altar server, etc. I had wandered away as a teen - getting involved in playing in a rock back and ultimately becoming a rock-n-roll DJ in the regional radio markets.
My encounter with the Lord was profound and life-changing. However, it took an Ananias - in the form of a local pastor and also one of the church families - to support my formation and maturation as a Christian. They spent a lot of time with me, answered my questions and gave me the opportunity to get involved in ministry. I am forever indebted to them for looking at me through the eyes of potential.
The Paul's
We need more Paul's in our parishes. These are men and women who take their faith seriously and also have a commitment to take it into the world. Their relationship with Christ and His Church is paramount in their worldview. Everything in their lives is built upon this great foundation of faith - with their family, their careers and even their flexible time. It's all about Him.
At the local parish where I am currently in part-time residence, I've been leading a Bible study in the Acts of the Apostles. We are just about at the end of the book and have been journeying with Paul as he was sent out to preach the gospel in Jerusalem, Judea, Samaria and beyond.
Paul described the experience of his ministry to the Corinthians this way: Five times at the hands of the Jews I received forty lashes minus one. Three times I was beaten with rods, once I was stoned, three times I was shipwrecked, I passed a night and a day on the deep; on frequent journeys, in dangers from rivers, dangers from robbers, dangers from my own race, dangers from Gentiles, dangers in the city, dangers in the wilderness, dangers at sea, dangers among false brothers; in toil and hardship, through many sleepless nights, through hunger and thirst, through frequent fastings, through cold and exposure. And apart from these things, there is the daily pressure upon me of my anxiety for all the churches. (II Cor. 11:24-28)
As the Apostle told the Philippians, For to me life is Christ, and death is gain. (Phil. 1:21)
In this day and age, how the Church needs more men and women like that; committed faithful disciples who are willing to take on whatever hardships await for the cause of the Gospel. The more you read the lives of the Saints, the more you see how much they are like St. Paul, devoted to Christ above all else.
I believe there are many like this alive today. In fact, you may be one of them.
As you are reading this, I am in downtown Washington, DC for the annual March for Life. This has been an annual pilgrimage for me over many years. Some years it is warm, some years (like this one) quite cold. There are years with heavy snow and years of bare ground.
The one thing that never changes is the crowd. These are not fair-weather Christians. There are thousands upon thousands of young people, families, along with older men and women who are all standing for Life no matter the climate.
In this mass of humanity gathered on the National Mall, I believe there are myriads of Paul's from every generation. They don't just come out for Marches. They pray in front of abortion clinics, they volunteer at pregnancy centers, they talk to people about Christ and the cause of life. We even have some committed to involvement to the weird world of politics, that pro-life legislation and initiatives might be brought forth.
Today's feast is not a celebration of one Paul alone. We also mark this as a day to remember and celebrate those who have come after him in every decade and century. Even today, those Paul's walk among us who have taken seriously the call of Christ from today's Gospel, "Go into the world and proclaim the Gospel to every creature."
There are catechists, apologists, evangelists, pastors and others who desire nothing more and nothing less than seeing in everyone that fantastic potential of being an effective disciple of Christ. Clergy and lay alike, they have given themselves to the service of Almighty God and His Church. And like Paul, one day they will be able to say, "I have fought the good fight, I have finished the race, I have kept the faith."
-----
Father Randy Sly is the Associate Editor of Catholic Online and a priest with the Personal Ordinariate of the Chair of St. Peter (http://usordinariate.org) established by the Holy Father, Pope Benedict XVI, through the Apostolic Constitution "Anglicanorum Coetibus." He is currently the chaplain of the St. John Fisher Ordinariate Community, a priest in residence at Our Lady of Hope Catholic Church and Director of Pro-Life Activities for the Ordinariate.
---
Copyright 2018 - Distributed by THE CALIFORNIA NETWORK
Pope Francis Prayer Intentions for APRIL 2018
For those who have Responsibility in Economic Matters.
That economists may have the courage to reject any economy of exclusion and know how to open new paths.
---
---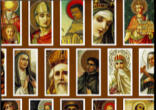 Calling the saints to mind inspires, or rather arouses in us, above all else, a longing to enjoy their company, so desirable in itself. We ... continue reading
---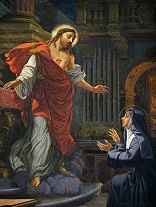 The heart is the center of a person, the place from which he/she makes the choices which will affect the world within them and around them. ... continue reading
---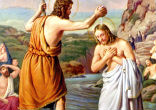 The consideration of Jesus' baptism, gives us an opportunity to remember our own baptism. If you do not know the date of your own ... continue reading
---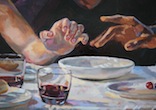 I gave my back to those who beat me, my cheeks to those who plucked my beard; My face I did not shield from buffets and spitting. HYTHE, ... continue reading
---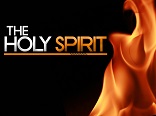 The Spirit makes one man a teacher of divine truth, inspires another to prophesy, gives another the power of casting out devils, enables ... continue reading
---