THURSDAY HOMILY: Compassion and the Universal Call to Holiness
---
Today in our Liturgical calendar we remember St Francis DeSales
Christians live differently because we live in Jesus Christ. We love differently because we love in Jesus Christ. We become different, at the deepest level, when we cooperate with grace and allow the character of Christ to be formed in us. Jesus Christ continues His life through His Body, His Church, of which we are members. We are all called to holiness.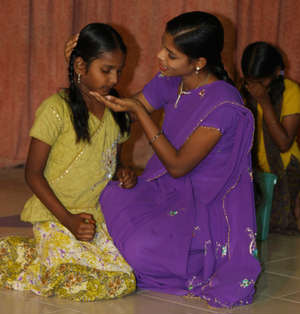 Mother showing compassion to her daughter
P>CHESAPEAKE, VA (Catholic Online) - In today's Gospel St. Mark recounts great crowds following  Jesus, seeking to touch him: "Jesus withdrew toward the sea with his disciples. A large number of people followed from Galilee and from Judea. Hearing what he was doing, a large number of people came to him also from Jerusalem, from Idumea, from beyond the Jordan, and from the neighborhood of Tyre and Sidon."
"He told his disciples to have a boat ready for him because of the crowd, so that they would not crush him. He had cured many and, as a result, those who had diseases were pressing upon him to touch him. And whenever unclean spirits saw him they would fall down before him and shout, "You are the Son of God." He warned them sternly not to make him known."  (Mark 3:7-12)
What is clear in the Gospel passage is the compassion of Jesus. The Latin root from which we derive the English word compassion means to enter into the suffering of another. The crowds were going to crush Jesus. His solution was not to back away, but to find a boat so that he could reach more of them. That compassion is meant to be manifested in each of our lives as His disciples; no matter what our state in life or vocation.
Those crowds are still looking for the Lord. When He is made manifest, they still press in to touch Him. All who bear the name Christian are called to ongoing conversion. We are invited to cooperate with grace and give our whole lives over to the Lord who takes up His residence within us and continues His mission through us.
The Apostle Paul wrote to the early Christians in Galatia, "No longer do I live but Christ lives in me and the life I now live I live by faith in the Son of God."(Gal. 2:20) That can be our experience as we give ourselves over to Him and seek to live by the power of the Holy Spirit. 
Christians live differently because we live in Jesus Christ. We love differently because we love in Jesus Christ. We become different, at the deepest level, when we cooperate with grace and allow the character of Christ to be formed in us. Jesus Christ continues His life through His Body, His Church, of which we are members. We are all called to holiness.
Today in our Liturgical calendar we remember St Francis DeSales (1567-1610). The Saints are all given as examples to emulate. They are our companions on the journey, men and women like us who responded to God's invitation to become like Jesus. They pray for us because we are joined with them in the eternal communion of love. They also put legs on the Gospel, showing us what holiness looks like.
The Catechism of the Catholic Church reminds us "All Christians in any state or walk of life are called to the fullness of Christian life and to the perfection of charity."All are called to holiness: "Be perfect, as your heavenly Father is perfect." (CCC #2013)
Francis DeSales was a man of compassion. He once wrote in a letter to a depressed soul who sought his holy counsel "God wants your misery to be the throne of His mercy. He desires that your powerlessness be the seat of His omnipotence."
In a letter to a Christian exasperated with his progress in holiness he wrote, "Be patient with the whole world, but, above all with yourself. I want to tell you not to lose your serenity because of your imperfections, and always to have the zest to raise yourself up. It gives me joy to see each day you begin again. There is no better way to finish life well than to return to the starting point always and not ever to think that we have done enough".
He wrote a devotional masterpiece for lay men and women entitled "Introduction to the Devout Life". It was a precursor to the renewed emphasis of the Second Vatican Council on the universal call to holiness. he called all men and women to holiness, in accordance with their state in life and vocation. rOur Office of Readings in the Liturgy of the Hours gives us this beautiful excerpt:
From The Introduction to the Devout Life, by Saint Francis de Sales: Devotion must be practiced in different ways
When God the Creator made all things, he commanded the plants to bring forth fruit each according to its own kind; he has likewise commanded Christians, who are the living plants of his Church, to bring forth the fruits of devotion, each one in accord with his character, his station and his calling.
I say that devotion must be practiced in different ways by the nobleman and by the working man, by the servant and by the prince, by the widow, by the unmarried girl and by the married woman. But even this distinction is not sufficient; for the practice of devotion must be adapted to the strength, to the occupation and to the duties of each one in particular.
Tell me, please, my Philothea, whether it is proper for a bishop to want to lead a solitary life like a Carthusian; or for married people to be no more concerned than a Capuchin about increasing their income; or for a working man to spend his whole day in church like a religious; or on the other hand for a religious to be constantly exposed like a bishop to all the events and circumstances that bear on the needs of our neighbor.
Is not this sort of devotion ridiculous, unorganized and intolerable? Yet this absurd error occurs very frequently, but in no way does true devotion, my Philothea, destroy anything at all. On the contrary, it perfects and fulfils all things. In fact if it ever works against, or is inimical to, anyone's legitimate station and calling, then it is very definitely false devotion.
The bee collects honey from flowers in such a way as to do the least damage or destruction to them, and he leaves them whole, undamaged and fresh, just as he found them. True devotion does still better. Not only does it not injure any sort of calling or occupation, it even embellishes and enhances it.
Moreover, just as every sort of gem, cast in honey, becomes brighter and more sparkling, each according to its color, so each person becomes more acceptable and fitting in his own vocation when he sets his vocation in the context of devotion.
Through devotion your family cares become more peaceful, mutual love between husband and wife becomes more sincere, the service we owe to the prince becomes more faithful, and our work, no matter what it is, becomes more pleasant and agreeable.
It is therefore an error and even a heresy to wish to exclude the exercise of devotion from military divisions, from the artisans' shops, from the courts of princes, from family households. I acknowledge, my dear Philothea, that the type of devotion which is purely contemplative, monastic and religious can certainly not be exercised in these sorts of stations and occupations, but besides this threefold type of devotion, there are many others fit for perfecting those who live in a secular state.
Therefore, in whatever situations we happen to be, we can and we must aspire to the life of perfection.
---
Copyright 2018 - Distributed by THE CALIFORNIA NETWORK
Pope Francis Prayer Intentions for APRIL 2018
For those who have Responsibility in Economic Matters.
That economists may have the courage to reject any economy of exclusion and know how to open new paths.
---
---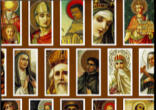 Calling the saints to mind inspires, or rather arouses in us, above all else, a longing to enjoy their company, so desirable in itself. We ... continue reading
---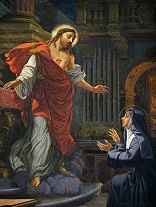 The heart is the center of a person, the place from which he/she makes the choices which will affect the world within them and around them. ... continue reading
---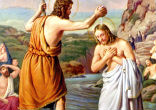 The consideration of Jesus' baptism, gives us an opportunity to remember our own baptism. If you do not know the date of your own ... continue reading
---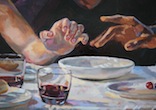 I gave my back to those who beat me, my cheeks to those who plucked my beard; My face I did not shield from buffets and spitting. HYTHE, ... continue reading
---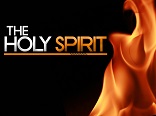 The Spirit makes one man a teacher of divine truth, inspires another to prophesy, gives another the power of casting out devils, enables ... continue reading
---