CHRISTMAS HOMILY: The Challenge Before Us
---
The terrible problems that challenge the world this Christmas are not really a God problem, they are our problems.  How do we respond?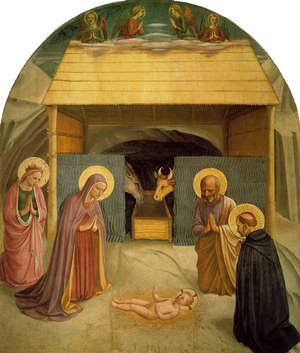 Highlights
By Fr. James Farfaglia
Catholic Online (https://www.catholic.org)
12/26/2012 (5 years ago)

Published in Year of Faith
Keywords: Challenges, Hope, Joy, Benedict XVI, priesthood, Christmas, homily, homilies, Jesus, Father James Farfaglia, Pope Benedict XVI, challenges, evil, tragedy, free will
---
CORPUS CHRISTI, TX (Catholic Online) - In Africa, a tale is told of a boy called Amazu, who was always very inquisitive. One day he asked, "What language does God speak?" But no one could answer him.  He traveled all over his country questioning everyone but could not get a satisfactory answer. Eventually he set out for distant lands on his quest. For a long time he had no success.
At length, he came one night to a village called Bethlehem, and as there was no room in the local inn, he went outside the village in search of shelter for the night. At last he came to a cave and found that a couple and a child also occupied it. He was about to turn away when the young mother spoke, "Welcome Amazu, we've been waiting for you."
The boy, amazed that the woman knew his name, was even more amazed when she went on to say, "For a long time you have been searching the world over to find out what language God speaks. Well, now your journey is over. Tonight you can see with your own eyes the language God speaks. He speaks the language of love."
 
And so each Christmas we contemplate the mystery of our God who became man. He is born in silence, poverty, simplicity and purity in Bethlehem, the house of bread.
Our God made man later taking bread and wine transforms it into his body and blood; thus is the mystery of his Incarnation continued for us in the mystery of the Eucharist, God made real for us.
God becomes man. Bread and wine becomes God-man.
Each time we come to the Eucharist, we come to a new Bethlehem.  He, who rested once in a manger, now rests in our entire being, as we receive him in the mystery of the Mass.
 
Long ago, there ruled in Persia a wise and good king who loved his people. He wanted to know how they lived, and he wanted particularly to know about their hardships. Often dressed in the clothes of a worker or a beggar, he visited the homes of the poor. No one whom he visited even thought he might be their ruler.
 
Once he visited a very poor man who lived in a cellar. He ate the coarse food the poor man ate, and he spoke cheerful, kind words to him. Then he left.
Later when he visited the poor man again, he disclosed his identity saying, "I am your king!" Then the king thought the man would surely ask for some gift or favor, but he did not.
Instead, he said, "You left your palace and your glory to visit me in this dark, dreary place. You ate the course food I ate. You brought gladness to my heart! To others you have given your rich gifts. To me you have given yourself!"
 
This is the true meaning of Christmas.  The second person of the Blessed Trinity becomes incarnate.  Jesus is true God and true man.  He is one person with two natures, a divine nature and a human nature.
"For us men and for our salvation he came down from heaven, and by the Holy Spirit was incarnate of the Virgin Mary, and became man" (Roman Missal, 3rd edition, Profession of Faith).
Had our greatest need been knowledge, God would have sent us an educator.  Had that greatest need been technology, God would have sent us a scientist.  So too had our greatest need been for money, God would have sent us an economist.  Had our greatest need been for pleasure, God would have sent us an entertainer. But, because our greatest need was for redemption from sin, God sent us a Savior.
All of us are familiar with the character of Ebenezer Scrooge depicted in Charles Dickens famous novel, A Christmas Carol, or we have come to know of him through movies and television specials aired during the Christmas season.
Ebenezer Scrooge is completely self-absorbed.  He is resentful of the demands made upon him by those who are poor and less fortunate.
Scrooge, a tragic figure indeed, is visited by three spirits: the spirit of Christmas past, the spirit of Christmas present and the spirit of Christmas future.
The dramatic journey elicits his repentance. He becomes aware of his past indifference and cruelty and is moved to be more generous and benevolent toward those he had been mistreating in the past.
Through a profound catharsis, Ebenezer Scrooge learned how to live for others and not only for himself. By breaking the circle of his ego, he had enabled the light of Christianity to invade his soul and change him into a new man filled with joy and hope.
 
We all have wonderful memories of how we have celebrated Christmas in the past.  On this Christmas, we will relive those memories, create new ones, and cherish our fondest memories in the recesses of our hearts.
The joy and excitement of opening Christmas presents; sampling the delicious foods and deserts that our mothers and grandmothers had prepared; the decorating of the tree; the setting up of the manger scene; the singing of Christmas carols; and of course, the gathering together of family members and friends, all make up the wonderful memories of Christmas.
I have many beautiful memories of Christmases past.  From early childhood, I remember how our entire family always attended Christmas morning Mass at our parish.
Inevitably, somewhere along in the liturgy, the choir would sing Silent Night.  As the beautiful hymn filled the church with harmony, my grandmother would begin to weep uncontrollably.  Once, as a child, I asked my grandmother why she wept so much. "God loves us so much," was her immediate answer.
 
This Christmas memory of my grandmother fills me with sadness at times, but then I remember how she died a number of years ago.  As she lay in bed taking her last breath, she said, "Dear God, I love you."   I am sure that now in heaven she contemplates the eternal face of the God made man born in Bethlehem.
 
There is another Christmas memory that fills me with profound joy, the memory of the first time that I celebrated the Holy Sacrifice of the Mass as a newly ordained priest.
Yes, I was given the amazing privilege of celebrating my first Mass on Christmas morning after having received the inestimable gift of the Catholic priesthood on December 24, 1987, twenty five years ago.  
My family and friends gathered together with me in Rome at a beautiful basilica dedicated to our Blessed Mother, as I celebrated my first Mass at an altar containing relics from the manger of Bethlehem.
 
Most of our memories of Christmas are beautiful indeed; however, many people have memories of a Christmas past permeated with sadness, times of difficulty and distress.
Why does terrible evil exist in the world?  Why doesn't God put a stop to it all?
This world is not a fantasy world as if we were immersed in a Harry Potter movie.  God does not fly around the world like Super Man or like a wizard stopping bad things from happening.
The gospel tells us that the wheat and the weeds grow together.  God respects our freedom and many times our choices are bad.  There are periods of history where it seems that the weeds outnumber the wheat.
Despite the tragedies that man inflicts upon man, the goodness of man prevails because the God-Man Jesus Christ overcame evil.  The tomb is empty.
Tragedies exist; evil exists; bad things happen precisely because man rejects God.  Our modern times are marked by a general rejection of God thus causing the terrible chaos that we see in the news each day.
 
"The people who walked in darkness have seen a great light; upon those who dwelt in the land of gloom a light has shone.  You have brought them abundant joy and great rejoicing, as they rejoice before you as at the harvest, as people make merry when dividing spoils" (Isaiah 9: 1-2).
 
If we live as autonomous beings as though God does not exist, we will be unable to recognize our need for a Savior simply because we will be incapable of recognizing ourselves as sinful creatures needy of redemption.
   
Christmas is all about the Savior who came to save us from sin.  We need to open our minds and our hearts, and allow this Savior to possess our entire being.  As Pope Benedict XVI recently wrote: "The birth of Christ challenges us to reassess our priorities, our values, our very way of life. While Christmas is undoubtedly a time of great joy, it is also an occasion for deep reflection, even an examination of conscience."
Whatever language we may speak as we contemplate the Christ child lying in the manger of Bethlehem, God speaks only one language and that language is the language of love.
The terrible problems that challenge the world this Christmas are not really a God problem, they are our problems.  How do we respond?
The answer is not a what, it is a whom.  "I proclaim to you good news of great joy; today a Savior is born for us, Christ the Lord" (Alleluia, Mass at Midnight).
Father James Farfaglia is a contributing writer for Catholic Online and author of Get Serious! - A Survival Guide for Serious Catholics.  You can visit him on the web at www.fatherjames.org.
---
Copyright 2018 - Distributed by THE CALIFORNIA NETWORK
Pope Francis Prayer Intentions for APRIL 2018
For those who have Responsibility in Economic Matters.
That economists may have the courage to reject any economy of exclusion and know how to open new paths.
---
---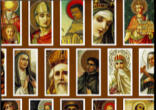 Calling the saints to mind inspires, or rather arouses in us, above all else, a longing to enjoy their company, so desirable in itself. We ... continue reading
---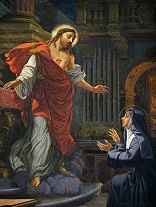 The heart is the center of a person, the place from which he/she makes the choices which will affect the world within them and around them. ... continue reading
---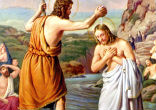 The consideration of Jesus' baptism, gives us an opportunity to remember our own baptism. If you do not know the date of your own ... continue reading
---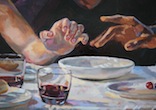 I gave my back to those who beat me, my cheeks to those who plucked my beard; My face I did not shield from buffets and spitting. HYTHE, ... continue reading
---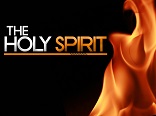 The Spirit makes one man a teacher of divine truth, inspires another to prophesy, gives another the power of casting out devils, enables ... continue reading
---