FRIDAY HOMILY: Do You Believe?
---
Our Personal Relationship with the Living God
It seems, at least from where I stand, that there are a significant number of those in the Church who find it easy to simply go through the motions of belief. They are praying prayers and conforming to the liturgical expectations of worship. They can recite the corporal and spiritual works of mercy, name all the mysteries and even deliver the Apostles Creed flawlessly. Yet, it doesn't seem that they are forming and deepening an ongoing love affair with the God who loves them with an everlasting love.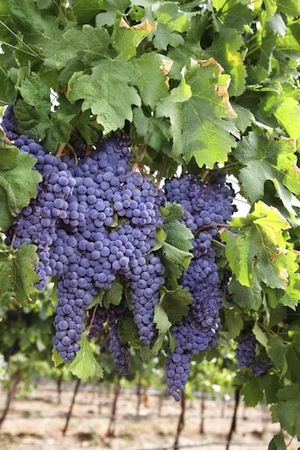 WASHINGTON, DC (Catholic Online) - What a sight this must have been! In today's Gospel reading from Matthew 9:27-31, Jesus was walking the streets of Capernaum while two blind men followed him shouting "Have mercy on us, son of David!" Stumbling along in a personal darkness, each of them had only one thing in mind - healing.
Our Lord had just raised a child from the dead, the daughter of Jairus one of the rulers of the synagogue. Even on the way to the house where the lifeless girl lay, Jesus garment was touched by a woman with an issue of blood who was made well.
It would seem that Jesus did not answer the two men right away. They had to keep following, but this was a time of miracles along the Sea of Galilee and the two sightless men wanted to be among the healed.
A lot is left to the imagination as to how the two men succeeded in navigating the streets, let alone following Jesus into a house. Perhaps someone was guiding them or maybe they simply were following the sounds of the crowds who followed the Lord and his disciples after these last two miracles. All the while they were crying aloud themselves, "Have mercy on us."
Finally they met him in the quiet of a house, where they had been invited inside. They approached him at a place and time when he was away from the clamor of the marketplace or amidst the excitement of the throngs that were still celebrating the resurrection of the young girl.
It was there that Jesus asked them a critical question. "Do you believe I am able to do this?"
What a question!
No longer were they dealing with another's situation but their own. Others had been healed, but what about them? I can only imagine how they felt. What if they said, "Yes" and remained in the dark? What if they said, "No" and lost the opportunity to see. Everything was riding on this one response. What to say?
Their answer was not just "Yes but "Yes, Lord." Their faith was not merely based on what they could conjure through positive thinking, it was a flat out belief that the one they was asking was truly the Son of David - as they called him - the longed for Messiah.
They not only believed in Him as God, they believed He could do Godly things. They couldn't see Him; they couldn't even see the miracles he'd performed; yet they believed.
OK, I'll say it - they had blind faith. (It's OK to groan at this point.)
This is not blind faith in the dictionary sense, which states that this means "faith without proof." Actually in the Biblical definition, all faith is blind as it is "the assurance of things hope for, the conviction of things not seen." (Heb. 11:1)
However, this is a faith not based on some thing but someone. It is not fixed upon the outcome but upon the one who "by the power at work within us is able to do far more abundantly than all we could ask or think." (Eph. 3:20)
It has now been about six months since I was ordained a Catholic priest. Having spent 30 years in ministry in the Protestant world, returning to ministry - particularly as a Catholic - has been a great blessing. Whether I'm saying Mass, hearing confessions, counseling, teaching Bible study or doing a number of other activities, I thank God for the privilege of serving Christ and His Church in Holy Orders.
One thing has not changed in those decades I had served in Christian ministry - the challenge of establishing individuals in a vital and living faith.
It seems, at least from where I stand, that there are a significant number of those in the Church who find it easy to simply go through the motions of belief. They are praying prayers and conforming to the liturgical expectations of worship. They can recite the corporal and spiritual works of mercy, name all the mysteries and even deliver the Apostles Creed flawlessly. Yet, it doesn't seem that they are forming and deepening an ongoing love affair with the God who loves them with an everlasting love.
Age does not seem to matter. Young or old, I see so many who seem to be simply going through the motions of devotion. They are like the blind, their spiritual vision dimmed, who do not know He is really there.
How I wish I could take off their blinders and let them see the God standing in front of them. How I want them to understand. actually, it's more than just understanding; I want them to know God; to enjoy a personal relationship with the Lord of the Universe.
This year we are celebrating the Year of Faith. While we could view it as a Year of adhering to the true teaching of the Church, it is much more than that. It is coming into communion with the Teacher.
At the introduction of the Pope's Apostolic Letter on the Year of Faith, "Porta Fidei," the Holy Father writes, Ever since the start of my ministry as Successor of Peter, I have spoken of the need to rediscover the journey of faith so as to shed ever clearer light on the joy and renewed enthusiasm of the encounter with Christ.
During the homily at the Mass marking the inauguration of my pontificate I said: "The Church as a whole and all her Pastors, like Christ, must set out to lead people out of the desert, towards the place of life, towards friendship with the Son of God, towards the One who gives us life, and life in abundance."
Pope Benedict is calling the Church to a journey that, like the Israelites who had left Egypt, takes us through our wilderness wanderings and into the land of promise. While this land was going to provide everything that the chosen people of God would need for their physical life, the real essence of this destination is that they would be His people and He would be their God. This would be nation built on relationship.
The blind men who followed Jesus can help us to find this relationship. They said three things that will assist us on our journey to Christ. All we have to do is follow their lead.
Have Mercy
Like the two following Jesus, we need to call out, "Have mercy on us!"
Our world's understanding is very different than that of Christ and His Church. Normally, when we hear someone cry out for mercy, we assume they are asking for two things - for something bad to cease or for someone in power to feel poorly for them in their distress and lend a helping hand.
God's mercy is much more than that.
In his encyclical "Dives in Misericoridia," Blessed John Paul II said that mercy "is love's second name." What a beautiful description of a term that defies a narrow definition.
We might see mercy as love in action, where the one who loves desires to render assistance, aid, or other resources needed to help the one being loved. In that sense, the two blind men were asking for God to respond in loving action regarding their condition.
We, too, have the opportunity to cry out for mercy; for God to come our aid in our distress out of His love for us. In fact, this is something we do every Mass and something we can take with us into the rest of the week.
In the Eastern Church many - and even some in the Western Church - practice what is called the Jesus Prayer, praying "Jesus Christ, Son of God, have mercy on me a sinner." In this short but powerful prayer we can find the fullness of the Gospel.
The Jesus Prayer is said repeatedly, often using a prayer rope or beads similar to what we use in the Rosary. It has been used to develop systems of contemplation. The key is to let this prayer become a regular part of life like our beating heart or breath. It keeps us living in the love of God.
When we ask God for mercy, we are asking to be drawn more deeply into His love, both offering our love to Him and to receive His love for our own needs as well as letting it pour out of our lives in the lives of others.
Son of David
In terms of my re-awakening to the things of God, I can be described as a product of the Jesus movement. This was a time in the late 60's and early 70's when Christianity - a new young vibrant and alive version of faith spread through the young people of the country.
There were some goofy things done in the name of the Lord during those times, but, for the most part, the results of this movement were quite good. It brought thousands upon thousands of young people into churches of all confessions, many who are still living for Christ today.
Most young people had during that time had what was called a life verse. This was a verse of Scripture they felt formed a strong basis upon which they wanted to build their lives. It became their motto, the theme for their lives.
Well, I had a life verse; actually it was two verses long. "Abide in me, and I in you. As the branch cannot bear fruit by itself, unless it abides in the vine, neither can you, unless you abide in me. I am the vine, you are the branches. He who abides in me, and I in him, he it is that bears much fruit, for apart from me you can do nothing. (John 14:4,5)
That verse formed the basis how I wanted to build my life spiritually. I recognized that Christ is the vine and the members of His Church form the branches. As we continue to live out our lives connected to Him - abiding or remaining in Him - He will cause my live to exhibit the fruit of His Spirit: love, joy, peace, patience, kindness, faithfulness, goodness, gentleness, self-control.
The reason these would be in me is from the love relationship I have developed with God the Son.
By the way, one great discovery about this commitment to abide came when I read John 6:56 - "He who eats my flesh and drinks my blood abides in me and I in him." In other words, the Mass is one of the most important parts of abiding!
As the blind men were following after the Lord, they kept crying out, calling Him the "Son of David." This is a term used to describe the one who is the Messiah - the savior of whom the prophets spoke and for whom the nation of Israel was waiting. They wanted a divine connection - an abiding relationship with Him - and actually had a better vision of who Jesus was than those who were sighted.
When we pray, we are addressing the God of the very universe. Our prayers along with our songs of praise and acts of devotion are not being sent into an abyss or up into the clouds. The One who loves us with an everlasting love and desires to be intimately involved in our lives is hearing them.
We are participating in a supernatural and spiritual dimension of life. Our life, through our baptism, has begun to participate in a great cosmic work of salvation history that reaches through history and around the world. At the same time it is personalized into each of our hearts. Jesus is our savior; He is our Lord! We have an open invitation to come to him.
Yes
Our Lord's actual involvement with the two men begins with an interesting question - "Do you believe I am able to do this?" It was a question he asked in private, not in front of a crowd in order to create a spectacle.
This was a personal moment for these two men. Their response opened the door for more than just a conversation; they would receive a miracle.
Let's look at the question a moment - "Do you believe I am able." Jesus did not push them to believe it into existence, saying, "Do you believe it is going to happen?" or "Do you believe I will do this?"
Their whole trust was placed in Him, abandoning themselves to His will and purposes for their lives but fully confident that He had the ability to bring about the healing of their eyes.
Sightless and separated from the crowd, they were alone with the Son of David and his disciples. Whatever would happen, they were ready.
Then they felt the touch of someone's hand on their eyes. At that moment, brightness began to overtake their darkness. However many years they had been blind, this change would be staggering. Slowly shapes and colors could be made out and they could see the One they had been following.
What joy would be in their hearts! What excitement. They could see. Even though they were warned not to say a word, how could they keep silent? Their "yes" had become the gateway to healing.
When we say yes to the Lord, we, too, are opening ourselves to his purposes for our lives. The outcome may not be as startling as this miraculous healing. My own "yes" has become a true pathway of blessing - including some bumpy roads, since those experiences are just as important.
The Psalm for today's Mass readings states, "I believe that I shall see the goodness of the LORD in the land of the living. Wait for the LORD; be strong, and let your heart take courage; yea, wait for the LORD!"
This is the path the blind men followed; the path that millions throughout history have also hiked. This is the path out of the desert and into the land of promise, leading to relationship with our Lord and Savior; bringing about His purposes and living out His grace. Take heart, take courage, as the psalmist says and walk this path.
---
Copyright 2018 - Distributed by THE CALIFORNIA NETWORK
Pope Francis Prayer Intentions for APRIL 2018
For those who have Responsibility in Economic Matters.
That economists may have the courage to reject any economy of exclusion and know how to open new paths.
---
---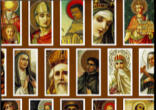 Calling the saints to mind inspires, or rather arouses in us, above all else, a longing to enjoy their company, so desirable in itself. We ... continue reading
---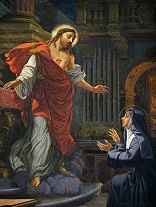 The heart is the center of a person, the place from which he/she makes the choices which will affect the world within them and around them. ... continue reading
---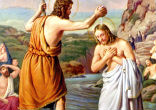 The consideration of Jesus' baptism, gives us an opportunity to remember our own baptism. If you do not know the date of your own ... continue reading
---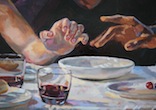 I gave my back to those who beat me, my cheeks to those who plucked my beard; My face I did not shield from buffets and spitting. HYTHE, ... continue reading
---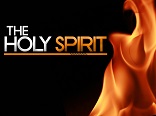 The Spirit makes one man a teacher of divine truth, inspires another to prophesy, gives another the power of casting out devils, enables ... continue reading
---