TUESDAY HOMILY: Paper Crowns and Plastic Trophies
---
Today's gospel is all about faithful service and reward. A servant shouldn't ask about a reward because he has only done what he was expected to do." Why should he get a reward for doing his duty? That wouldn't be worth much more than a plastic trophy or a paper crown.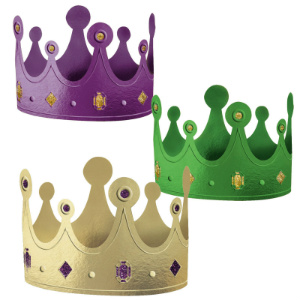 GREENVILLE, SC (Catholic Online) - When I was in high school there was a trophy for the winning football team. It was a huge, solid brass cup with marble, silver and gold trim on a hardwood base.
This trophy would be held by the winning school for a whole year and their name would be engraved on a plaque on the trophy's base. The school trophy case was modest in size, but was full (or not full depending on the year) of similar sorts of trophies for the different sports.
Then trophies were worth something. They were solid and real, and to keep the trophies you had to win them every year or the the arch rivals would get them. The trophies were not only worth something. They meant something.
Not any more.
Our local high school can't build the trophy cases fast enough and big enough.
That's because the old type trophy out of solid and precious materials has been replaced with plastic trophies. That's right. All those trophies your children and grandchildren receive? They're plastic. The gold and silver trim is all plastic. They're plastic and they're everywhere.
The kids have to get a trophy for every little thing they do. Giving the plastic trophies out left, right and center has made the whole trophy giving exercise meaningless.
It's somehow suitable that the trophies are made of plastic because that's about what they're worth. They're not worth much more than the paper crown in the Christmas cracker or the cardboard crown you get at the local burger joint with your kiddie meal.
Today's gospel is all about faithful service and reward. Jesus asks his audience, "If you have a servant who has just finished working in the fields you don't ask him to come and sit down to dinner with you. It's his job to serve the table. He shouldn't ask about a reward because he has only done what he was expected to do."
Why should he get a reward for doing his duty? That wouldn't be worth much more than a plastic trophy or a paper crown.
Hold on a minute! This seems rather harsh doesn't it? Is Jesus really recommending that masters be so bossy and selfish and hard on their servants? Is this really just telling us to get on and do our duty and not think about rewards?
On one level maybe, but, as usual, there is more to it.
To fully understand the gospel we have to look at the context. Just before this story in Luke chapter 17 we have the story about faith being like a mustard seed which grows into a great tree.
Just before that the apostles said, "Lord increase our faith!"
In reply Jesus gives this illustration about a rather stern master who expects his servant to come in from the fields and immediately get supper ready and serve at the table.
Jesus is trying to show his disciples what faith really is. Faith is like a mustard seed. It's something tiny and humble and seemingly insignificant. It's something unremarkable.
Faith is not some razzmatazz religious experience.
Faith is not trying very, very hard to believe something which you know deep down probably isn't true. Faith is not simply signing up to a list of religious beliefs and moral principles. Instead, faith is living a certain kind of life.
The faithful servant in today's gospel is an illustration of faith.
Faith is a life lived, not just a set of doctrines believed.  Faith is as gritty and real as coming in from the fields and then tying on the apron and getting supper ready. Faith is a life of service and sacrifice. Faith is working out of a heart of love--not a desire for a plastic trophy or paper crown.
The story immediately following today's gospel sheds more light on this little story. It is the account of Jesus healing ten lepers--only one of which came back to thank him. Locked into this story are Jesus' words, "Your faith has made you well." There's another pointer to what real faith consists of--not only regular, humble, faithful service, but a heart full of gratitude.
The life of faith is therefore marked by faithful service and a heart that is so grateful that it serves out of love. This faithful service means that we serve without thought of reward. We're not serving the Lord to win a plastic trophy. We offer serve and make sacrifices simply out of a heart overflowing with love and gratitude.
Finally, let us stand this on it's head. Whenever we read the gospel we need to ask ourselves, "Where is Jesus in this story?" Yes, Jesus is the one telling the story, but the stories he tells and the incidents in the gospel always reveal Jesus in deeper and more mysterious ways. There are other connections we did not see at first.
The faithful servant--the one who comes in from the fields and then puts on his apron and serves is Jesus himself. Later in the gospel he refers to the "fields that are white and ready for harvest." He is the one who has been working in these fields harvesting souls.
Then it is no co-incidence that at the Last Supper Jesus himself gets up and puts on an apron to wash his disciples' feet. It is there that he says,  " For who is greater, the one who is at the table or the one who serves? Is it not the one who is at the table? But I am among you as one who serves."
Jesus himself is the faithful servant, who comes in from the fields of his work and then serves at the table of sacrifice out of total, great and unconditional love for mankind. The only trophy he gets is a scepter that is a broken reed and the only crown he wears is the crown of thorns.
It is all well and good saying we should serve without any thought of reward, but that's impossible. We're not wired like that. It is only Jesus Christ who can do this, and it is only inasmuch as our lives are supernaturally conformed to his life that we can eventually begin to live a life of total service and sacrifice to others. Then we will know that the true and lasting reward is to live in union with the one who serves.
Until then we might have to put up with paper crowns and plastic trophies.
Fr Dwight Longenecker is the Parish Priest of Our Lady of the Rosary Church in Greenville, South Carolina.  His latest book, Catholicism Pure and Simple. Visit his blog and sign up for his free, weekly newsletter here.
---
Copyright 2018 - Distributed by THE CALIFORNIA NETWORK
Pope Francis Prayer Intentions for APRIL 2018
For those who have Responsibility in Economic Matters.
That economists may have the courage to reject any economy of exclusion and know how to open new paths.
---
---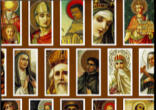 Calling the saints to mind inspires, or rather arouses in us, above all else, a longing to enjoy their company, so desirable in itself. We ... continue reading
---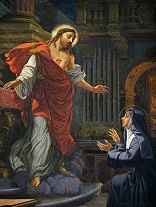 The heart is the center of a person, the place from which he/she makes the choices which will affect the world within them and around them. ... continue reading
---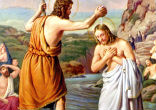 The consideration of Jesus' baptism, gives us an opportunity to remember our own baptism. If you do not know the date of your own ... continue reading
---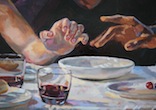 I gave my back to those who beat me, my cheeks to those who plucked my beard; My face I did not shield from buffets and spitting. HYTHE, ... continue reading
---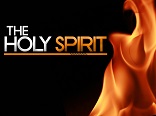 The Spirit makes one man a teacher of divine truth, inspires another to prophesy, gives another the power of casting out devils, enables ... continue reading
---