SUNDAY HOMILY: The Might of the Widow's Mite
---
We will only be truly happy if we are generous with God and generous with our neighbor.  The virtue of generosity allows us to become fully human.  By nature, we are made to love.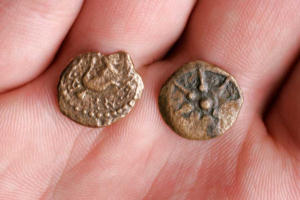 CORPUS CHRISTI, TX (Catholic Online) - Perhaps Jesus was tired, maybe even disturbed after his confrontation with the Pharisees, so he sat down to rest, reflect, or simply just to get away from a tense situation.
As he was sitting down he watched the people putting money into the treasury of the Temple.  This Sunday's Gospel narrative teaches us a beautiful lesson about generosity.  "A poor widow also came and put in two small coins worth a few cents" (Mark 12: 42).
Generosity is a beautiful virtue.  Not only are we to be generous with our financial resources, but we need to be generous in everything that we do.
 
Not too long ago my parents were telling me about a dear friend of theirs that passed away.  The wake and the funeral were packed with people from all over the city.
For many years their friend used to help out the elderly home bound people of his neighborhood by cutting their lawns, shoveling their snow and doing their food shopping at no cost to the people that he was helping. 
Locally, here in Corpus Christi, many stories are told about how the Fuedo brothers used to help the poor. For many years Ron and Joe ran a few very successful grocery stores.  They were always helping people who could not afford to buy the necessary groceries that they needed for their homes.
People still remember how the telephone would ring just as  Ron was finally  able to sit down with his wife and children for Thanksgiving dinner after so many long hours dedicated to the grocery store. Without a complaint, he would excuse himself from the table, answer the call and then inform his wife that he would return shortly. 
The call was from a person who did not have food for their Thanksgiving Day meal.
Ron would drive down to his grocery store which was located close to his home, open the door and go into the backroom with large paper bags which he generously filled with enough food for a hearty Thanksgiving dinner. 
These stories all remind me about a nurse that took care of grandmother during the last years of her life.
My grandmother spent her last years in a nursing home because she was unable to care for herself.  Alzheimer's completely sapped her joyful vitality and totally changed her personality.
Every time I went home to visit my parents, we would always spend time with my grandmother. 
The visits were always very sad.
After my mother briefly reminded her as to whom we were, my grandmother would be delighted by our visits.  The sadness was caused by what the illness had done to my grandmother.
The nurses at the nursing home were extraordinary women.  In their own simple way, they would take care of every tiny detail of the patients.  There were many other patients that were in worse shape than my grandmother.  I often wondered how the nurses could be so cheerful and so loving in such a difficult environment.
One day, during one of our family visits, the nurse that always took care of my grandmother, told me that she could not wait to retire so that she could come back every day to the nursing home and spend her entire day with the patients at no charge to the home.  She was so excited about the possibility of generously giving of herself without any restrictions.
My dear friends, we will only be truly happy if we are generous with God and generous with our neighbor.
The virtue of generosity allows us to become fully human.  By nature, we are made to love. 
I like to quote to you often the words that Blessed Pope John Paul II wrote in his first encyclical letter.  "Man cannot live without love.  He remains a being that is incomprehensible for himself, his life is senseless, if love is not revealed to him, if he does not encounter love, if he does not experience it and make it his own, if he does not participate intimately in it."
These words of Blessed Pope John Paul II are very beautiful.  I remember reading his first encyclical as a young seminarian, and now almost twenty-five years as a Catholic priest, these words are so important to me.  "Man cannot live without love."  How beautiful indeed. 
"Amen, I say to you, this poor widow put more than all the other contributors to the treasury.  For they have all contributed from their surplus wealth, but she, from her poverty, has contributed all she had, her whole livelihood (Mark 12: 44). 
This Sunday's Gospel narrative brings us to reflect upon even a deeper dimension of the virtue of generosity.  The poor widow gave all that she had.  Her gift was small, but her sacrifice was great. 
There are two virtues that go deeper than the  generosity.
The first deeper virtue is magnanimity.
Magnanimous people go beyond generosity.  They have a noble soul and a disposition to take on great things for God and for their neighbor.  These are the people who are passionate about their ideals and convictions. They live for God and for their neighbor by taking on great projects without any hesitation. 
They are the great leaders, the great reformers and the great entrepreneurs.  
The second deeper virtue is magnificence.
People with great souls and big hearts practice this virtue by taking on great things for God and for neighbor while undertaking the financial burden that such a project costs.  These are the Tom Monaghan's of the world who took the fortune that he made by selling his Domino's Pizza and created a Catholic university for the education of young people. 
How then can we apply today's Gospel passage to our lives?  We need to examine ourselves and see just how generous we are with God and our neighbor.
We can do this by looking at three things that pretty well covers all of life; i.e., our time, our talents and our money.
Are we generous?  Do we make sacrifices for others?  Remember the words of Blessed Mother Theresa of Calcutta when she said: "This is the meaning of true love, to give until it hurts."
Are we generous at home?  This is where all of this has to begin.  How do we live our family life?  Once generosity is lived out in the home, it carries over to our parish family, our place of work and our school. 
A number of years ago I was invited to give a retreat to a group of lay people in New York City.  A seminarian graciously accompanied me in order to help with the practical details.  Prior to the evening retreat, we had a number of appointments, and so that meant that we would have lunch in New York.  The seminarian really enjoyed Asian cuisine, so I accommodated his palate by inviting him to lunch at a Korean restaurant.
As we went to our table, we were met by a Korean woman who graciously attended us with delicate courtesy. Having had many years of experience at my father's restaurant, I was able to notice that her kindness, manners, and spirit of service were far from ordinary. 
   
Towards the end of the meal, another Korean woman finished waiting on our table.  When we were ready, I asked her for the check.  She then proceeded to tell me that there would be no charge for the lunch because the first waitress took care of the bill.  I was very surprised and I asked her why she had decided to pay for our meal.  "She is Christian," was the unanticipated answer from the waitress.
"She is Christian," meant that all the other waitresses were not Christian, and that all though encountering a free meal in the middle of downtown New York City surprised me, they were not surprised at all.
They knew that this woman was different.  Because of her Christianity, she was different.
God is a God of unconditional love.
We will never be able to outdo God's generosity for us.  The more generous we are with God and our neighbor, the more God will be generous with us.
So, be generous with your time.  Give yourself to others.  Use and develop the talents that God has given to you.  Be generous with your money.  Do not be cheap.  Besides, you can't take it with you.  What's the point of being cheap? 
Just imagine what parish life would be like if everyone was generous with their time, their talents and their money.  One Catholic parish where everyone lived the Gospel with authenticity, maturity, coherence and passion could do a lot of good.
Father James Farfaglia is a contributing writer for Catholic Online and author of Get Serious! - A Survival Guide for Serious Catholics.  You can visit him on the web at www.fatherjames.org and listen to the audio podcast of this Sunday homily.  
---
Copyright 2018 - Distributed by THE CALIFORNIA NETWORK
Pope Francis Prayer Intentions for APRIL 2018
For those who have Responsibility in Economic Matters.
That economists may have the courage to reject any economy of exclusion and know how to open new paths.
---
---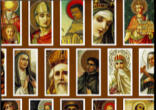 Calling the saints to mind inspires, or rather arouses in us, above all else, a longing to enjoy their company, so desirable in itself. We ... continue reading
---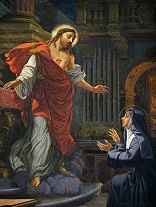 The heart is the center of a person, the place from which he/she makes the choices which will affect the world within them and around them. ... continue reading
---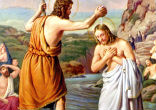 The consideration of Jesus' baptism, gives us an opportunity to remember our own baptism. If you do not know the date of your own ... continue reading
---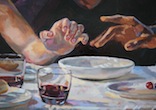 I gave my back to those who beat me, my cheeks to those who plucked my beard; My face I did not shield from buffets and spitting. HYTHE, ... continue reading
---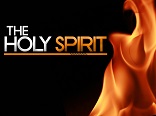 The Spirit makes one man a teacher of divine truth, inspires another to prophesy, gives another the power of casting out devils, enables ... continue reading
---