Living Faith As A Verb: Leaven in the Loaf
---
We are invited to consider our primary motivations
Faith is a Verb, a call to a dynamic participation in the life of God; a call to be a part of His ongoing loving plan for the world. That plan continues on through the Risen Christ who walks with us now in His Body, the Church, of which we are members. (1 Cor. 12:27)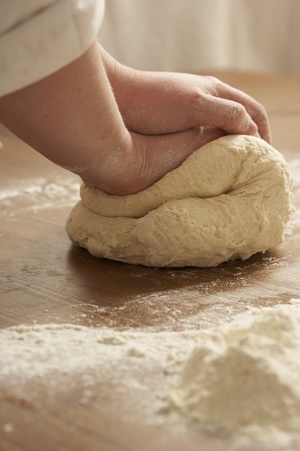 Highlights
By Deacon Keith Fournier
Catholic Online (https://www.catholic.org)
11/6/2014 (3 years ago)

Published in Living Faith
Keywords: Year of Faith, parable, lost coin, kingdom of God, lost sheep, leaven, light, seed, New Evangelization, witness, Deacon Keith Fournier
---
CHESAPEAKE, VA. (Catholic Online) -  In the first reading for Mass on Thursday of the Thirty First week in ordinary time, we read these words St. Paul wrote to the Philippians, "But whatever gains I had, these I have come to consider a loss because of Christ. More than that, I even consider everything as a loss because of the supreme good of knowing Christ Jesus my Lord." (Phil. 3)
The sentiment reflects the reality of the Apostle having become so configured to the Lord that he longed for all men and women to be saved. That is the call of every Christian. This passage follows Paul's teaching to the Philippians on the attitude we should cultivate:
"Have this mind among yourselves, which is yours in Christ Jesus, who, though he was in the form of God, did not count equality with God a thing to be grasped,  but emptied himself, taking the form of a servant. " (Phil. 2)
We are invited to reflect on our primary motivations in life. Faith is a Verb, a call to a dynamic participation in the life of God; a call to be a part of His ongoing loving plan for the world. That plan continues on through the Risen Christ who walks with us now in His Body, the Church, of which we are members. (1 Cor. 12:27)
Our Gospel text for Mass is taken from the fifteenth chapter of St. Luke. Jesus is confronted by some religious leaders who objected to his sharing a meal with sinners. Out of love and a desire to help them - and all of us - to see the deeper meaning of the call to love, He tells them this parable:
"What man among you having a hundred sheep and losing one of them would not leave the ninety-nine in the desert and go after the lost one until he finds it? And when he does find it, he sets it on his shoulders with great joy and, upon his arrival home, he calls together his friends and neighbors and says to them, 'Rejoice with me because I have found my lost sheep.' I tell you; in just the same way there will be more joy in heaven over one sinner who repents than over ninety-nine righteous people who have no need of repentance."
"Or what woman having ten coins and losing one would not light a lamp and sweep the house, searching carefully until she finds it? And when she does find it, she calls together her friends and neighbors and says to them, 'Rejoice with me because I have found the coin that I lost.' In just the same way, I tell you, there will be rejoicing among the angels of God over one sinner who repents."  (Luke 15:1-10)
The man and the woman in this parable show us the correct order of love. Their behavior reflected love lived as a verb. The Love of God informed their relationships with others and directed how they used the goods of the earth.
They both searched for what was lost out of love. We are called to do the same. This is what St Paul calls in his letter to the Philippians having the "mind" of Christ. We are called to love as Jesus loves, to pour ourselves out in Him for others.We are called to view reality with our minds renewed by the light which comes from the holy Spirit. To see others the way Jesus does. To always seek out the lost.
We are called, no matter what our state in life, to live in the heart of the Church for the sake of the world.  Jesus uses many images in his parables to explain our missionary participation in the mission of His Body, the Church. Images such as being leaven in a loaf. This missionary mindset has directed the Church to great missionary ages in the past. It can do so again! However, it begins one person at a time. We must see ourselves as men and women who are always on mission to a world in need of redemption.
This insight is expressed beautifully In a prayer of St Jose Maria Escriva: "May Our Lord be able to use us so that, placed as we are at all the cross-roads of the world - and at the same time placed in God - we become salt, leaven and light. Yes, you are to be in God, to enlighten, to give flavor, to produce growth and new life. But don't forget that we are not the source of this light: we only reflect it." (St. Jose Maria Escriva, Friends of God, 250)
Let me close with an example. In 2003 I read a story by Nicholas Gage in Parade magazine entitled "He Gave His Country Hope". On the cover was a beautiful photo of an Orthodox Christian Bishop named Anastasios Yannoulatos. With light in his eyes, and bearing the characteristic gray beard of the Orthodox cleric, his image popped off the page.
He was holding a little girl with a backdrop of children behind him. The caption in the photo read "What America might learn from a man who helped heal a nation broken by decades of tyranny and despair." The article told of how one Christian man of living faith helped to inspire multitudes and to rebuild an entire nation, one person at a time."
In the window of the Bishops office where the interview was conducted, there was a bullet hole from a failed snipers' attempt to silence him. The effort failed. The Lord protected him so that he could continue to be the good news. The Bishop explained that he kept it there to remind him that "that life can end in a second. We must not waste a single day."
This Bishop lived as leaven in the loaf. He understood what I mean by redemptively loving the world. He was a missionary. He was so configured to the Lord that he echoed that cry of the Apostle Paul  in his daily activity, "No longer do I live but Christ lives in me and the life I now live I live by faith in the Son of God".(Galatians 2:20)
He stayed in Alabania even though he could have engaged in any number of meaningful tasks as an academic, a cleric and a Church leader. He chose to be with those who needed the Lord. He walked into the loaf of the world and offered himself for its transformation. He went after the lost sheep. He searched for the lost treasure.
The writer explained that this holy priest saw 'the despair in the faces of the Albanians."  The Bishop told him "I thought. Who's going to help these people? Who's going to give them hope? I knew this was a test and I said to myself, If you have faith, stay and struggle. If you don't, go home".
We may not be called to Albania. However, we are all called into a world desperately in need of God.
Saint John XXIII once wrote "Every believer, in this, our world, must be a spark of light, a center of love, a vivifying ferment in the dough: He will be so to the degree that, in his innermost being, he lives in communion with God. In fact, there can be no peace among men if there is no peace in each one of them."
Will we be "a spark of light, a center of love, a vivifying ferment in the dough?" Will we answer the invitation to search for the lost sheep and find the lost treasure?
----
Deacon Keith A. Fournier is Founder and Chairman of Common Good Foundation and Common Good Alliance. A married Roman Catholic Deacon of the Diocese of Richmond, Virginia, he and his wife Laurine have five grown children and six grandchildren, He serves as the Director of Adult Faith Formation at St. Stephen, Martyr Parish in Chesapeake, VA. He is also a human rights lawyer and public policy advocate who served as the first and founding Executive Director of the American Center for Law and Justice in the nineteen nineties. He has long been active at the intersection of faith, values and culture.He was recently appointed Special Counsel to Liberty Counsel.
---
Copyright 2018 - Distributed by THE CALIFORNIA NETWORK
Pope Francis Prayer Intentions for APRIL 2018
For those who have Responsibility in Economic Matters.
That economists may have the courage to reject any economy of exclusion and know how to open new paths.
---
---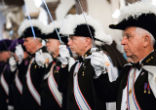 When Fr. Michael J. McGivney founded the Knights of Columbus on March 29,1882, he established a Catholic fraternal benefit society that ... continue reading
---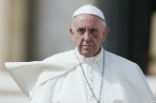 In his homily Tuesday, Pope Francis said the Church needs men and women who are capable not only of bearing prophetic witness to the truth, ... continue reading
---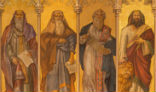 In his homily Tuesday, Pope Francis said the Church needs men and women who are capable not only of bearing prophetic witness to the truth, ... continue reading
---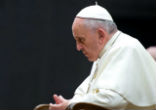 On Sunday Pope Francis issued a moving prayer for all those whose bodies have been hurt or exploited, including those who have suffered ... continue reading
---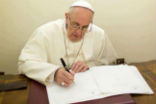 In March, Pope Francis released his latest exhortation, Gaudete et exsultate, Rejoice and Be Glad. Here is a brief overview of ... continue reading
---