Saved by my Guardian Angel - Angel Stories
By: Diana
Location: Hamilton Ontario Canada
When I was about 13 years old which was 8 years ago, my family and I lived in Germany. My story begins on a Sunday morning, my mother and I were on our way to my Religion class that I attended with other children every Sunday, I loved going and learning about God and our catholic church. I was 13 and quiet stuborn my mother wanted to hold my hand while we were crossing a big busy street, but I was too embarassed to hold my mothers hand. So the first chance I got I tore my hand out of my mothers and started to cross the street, only to see a yellow van come at full speed at me. The car hit me and I remember seeing the shock on my mothers face and all the other pedestrians. Only when the car hit me I did not feel a thing all I saw was that the van shook from contact with my body as if it hit another car and not me.All I remember is my mother running towards me and crying and the driver of the car get out and asking me if I was all right,they were confused as was I that the car hit me with such a high speed and not even a scratch on me. I believe that God sent my Guardian Angel to save me, after all I was on my way to Religion class:). I just hope that my story inspires all of you out there who don't believe in God or Angels, because my story is the proof that God and Angels are real and if not for our Father I would not be alive today to tell you my story.From then on even if I do sometimes tend to stray from my faith I just think back to that day and my heart swells up with love and faith, faith towards my God and all our Angels.

---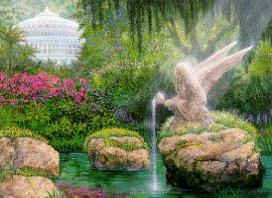 Some may never see with earthly eyes these heavenly beings or know that they exist. Many are unaware of the numerous ways they have protected and guided us. We would like to share with you the stories of people who take pleasure in expressing how real angels are.
---
More Saints
---
---
---
---
---
---
---
---
---
---
---
---
---
---
---
---
---

Copyright 2017 Catholic Online. All materials contained on this site, whether written, audible or visual are the exclusive property of Catholic Online and are protected under U.S. and International copyright laws, © Copyright 2017 Catholic Online. Any unauthorized use, without prior written consent of Catholic Online is strictly forbidden and prohibited.