Three times a miracle - Angel Stories
By: Yamilet Mantecon
Location: Miami Lakes Florida USA
At 4 months pregnant, I was rushed to the hospital due to placenta previa. The doctors gave me no hope as to whether the baby will be born. I was told that my baby's life and mine were in danger. I never prayed so much in my life like I did while I was at the hospital. I prayed to God, Virgin Mary and my guardian angel to keep my baby safe inside until he thought he would be ready to come out. I was 28 weeks pregnant when he was borned, exactly what the doctors were wishing to happened. In the 5 weeks I stayed at the hospital I never felt alone. I prayed everyday. Never lost my faith in God. I told God that my baby's life and mine were in his hands and that whatever happened that I will understand and accept. My baby was borned premature at 2 pounds and 7 ounces and very healthy. A week after he was borned his heart beat slowed down. A nurse ignored the alarm thinking that he will recuperate own his own and minutes later his heart stopped. He was resucitated by the doctor in duty. He came back with no harm to his brain. For the second time he was saved. When he was 5 months old, he was laying down sleeping on my bed surrounded by pillows. I was folding clothes in front of him. My mother showed up to be with me, so we decided to prepare lunch for the two of us. While doing so, we talked about my son. We mentioned that he was here today with us because of the angels being around him at the hospital and because I never lost my faith in God. While having this conversation, something inside of me said to go and check up on him because he was sleeping too much. When I rushed to the bedroom I noticed that he was under the pillows almost sufficated. I picked him up and started to scream. My mother ran to the room and immidiately grabbed him from my arms and gave him air while I called the rescue. When the rescue got there, my baby was back to normal. Again, for the third time, the angels were there with him. That is why I say that my baby is a miracle from God.

---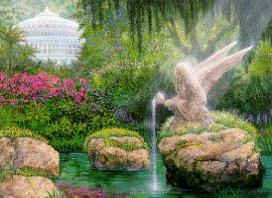 Some may never see with earthly eyes these heavenly beings or know that they exist. Many are unaware of the numerous ways they have protected and guided us. We would like to share with you the stories of people who take pleasure in expressing how real angels are.
---
More Saints
---
---
---
---
---
---
---
---
---
---
---
---
---
---
---
---
---

Copyright 2017 Catholic Online. All materials contained on this site, whether written, audible or visual are the exclusive property of Catholic Online and are protected under U.S. and International copyright laws, © Copyright 2017 Catholic Online. Any unauthorized use, without prior written consent of Catholic Online is strictly forbidden and prohibited.