Joan of arc - Angel Stories
By: Meagan Kaminski
Location: London Essex England
Before my confirmation I had an argument with my father about the way I percieved god. That night, I went up to my bedroom, confused and frustrated, bawling my eyes out. I lay there for about 3hours and then I felt like I was floating. I had stopped crying a while back and as I felt I was lifted off my bed I started crying and shaking. I was terrified but at the same time I was comforted by the fact I knew a presence was there with me. From the door my room went bright, so bright It was almost blinding. It moved forward and I couldn't make out a face, maybe because I was too scared to look, I don't know. It told me though, that it was Joan Of Arc and that she wanted to protect me through my life so I picked Joan of Arc as my chosen saint. She also told me my sponsor had to be my RE Teacher, A mr.Gibbons. I didn't doubt this and it was strange because just two days before, Mr.Gibbons had hit my little brother Damian across the head and my parents were considoring sewing him. When it happened there was this echoey sound. I do believe that Joan Of Arc is watching me. After this, I went to my confirmation class and the priest talked to us. His hands began to glow in the same bright light and he moved like Jesus. I again, started to cry in fear but I felt so safe. I got the same echoey feeling and so I went to confession and asked forgiveness. A couple of days before this I was sitting in my mothers room and she was reading to me about a priest, a saint. Her hands did exactly what the priests did but the echo was stronger and there was a presence in the room. I started to cry and didn't explain why. My mother was confused but didn't ask.The echo told me to go to church as often as I can. The fourth time I was in the church, after school, in the front pew, I was speaking to god and then the doors of the church banged loudly, I turned to see if n e one had come inn and no one had, I turned back because I started shaking, this presence, like a strong wind, with the echo again, came crawiling up the isles so fast, I started crying and looked up because it had gone to the statue of mary. She said I should do as god wants and to not be afraid, go to confession regularly and stay pure. I went back a couple of weeks later guilty that I had not gone to confession or church everysingle day and then I looked, in the front pew, at the statue of mary but there was no statue. I don't know if I'm skitzophrenic but I don't think I am. I know what I saw and I don't know why I saw it. I feel like I should tell people about these things now. At first when mary saw me I thought she wanted me to become a nun but Im not nun material. Its been quite a mission but Im only fourteen and Ill see what the future holds. But either way, Joan of Arcs with me.

---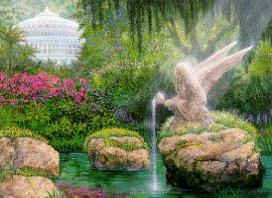 Some may never see with earthly eyes these heavenly beings or know that they exist. Many are unaware of the numerous ways they have protected and guided us. We would like to share with you the stories of people who take pleasure in expressing how real angels are.
---
More Saints
---
---
---
---
---
---
---
---
---
---
---
---
---
---
---
---
---

Copyright 2017 Catholic Online. All materials contained on this site, whether written, audible or visual are the exclusive property of Catholic Online and are protected under U.S. and International copyright laws, © Copyright 2017 Catholic Online. Any unauthorized use, without prior written consent of Catholic Online is strictly forbidden and prohibited.