My Aunt's Prayer - Angel Stories
By: valerie coranado
Location: philadelphia pa USA
During the summer that i just graduated from seventh grade my family planned a trip to Panama City, Panama. We planned on leaving to Panama on the 14th of august i remember just hours before we where on our way to the airport my mom told me that i had to bring my nebulizer. I use a nebulizer because i have severe asthma. Although my mom told me to pack it in my suitecase i did not pack it. I thought nothing bad would happen. We went on our way to the airport so exciting and looking out the window , i remember seeing the baby blue sky. We arrived at the airport and i complained of having a headache . My mom said that it was because i washed my hair and came outside wile it was cold , but it was not cold to me. We got on the plane to Texas and from Texas to our destination. While i was on the plane i remember gettin sick to my stomach a few times and vomiting severely. My mom sat next to me and i felt comforted. When we arrived at the Texas airport i noticed that my vomiting was getting worse and worse along with a fever. I told my mom and she told me to try and stay calm. Finally our plane came to go to Panama i sat down n i found my self vomiting again and my mom asked the man sitting next to me if she could switch seats with him so that she could take care of me , and the man said yes. We finnaly arrived in panama and i could not walk at all. I felt that i was about to faint. My aunt who is a docor in panama tried treating me with her nebulizer but it did not have any effect. Everyone was worried so they decided to take me to the hospital. My aunt Nelly helped me walk down the steps to the car which i could barely do. I felt so out of breath after each step i took. I arrived at the hospital and got sick once again. The doctors hooked me up to so many machines and told my family that i could not leave until i was better because i had severe bronchitis in my left lung. I remember laying in the bed crying at night because it was dark and i felt so alone. There was nothin besides the sick baby on thebed to the right of me and another child to the left of me. I remember having to eat through a tube and needed to have an oxygen mask on at all times. My skin was blue and i could not eve walk or get out of bed to stand. It was already nearing the end of my first whole week in the hospital . My aunt whom i had never met before came and sat down on the bed with me and held my hands while begining to pray in spanish. I was thinking god please let me get better. Then all of a sudden the next day the doctor said that they could let me out because i was much better. After that i felt different , i felt blessed and thankful.

---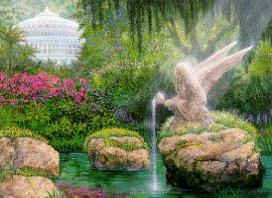 Some may never see with earthly eyes these heavenly beings or know that they exist. Many are unaware of the numerous ways they have protected and guided us. We would like to share with you the stories of people who take pleasure in expressing how real angels are.
---
More Saints
---
---
---
---
---
---
---
---
---
---
---
---
---
---
---
---
---

Copyright 2017 Catholic Online. All materials contained on this site, whether written, audible or visual are the exclusive property of Catholic Online and are protected under U.S. and International copyright laws, © Copyright 2017 Catholic Online. Any unauthorized use, without prior written consent of Catholic Online is strictly forbidden and prohibited.