Life Saving Encounter - Angel Stories
By: Patricia White
Location: Sylmar Ca USA
MY story took place about 10 to 12 years ago. I was married with 2 children, and I came upon a crisis in my life where things started to fall apart. Financially we started to lose our home; my husband had just started working, but my job was failing tremendously, and it was my job that pulled the income together. I became very, very depressed. I felt ashamed that we weren't able to make it financially, and I started to get thoughts of suicde. They became stronger and stronger to the point that I became very scared at my own thought and I didn't really even understand where they were coming from. I knew we were in a serious situation, but these thoughts were so overpowering. Well, along with those thoughts would come thoughts or words would pop into my head of "angels" "call upon us" and those thoughts also would come to me. Well, one day, after, I want to say maybe two months of going through this, I started to pray to God. I was really scared for myself and my family and as I prayed, my prayers became longer and longer to the point of exhaustion, and then one night, I had a visitor. I was asleep and this great light appeared in my room. I first I could even look at it and then when I was able to, I realized that there was a man, or I should say, the head of a man, and the rest of his body was just in blazing light standing in the corner of my room. I wasn't afraid, but my first thought was how did this man get in my room. Then after that tought, came the realization that it was an angel. Well, I immediately cried out to him mentally, "I don't want to be here anymore," but he didn't move. He only looked at me intensely, a very serious look of concern. Then I said, "help me,"well when I said that, he immediately appeared like a foot from my face as I laid in bed and I again pleaded with him "help me," and he looked at me very serious, and then he vanished. Well, I thought I was really losing it. But the next morning, when I got up, I felt happy, and most of all the thoughts of suicide were gone completely, and all I felt was a hunger for God. I felt empty inside and all I thought about was God. My situation financially resolved itself, and now after 10 to 12 years later I walk in faith and talk to others about faith and practice my faith and teach catechism to 41 students and I still see angels and receive spiritual messages, and I want to say angels do hear us and God is certainly full of mercy and kindness for his children.


---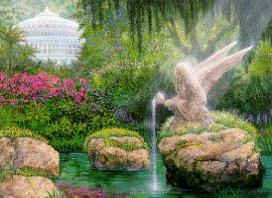 Some may never see with earthly eyes these heavenly beings or know that they exist. Many are unaware of the numerous ways they have protected and guided us. We would like to share with you the stories of people who take pleasure in expressing how real angels are.
---
More Saints
---
---
---
---
---
---
---
---
---
---
---
---
---
---
---
---
---

Copyright 2017 Catholic Online. All materials contained on this site, whether written, audible or visual are the exclusive property of Catholic Online and are protected under U.S. and International copyright laws, © Copyright 2017 Catholic Online. Any unauthorized use, without prior written consent of Catholic Online is strictly forbidden and prohibited.