Elaines Angles - Angel Stories
By: Margaret Graham
Location: Paisley Renfrewshire United Kingdom
I have four daughters the youngest daughter Elaine was born with three holes in her heart and did not keep well. One afternoon Elaine was not keeping well and was lying on the couch in the living room having a nap. Elaine was three years old at the time and would have a nap most days at this time. On this occassion Elaine was very hot and was tossing and turning and I was getting very alarmed. I phoned my mother to come to the house as I did not know if I should wake her. When my mother came to the house Elaine had cooled down and was just lying sleeping. When Elaine woke up from her nap she told me she had a lovely dream. Elaine told me that beautiful angels had came and collected her to take her to heaven. They gave her a lovely white dress to put on and told her to hang on to them and she said that she was flying. Elaine also said that before they went to heaven they went and collected an old man who went with them as well. Elaine told me that when she got there she sat beside a beautiful man and he told her that it was not her time and that she was to go back down to her mum. I asked Elaine what it was like in heaven and she said that it was beautiful and the colours of the gardens were lovely the same colours as smarties sweets. Elaine said that heaven was a wonderful place and that she would like to go back. Elaine was only three years old and I had never spoke to Elaine about angels before so I was so suprised to here this story. Elaine is now nearly nineteen years of age and does not remember this and only knows what I tell her about the story. But in my heart I know that this happend to Elaine and know that when we die the angels will come and get us.

---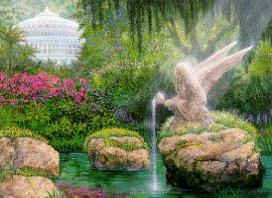 Some may never see with earthly eyes these heavenly beings or know that they exist. Many are unaware of the numerous ways they have protected and guided us. We would like to share with you the stories of people who take pleasure in expressing how real angels are.
---
More Saints
---
---
---
---
---
---
---
---
---
---
---
---
---
---
---
---
---

Copyright 2017 Catholic Online. All materials contained on this site, whether written, audible or visual are the exclusive property of Catholic Online and are protected under U.S. and International copyright laws, © Copyright 2017 Catholic Online. Any unauthorized use, without prior written consent of Catholic Online is strictly forbidden and prohibited.