Healing Miracle - Angel Stories
By: Evangelina
I had been injured on the job (registered nurse) and had suffered 2 herniated discs in my neck along with bone spurs in the same area. Last year in March 2007, when I was 45 years old, I had began having pain in my neck and shoulders all the time. I also began having numbness and tingling in my right arm and hand. I went to my doctor and had an MRI done. That's when I found out what was wrong. I thought that surgery was the last thing that I wanted. I had to go on disability that same month of March because I could no longer work due to the pain. The pain meds were not helping, and I was almost incapacitated even at home. I could barely move my arms, and could no longer turn my head from side to side. I decided to have surgery in June 2007. One week after surgery, I began having strange symptoms of palpitations, rapid heart beats, and weight loss. My husband ended up taking me to the ER for a heart rate that got up to 148 while just sitting in my recliner. In October 2007, I was still suffering from a lot of pain, and I still had numbness and tingling in my arms. I had tried Physical therapy, but could not stand for anyone to touch my neck or my shoulders. I continued to have trouble with moving head in any direction. The palpitations and rapid heart beat also continued. I ended up seeing a cardiologist who did several tests. He told me that as a result of the surgery, I had suffered nerve damage to the nerves that control my heart rate, and to the nerve that regulates blood flow to my arms. After hearing this news, I was devastated. I had the surgery in hopes of resuming a normal life, but my life was very far from normal. At this point, due to the constant pain, my marriage was also suffering. My husband was feeling the stress, and did not know how to handle my suffering. I was now taking 5 medications in an attempt to control all my symptoms! I have always been a woman of strong faith in our Lord. I have always prayed for healing and the ability to resume a more normal life. One day when I was feeling very sad and desperate, I visited the Shrine of Our Lady of Lourdes here in San Antonio and prayed very deeply for guidance and assistance. When I finished praying, I walked around the chapel and found a flyer announcing several healing masses that were going to be given by a priest from Peru, a father Scott Martin. I told my husband that I was going to attend the mass. I said to him " I am going to the mass in the hopes that I can be pain free just one month."
I attend the mass, and when father Martin blessed me with the healing oil, my legs immediately felt weak and wobbly. I had to sit down because I thought I was going to fall down. On my drive home, I felt almost like I was in a hypnotic state. I was completely drained, in a lot of pain, and I went to bed early that night. That night at around 3:00 AM, I became very restless. I was very hot and sweaty, and I felt strange sensations all over my body. I woke up to go to the bathroom, and my husband asked me if I was allright. I said in a very sleepy voice "yes". He then asked me if I was having a dream. Again, in a very sleepy voice I answered "yes". He then asked me what I was dreaming about. I answered "that I was being healed". He got up, turned on the light and said, "your kidding"!
I said "no, I am not, why?" He said, "I just had the same dream too!" My husband came over to me and took my head and gently began moving it in every direction, up, down, side to side. The biggest miracle of all, was that I felt very light and content, and had absolutely no pain at all!!
That was 7 months ago now, and I am still doing great. I am now only taking Aleve as needed, and I have incredible flexibility in my neck. I have started working again, I am exercising at the gym and even doing cake decorating!!
I feel that I was healed by the Holy Spirit for some reason unknown to me. I was blessed to have received this miracle and I now pray for guidance from the Lord as to what He wants me to do with this gift I have received!
---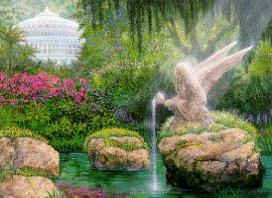 Some may never see with earthly eyes these heavenly beings or know that they exist. Many are unaware of the numerous ways they have protected and guided us. We would like to share with you the stories of people who take pleasure in expressing how real angels are.
---
More Saints
---
---
---
---
---
---
---
---
---
---
---
---
---
---
---
---
---

Copyright 2017 Catholic Online. All materials contained on this site, whether written, audible or visual are the exclusive property of Catholic Online and are protected under U.S. and International copyright laws, © Copyright 2017 Catholic Online. Any unauthorized use, without prior written consent of Catholic Online is strictly forbidden and prohibited.