Highway Angel - Angel Stories
By: GilbertTX
It was the 6th of september 2009, My wife and i were taking our 15 month old son for an outing. we live in a small town so we were going to the nearest city. before departing on our trip we stopped to get beverages at a local drive inn. while paying the carhop i pulled out some change and in the change was a medalion that our priest had given us for our son. he said it was for protection against harm. we put up the medalion and went on our way. halfway to the city our son was cranky and my wife turned to tend to him. he started calling "daddy, daddy", so i turned as well. when i turned back around i was in the median, i over corrected and began spinning. our envoy slid across a two lanes and went into the ditch and rolled 3 times. my wife was completely ejected from the vehicle. and i was partially ejected. the vehicle came to a stop on my chest, breaking my colar bone. i crawled out from under and ran around the back of the vehicle. my wife was crawling toward me screaming to get my son. a passerby that had seen the accident had stopped and ran toward my wife. we both asked if he could get our son out of the vehicle, since my wife could not walk and i could not use my arms. he pulled my son out of the vehicle. my son had only a scratch on his neck. my wife and i suffered a few broken bones, but were not critically injured. in all the wreckage and belongings scattered around the site, one of the many people that had stopped to help found that medalion that was to protect our son from harm. the officer in charge of investigating the accident told us that it was a miracle that we were not seriously hurt. we believe that an angel was with us that day. we still have the medalion and still keep it close to our son. Thank God that we are alive to share our story and watch our son grow.
---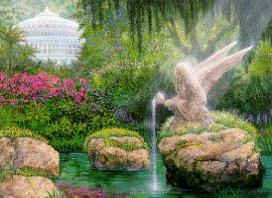 Some may never see with earthly eyes these heavenly beings or know that they exist. Many are unaware of the numerous ways they have protected and guided us. We would like to share with you the stories of people who take pleasure in expressing how real angels are.
---
More Saints
---
---
---
---
---
---
---
---
---
---
---
---
---
---
---
---
---

Copyright 2017 Catholic Online. All materials contained on this site, whether written, audible or visual are the exclusive property of Catholic Online and are protected under U.S. and International copyright laws, © Copyright 2017 Catholic Online. Any unauthorized use, without prior written consent of Catholic Online is strictly forbidden and prohibited.