saving an infant - Angel Stories
By: Amanda Allen
My husband and I slept with my infant son in a double bed. I knew that sudden infant death sendrome was more prevalent for children that didn't sleep in a crib, but it was easier to feed him in the nights when he woke up. In order to make the bed bigger, I would place pillows against the wall in the crack between the bed and the wall. The pillows were puffy and had large cracks in them. My husband and I fell in a deep sleep as well as my son. Then suddenly a glowing light illuminated the room, right at the foot of the bed and overhead. It glowed so brightly that only a face could be made out in the center of the light. It was neither man nor womens but perfectly formed. I was not scared but didn't question what I saw either. It asked me, "Do you love him?" I was confused. Everything must have seemed like I was dreaming but didn't answer the angel. The angel then nodded towards my son and asked again, "Do you love him?" As he/she nodded at him, I turned and looked. His head had fallen down in one of the cracks on the side of the bed and his nose was burried in such a way that he would not have been able to pull himself out of the hole covering his mouth. I grabbed him quickly and pulled him away from the pillows and the cracks of the bed and checked to make sure he was alright. I looked around the room and there was nothing there. I quickly fell back to sleep, a little scared and embarrassed that I hadn't take better care of my infant son. I didn't wake my husband and must have thought it all a weird dream, but it wasn't. An angel came and woke me up and saved my childs life. I know that God can work in many wonderous ways, and he didn't need to wake me by the angel. I feel lucky to have witnessed God's wonderful mercy and my family is so very blessed to this day. Peace be with you. God has a wonderful mission for everyone. Every life has purpose in God's plan.
---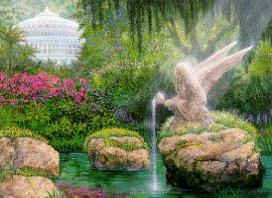 Some may never see with earthly eyes these heavenly beings or know that they exist. Many are unaware of the numerous ways they have protected and guided us. We would like to share with you the stories of people who take pleasure in expressing how real angels are.
---
More Saints
---
---
---
---
---
---
---
---
---
---
---
---
---
---
---
---
---

Copyright 2017 Catholic Online. All materials contained on this site, whether written, audible or visual are the exclusive property of Catholic Online and are protected under U.S. and International copyright laws, © Copyright 2017 Catholic Online. Any unauthorized use, without prior written consent of Catholic Online is strictly forbidden and prohibited.