Relax - Angel Stories
By: William Jensen
In around 1986 while I was still single in Indianapolis, IN, I had spent an evening on the town with a friend where we had consumed too much to drink. He lived on the south side of town and I on the north side with my parents (I was about 22 yrs. old, fresh out of the Army). As we wrapped up the evening we were closer to my abode, so we ended up going there where he slept on the couch. In the morning I gave him a ride home on my motorcycle. On my back from this errand, I approached the intersection of 38th and College Avenue, heading northbound. Just as I was about to enter the intersection the light turned yellow. A big four-door Cadillac on the southbound side had been waiting to turn left, and as the light went yellow the driver assumed it was her time to move and began her turn to eastbound 38th St. Due to a northbound car at the same intersection making its own left turn to westbound 38th St., I assume she simply hadn't see me. I was traveling about 35 m.ph. and in the blink of an eye I found myself a few feet away from her passenger-side rear door with no options for escape. Without excitement or fear, an inaudible voice in my head simply said "Relax" and I complied, making no desperate move to save myself in the instant that remained before the crash. It is important to note I was not wearing a helmet. Some time later I awoke, laying on the pavement, my motorcycle a few yards away laying there smashed completely on the front end. In and out of conciousness, at some point an ambulance came and took me to a nearby E.R. where I was examined. I had a significant bruise on my chin and one cracked (not fractured) rib, but no other injuries to speak of. When the doctor received the details of the crash, he indicated surprise and told my parents, who had by then arrived, I had "bones like oak" and was astounded I was in the decent shape I was in, given the circumstances. I can't prove it scientifically, but if that quiet little voice that told me to ride it in was not my guardian angel, I don't know what else it could have been.
---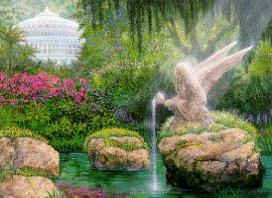 Some may never see with earthly eyes these heavenly beings or know that they exist. Many are unaware of the numerous ways they have protected and guided us. We would like to share with you the stories of people who take pleasure in expressing how real angels are.
---
More Saints
---
---
---
---
---
---
---
---
---
---
---
---
---
---
---
---
---

Copyright 2017 Catholic Online. All materials contained on this site, whether written, audible or visual are the exclusive property of Catholic Online and are protected under U.S. and International copyright laws, © Copyright 2017 Catholic Online. Any unauthorized use, without prior written consent of Catholic Online is strictly forbidden and prohibited.