Three saved by an a Angel - Angel Stories
By: Irma Vela
When my oldest daughter was about 15 years old, she was learning to drive. I had her drive home through the country road. Along the road was a small country store. The day was hot and the sun was directly on our face. I became nervous when I noticed the sun was blinding her and she almost hit a stroller being pushed by a mother. I suppose there was a baby in there. I asked her to pull over by the store at the curve so I could drive. We stopped to switch drivers. At that moment when she got off and had just shut the door, a truck came by around the curve. It was obvious the driver of the truck had also been blinded by the sun. I saw exactly what was about to happen... My daughter was going to get busted open by the impact of the truck. She was still standing by our vehicle and the truck was coming full speed and immediately close by. Though I stared at what was about to happen and did not see an Angel, I sensed one. It is not possible for me to explain how I sensed this Angel, but I knew it was coming to save her. In almost a flash, the truck passed by her full-speed. The space between the truck and my daughter as it passed by her was about the width (not length) of a pencil, yet, the truck did not touch her. If there is anything I believe regarding this incident...it was an Angel of God that came between. That same Angel saved my daughter and the baby she could have killed in the stroller, and perhaps the mother of the baby.
---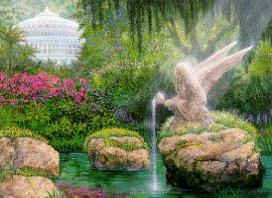 Some may never see with earthly eyes these heavenly beings or know that they exist. Many are unaware of the numerous ways they have protected and guided us. We would like to share with you the stories of people who take pleasure in expressing how real angels are.
---
More Saints
---
---
---
---
---
---
---
---
---
---
---
---
---
---
---
---
---

Copyright 2017 Catholic Online. All materials contained on this site, whether written, audible or visual are the exclusive property of Catholic Online and are protected under U.S. and International copyright laws, © Copyright 2017 Catholic Online. Any unauthorized use, without prior written consent of Catholic Online is strictly forbidden and prohibited.