Penny from my Gaurdian Angel - Angel Stories
By: Daisy Doll
Brought up a Catholic, I would have to say I never really felt a close relationship with God. I believed in Him, but had many unanswered questions. In the past year I have found myself searching for answers, and had started to read the teachings of the bible, with the help of my father in Law, who is a devoted believer. He has shared many miraculous stories with me. Still, I had my doubts, but this past week has changed all that for good. I have recently found myself in a place where I am seeking guidance, for many different aspects of my life, specifically career, my chosen path in life, and most significantly whether I will ever be a mother (which I long to be, but the situation is complicated in that my husband isn't so sure he wants children). A few weeks back I decided to leave all these things 'in the hands of God', to stop worrying and to ask for guidance from the Archangels. I was reading a book this evening which mentioned that the Archangel Gabriel can guide 'if you're planning to have a family and need some advice'. I put the book down at that very moment and started to pray to Gabriel. Sometime later I was on the internet on my laptop, and when I finished with that I shut down the laptop and started to tidy round my living room. I went in to the kitchen to do the dishes, and when I came back into the living room, there was what I thought was a 'Łpenny' sitting right in the middle of my laptop...strange I thought, as no one else had been in and I couldn't explain how it got there, but just lifted it to put in the money box kept on the bookshelf. When I looked closer, the penny was infact a '$ Cent', which had scibed on it 'IN GOD WE TRUST'. (I live in Northern Ireland, and would have no reason to have $ currency in my home, I can not explain where it came from and how it got onto my laptop!) I immediatly felt a very strange, but calm feeling. I was actually blown away! I felt like my Gaurdian Angel had somehow put this for me to see, and tell me that I am right to put this in the hands of God. I do not know what my future will hold, but I feel more than satisfied that God has plans for me and he will give me the guidance that I need. Praise God!!!
---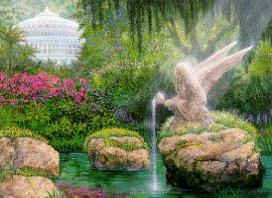 Some may never see with earthly eyes these heavenly beings or know that they exist. Many are unaware of the numerous ways they have protected and guided us. We would like to share with you the stories of people who take pleasure in expressing how real angels are.
---
More Saints
---
---
---
---
---
---
---
---
---
---
---
---
---
---
---
---
---

Copyright 2017 Catholic Online. All materials contained on this site, whether written, audible or visual are the exclusive property of Catholic Online and are protected under U.S. and International copyright laws, © Copyright 2017 Catholic Online. Any unauthorized use, without prior written consent of Catholic Online is strictly forbidden and prohibited.