the angel in the store - Angel Stories
By: david.c
hi, my name is David, my story begins, when i was living in chicago. i was about 15 years old, there me my mother and my two sisters were living, we always went to the catholic church on sundays. but on wednesdays there was this catholic carismatic young group, that my older sister used to attended, i always think that i belived or that i had faith, but i was wrong. one wednesday my sister invited me to the group in the church, and i said yeah sure lets go, i thougth that it was going to be like the mass,but when we got there there were like thirthy guys in the room, and they were praying and singing and everybody seems so happy.but i couldnt felt the same way so the meeting started and pretty much in the end of the meeting the guy who was incharged asked if anybody wanted to passed on the front and kneel, and ask to the lord for whatever you want.so I passed and asked for one sign or something so i really belive in him. well that they passed and the next day me nad my mother went to the Aldi store for grosseries, i remembered that my mother bought so many things that we didnt have any money left for the bags or for the bus,so my mother took some boxes and started to packed the grosseries but she told me son can you look around to see if we know someone from the church to borrowed some money for the bags and for the bus.so i turned around and i only could see like four or five people on the line, and the back lights from the store were off already they were about to closed, so i saw nobody coming tourds me then soon as i turn around and said to my mother mom there is nobody, somenoe touched my left shoulder so i turned an i see this person like six foot tall but i only could seeis or her smile and the nose, because the eyes were this white light so powerful like more strong that sun, but in the same time it was peace and love thats what i felt, so i said hi and the person just smiled didnt say a word he had in his left hand a bag so with his right hand took a bunch and gave them to me i grabed them and said thanks, he only smiled turned and started walking to the exit, when he turned around i saw that he was wearing a long white dress with long sleeves his hair was long and its was like on gold fire so brillant, i couldnt see if he was touching the floor as he walked, so i turned and said to my mother hay mom look look that person gave me these bags she said who? we both turned to see the exit but nobody was there the doors were closed. i ran to the exit and asked the people on the street that if they had seen this person with a long white dress? and they said no, so i even ran to the next block just to see if he was there but i couldnt find him, he was gone he just desapeared in thin air, soon as we walked out of the store there was one of my mothers friend parked in front of the door and told as do you need a lift? it was stranged, so next day i went with the priest of the church and told him all about it. he told me what did you asked God for? i said for a sign to belive more in him and the father said there you go david God sent you an Angel, an angel?? and i said howcome my mother didnt see it? the priest said because God sent him for you, i remembered telling my mother about the angel but she never got it until years later i told her the story, and she said why you never had tellme about it.for one reason is like she never understood i was telling her.im 34 years old and since then i have never seen my angel again, but sometimes i can feel like if he is around me, maybe some day i will see him again, but for now i m sure that there is a God and he sent his angels to protect us and confourt us in many ways.......
---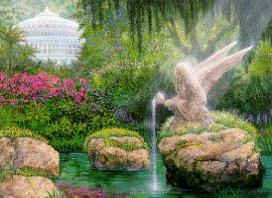 Some may never see with earthly eyes these heavenly beings or know that they exist. Many are unaware of the numerous ways they have protected and guided us. We would like to share with you the stories of people who take pleasure in expressing how real angels are.
---
More Saints
---
---
---
---
---
---
---
---
---
---
---
---
---
---
---
---
---

Copyright 2017 Catholic Online. All materials contained on this site, whether written, audible or visual are the exclusive property of Catholic Online and are protected under U.S. and International copyright laws, © Copyright 2017 Catholic Online. Any unauthorized use, without prior written consent of Catholic Online is strictly forbidden and prohibited.