Maybe He's An Angel - Angel Stories
By: Anna Eftink
This is not a personal experience, but rather an experience of a friend of mine. Durring the summer of 2010, my Beta club went to it's national convention. While in Louisville, my club decided to tour Waverly Hills Sanitorium, and abandoned TB hospital that happens to be haunted. After the tour, several of us on the trip started telling about our religious lives and encounters. Mr. Chism shared his experience with us, and I'll relay it for you here. Shortly after he and his wife were married, Mr. Chism was strapped for cash and having to drive seeral miles to work every day. One cold, rainy night on his way home from work, Mr. Chism noticed a homeless man walking on th eside of the road. Mr. Chism pulled over, rolled down his window and toldthe man that if he wanted a ride, he would take him as far as Sikeston. The man accepted the offer and got in the truck with Mr. Chism. As they were driving along, they came upon a McDonalds and they stopped for a bathroom break and a bite to eat. At the time, Mr. Chism says he only had abot $10-$20 in his pocket, but offered it to th eman because he needed it more. The man went into the McDonalds with the money Mr. Chism gave him, but an amount of time, still hadn't come back out. At this, Mr. Chism became concerned, so he decided to go in and check on him. He asked the people at th eregister about his friend, but they said they hadn't seen a thing all night. The people at the register thought he was out of his mind until he showed them the seat in his truck, still wet from the man who had been walking in the rain. They also saw wet foot pronts leading to the bathroom. No one could explain what had happened, but afterwards, Mr. Chism found the change from the man's meal in his pocket. I get shivers everytime I hear him tell this story. Mr. Chism was tested that night by an angel, and there's no denying it.
---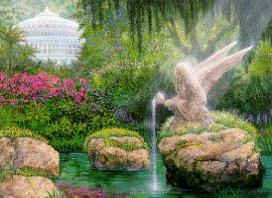 Some may never see with earthly eyes these heavenly beings or know that they exist. Many are unaware of the numerous ways they have protected and guided us. We would like to share with you the stories of people who take pleasure in expressing how real angels are.
---
More Saints
---
---
---
---
---
---
---
---
---
---
---
---
---
---
---
---
---

Copyright 2017 Catholic Online. All materials contained on this site, whether written, audible or visual are the exclusive property of Catholic Online and are protected under U.S. and International copyright laws, © Copyright 2017 Catholic Online. Any unauthorized use, without prior written consent of Catholic Online is strictly forbidden and prohibited.