Eerie, lifelike replicants recite news effortlessly without stumbling
"In the 21st Century, the entire world will be like Japan," one trendy philosopher said in the 1960s. If this is the case, we may soon be getting our news and information from lifelike androids - human-like, yet not human enough. "Kodomoroid" and "Otonaroid" are both non-biological news presenters that have made a hit in the Land of the Rising Sun.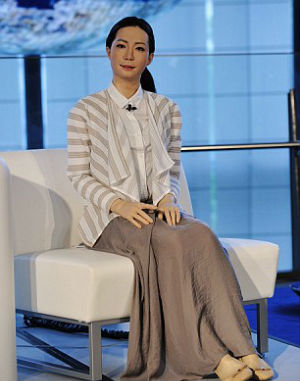 Designed with a cute, girlish appearance, the robots can use a variety of voices, such as a deep male voice one minute, and a squeaky girly voice the next.
LOS ANGELES, CA (Catholic Online) - The creepy-looking robots Kodomoroid and Otonaroid speak so smoothly they are eerily lifelike. Japanese robotics expert Hiroshi Ishiguro says they will be useful for research on how people interact with robots.

"Making androids is about exploring what it means to be human," he tells reporters. He say the robots make us examine "the question of what is emotion, what is awareness, what is thinking."

Fill in the gaps to end world hunger -- by going here --


The remote-controlled machines moved their lips in time to a voice-over, twitched their eyebrows, blinked and swayed their heads from side-to-side in a demonstration. Powered by compressed air and servomotors, the seated androids were able to move their hands.
Designed with a cute, girlish appearance, the robots can use a variety of voices, such as a deep male voice one minute, and a squeaky girly voice the next.
The speech can be input by text, giving them perfect articulation, according to Professor Ishiguro.
All was not so smooth and imperceptible - sometimes the robots' lips didn't move when the figures spoke, or the Otonaroid announcer robot staying silent twice when asked to introduce itself.
These glitches are common with robots because they are delicate gadgetry sensitive to their environment, said the researchers.
Kodomoroid and the woman robot Otonaroid were joined at the demonstration by the minimally designed Telenoid, a mannequin head with pointed arms that serves as a teddy bear-like companion.
In what appeared like a scene out of 'Pinocchio', Kodomoroid asked Professor Ishiguro why he had created it. The professor replied that he wanted to create a child news announcer.
The robots feature silicone skin and artificial muscles and will be on display at the Miraikan museum, or the National Museum of Emerging Science and Innovation, in Tokyo. 
Professor Ishiguro says that Japan leads the world in playful companion robots, but did acknowledge that Japan was behind the U.S. in military robots.
"We will have more and more robots in our lives in the future," Professor Ishiguro said.
---
Copyright 2017 - Distributed by THE CALIFORNIA NETWORK
Pope Francis Prayer Intentions for DECEMBER 2016
Universal:
End to Child-Soldiers: That the scandal of child-soldiers may be eliminated the world over.
Evangelization:
Europe: That the peoples of Europe may rediscover the beauty, goodness, and truth of the Gospel which gives joy and hope to life.

By Marshall Connolly (CALIFORNIA NETWORK)
Space X faced a crucial flight of their Falcon 9 rocket on Saturday and they managed to turn in a successful launch. The rocket was launched from Vandenburg Air Force Base on the California Central coast, then it landed on a barge floating in the Pacific with an ... continue reading
---

By Marshall Connolly (CALIFORNIA NETWORK)
It's a staple of science fiction. An asteroid is on a collision course with Earth, so NASA sends a ragtag crew of astronauts to intervene, thus saving humanity. But in reality, the odds are even better that NASA could destroy the Earth, by sending a crew to an asteroid ... continue reading
---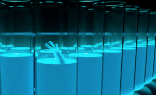 By Marshall Connolly (CALIFORNIA NETWORK)
Mad scientists are real and they are working hard to play God, suggesting they may now be able to create a baby from two men, and no women. LOS ANGELES, CA (California Network) - British scientists say they can now make babies using skin cells from two men. Other ... continue reading
---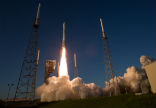 By Marshall Connolly (CALIFORNIA NETWORK)
Since the 1990s, the public has been regaled with tales of what would happen if Earth were in the sights of a killer asteroid. In every story, the world is saved by brave astronauts who commit their lives to saving humanity. But is that how the story is likely to go? ... continue reading
---

By Marshall Connolly (CALIFORNIA NETWORK)
A new star is about to appear in the sky in the constellation of the Northern Cross. Scientists are predicting the appearance of a new star in our night sky in the year 2022. What does the appearance of this new star mean? LOS ANGELES, CA (California Network) -- ... continue reading
---
By Marshall Connolly (CALIFORNIA NETWORK)
What is a spoon doing on Mars? It's an excellent question given NASA has now found two such objects on the Red Planet. LOS ANGELES, CA (California Network) -- In the future, astronauts may enjoy a pint of their favorite ice cream on Mars. And it appears they won't have ... continue reading
---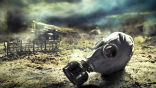 By Marshall Connolly (CALIFORNIA NETWORK)
Air raid sirens warn the residents of Tel Aviv that a rocket is inbound, fired from terrorist positions across the border. Residents deftly take cover, not knowing where it will land. It comes down in a residential neighborhood, then nothing happens... LOS ANGELES, CA ... continue reading
---

By Marshall Connolly (CALIFORNIA NETWORK)
Scientists have developed a new way to study elusive anti-matter directly, using lasers. The discovery could pave the way for new experiments and help to answer an important question about the universe. LOS ANGELES, CA (California Network) -- At the creation of the ... continue reading
---

By Marshall Connolly (CALIFORNIA NETWORK)
Cosmic water witching. That's one way to think of the search for water on distant bodies in the Solar System. New research now confirms the dwarf planet Ceres has water stored as ice on the surface, with a great deal more likely beneath the surface. The discovery is ... continue reading
---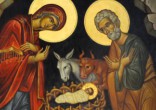 By Kenya Sinclair (CALIFORNIA NETWORK)
Join virtual tour guide Danny Herman, known as "Danny the Digger," as you take a 360-degree look through one of the holiest sites on earth. LOS ANGELES, CA (Catholic Online) - According to the Sancuary of Bethlehem, their virtual tour will go from simple images to an ... continue reading
---
All Technology News