Eerie, lifelike replicants recite news effortlessly without stumbling
"In the 21st Century, the entire world will be like Japan," one trendy philosopher said in the 1960s. If this is the case, we may soon be getting our news and information from lifelike androids - human-like, yet not human enough. "Kodomoroid" and "Otonaroid" are both non-biological news presenters that have made a hit in the Land of the Rising Sun.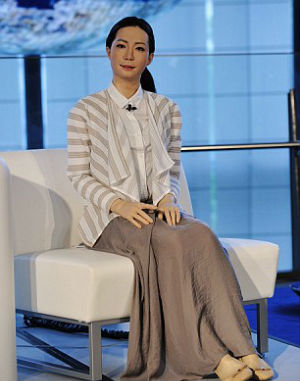 Designed with a cute, girlish appearance, the robots can use a variety of voices, such as a deep male voice one minute, and a squeaky girly voice the next.
LOS ANGELES, CA (Catholic Online) - The creepy-looking robots Kodomoroid and Otonaroid speak so smoothly they are eerily lifelike. Japanese robotics expert Hiroshi Ishiguro says they will be useful for research on how people interact with robots.

"Making androids is about exploring what it means to be human," he tells reporters. He say the robots make us examine "the question of what is emotion, what is awareness, what is thinking."

Fill in the gaps to end world hunger -- by going here --


The remote-controlled machines moved their lips in time to a voice-over, twitched their eyebrows, blinked and swayed their heads from side-to-side in a demonstration. Powered by compressed air and servomotors, the seated androids were able to move their hands.
Designed with a cute, girlish appearance, the robots can use a variety of voices, such as a deep male voice one minute, and a squeaky girly voice the next.
The speech can be input by text, giving them perfect articulation, according to Professor Ishiguro.
All was not so smooth and imperceptible - sometimes the robots' lips didn't move when the figures spoke, or the Otonaroid announcer robot staying silent twice when asked to introduce itself.
These glitches are common with robots because they are delicate gadgetry sensitive to their environment, said the researchers.
Kodomoroid and the woman robot Otonaroid were joined at the demonstration by the minimally designed Telenoid, a mannequin head with pointed arms that serves as a teddy bear-like companion.
In what appeared like a scene out of 'Pinocchio', Kodomoroid asked Professor Ishiguro why he had created it. The professor replied that he wanted to create a child news announcer.
The robots feature silicone skin and artificial muscles and will be on display at the Miraikan museum, or the National Museum of Emerging Science and Innovation, in Tokyo. 
Professor Ishiguro says that Japan leads the world in playful companion robots, but did acknowledge that Japan was behind the U.S. in military robots.
"We will have more and more robots in our lives in the future," Professor Ishiguro said.
---
Copyright 2016 - Distributed by THE CALIFORNIA NETWORK
Pope Francis Prayer Intentions for SEPTEMBER 2016
Universal:
Centrality of the Human Person: That each may contribute to the common good and to the building of a society that places the human person at the center.
Evangelization:
Mission to Evangelize: That by participating in the Sacraments and meditating on Scripture, Christians may become more aware of their mission to evangelize.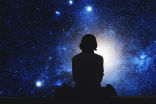 By Marshall Connolly (CALIFORNIA NETWORK)
Scientists believe the universe may have 10 times the number of galaxies than previously thought. New research and new mathematical models suggests there's a lot more stuff out there, but we cannot see it. LOS ANGELES, CA (California Network) - Researchers from a team ... continue reading
---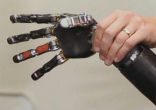 By Kenya Sinclair (CALIFORNIA NETWORK)
Nathan Copeland, who has been paralyzed since he was a teen, was able to feel sensation in his fingers after a successful trial with robotics and a brain implant. LOS ANGELES, CA (Catholic Online) - Technology has been excelling in leaps and bounds, so when Copeland, ... continue reading
---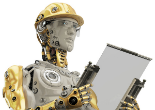 By Kenya Sinclair (CALIFORNIA NETWORK)
Robots help make life easier. It's a fact most science fiction writers picked up on decades ago and many see today. With self-driving cars, improved medical techniques and even A.I. girlfriends, the world is preparing to rely more heavily on A.I. and robots while ... continue reading
---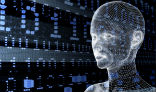 By Marshall Connolly (CALIFORNIA NETWORK)
Robots are getting smarter, and are becoming capable of doing things we can't easily do, or do in a short space of time. It is becoming apparent what will happen next as the world's movers and shakers prepare for a world where robots provide the labor, and in some ... continue reading
---
By Kenya Sinclair (CALIFORNIA NETWORK)
QUICK, turn to me, pity me, alone and wretched as I am! - Psalms 25:16 LOS ANGELES, CA (Catholic Online) - God did not create us to be alone, yet thousands of people around the world are forced to turn toward artificial intelligence for relationships and meaningful ... continue reading
---

By Marshall Connolly (CALIFORNIA NETWORK)
A Japanese firm is releasing a tiny robot intended to provide emotional companionship for people. The tiny robot is the latest in a growing industry where robots provide companionship to lonely people. Robots remain exotic, but are expected to become commonplace ... continue reading
---

By Marshall Connolly (CALIFORNIA NETWORK)
Robots are already starting to replace security guards and delivery drivers. Now truck drivers will be replaced starting in 2017. A tech company called Otto has developed a self-driving truck that's ready for the road. LOS ANGELES, CA (California Network) - Starting in ... continue reading
---
By Marshall Connolly (CALIFORNIA NETWORK)
Get ready to give up your keys, human drivers may face driving bans in as little as five years as self-driving cars come online. Planners are evaluating a stretch of the I-5 in Washington for a possible human driver ban. If practical, it will spread. LOS ANGELES, CA ... continue reading
---
By Marshall Connolly (CALIFORNIA NETWORK)
In the future, robots and artificial intelligence will become so capable that they will take over every imaginable job from humans. What will happen when there is no more work for people to do? How will humans adapt to this workless future? And is there a dark side to ... continue reading
---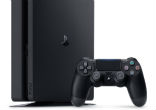 By Nikki Crawford (CALIFORNIA NETWORK)
Sony released the PS4 Pro specs, release date and more. LOS ANGELES, CA (Catholic Online) - The system is set to hit stores November 10 and will cost $399 - but is it worth it?Let's start with the specs: If you don't already have one, it's time to invest in a 4K TV or ... continue reading
---
All Technology News