By Catholic Online (NEWS CONSORTIUM)
5/19/2014 (2 years ago)
Catholic Online (www.catholic.org)
Advances allows intense examinations of ancient bodies beneath the wrappings
Ancient Egypt with its funerary art and mysterious mummies have long enchanted the modern world. During the 19th Century, when "Egyptomania" electrified Europe, it became common practice to open their cases and unwrap them in front of paying audiences. This unfortunately damaged the mummies forever afterwards. The British Museum then decided to never unwrap mummies in the future. Therefore, a certain amount of mystery would reside with the mummies. New technology, however, is now revealing more about the times in which this artefacts were created.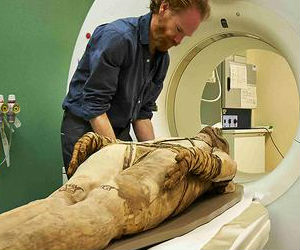 John H. Taylor along with his colleague Daniel Antoine, the museum's curator of physical anthropology, are standing in the middle of Ancient Lives, New Discoveries, a new exhibition that they have brought together.
LOS ANGELES, CA (Catholic Online) - The use of X-rays in the 20th century revealed new information about what the mummies contained. The picture remained hidden beneath the wrappings still remained hazy and indistinct. Archaeologists over the past 20 years have brought the contents of mummies into crisper focus by using computerized tomography scanning.

It's the only in the last few years, with the advent of the latest generation of "dual-energy" CT scanners, that they have been able to "visualize" the interiors of mummies - virtually peeling away layers of wrappings, without causing any damage to the surface. The results of this latest research can prove to be startling. 

Starvation never takes a vacation --

"A CT scanner is a rotating X-ray machine that usually bombards one X-ray wavelength," Antoine explains. "For three of the mummies [in the exhibition], we used a dual-energy CT scanner, which can be set at two different wavelengths," John H. Taylor, a curator at the British Museum specializing in ancient Egyptian funerary archaeology. "That allows you to capture in great detail both the thicker parts as well as very thin parts such as bandages, skin and soft tissue. As a result, we are seeing things now that even three years ago we wouldn't have been able to see."

Taylor along with his colleague Daniel Antoine, the museum's curator of physical anthropology, are standing in the middle of Ancient Lives, New Discoveries, a new exhibition that they have brought together.

A good example of this is the mummy of Tamut, a high-ranking priest's daughter who lived in the early part of the 22nd Dynasty, perhaps about 900 BC. Discovered during the 19th Century, has been in the collection of the British Museum since 1891. Now one has been able to "see" inside its elaborately painted case made of layers of linen soaked in glue, which contains Tamut's mummified remains.

Various things was learned about how she was embalmed. Her hair was cut short, which suggests she wore a wig. For another, the arteries in her inner thighs were coated with fatty plaque deposits - a sign, perhaps, that she enjoyed a cholesterol-rich diet. Like the other adult mummies in the exhibition, Tamut also suffered from terrible dental health.

Her brain was extracted through her right nostril. Her fingernails and toenails were both covered with metal, perhaps gold leaf: "We weren't expecting to find that," Taylor says. "It links to an ancient Egyptian text that says you should put electrum [an alloy of silver and gold] on fingernails and toenails to convey new life, but that's the first time I've actually seen it on a mummy."

Using advanced software that can visualize the data gathered by powerful CT scanners, it was also possible to see a number of the magical objects that the embalmers placed on Tamut's skin and inside her torso. These include artificial eyes, amulets, and four figurines of the so-called Sons of Horus, who were placed within the chest cavity in separate bundles containing parts of her internal organs.
---
Copyright 2016 - Distributed by THE CALIFORNIA NETWORK
Pope Francis Prayer Intentions for NOVEMBER 2016
Universal:
Countries Receiving Refugees: That the countries which take in a great number of displaced persons and refugees may find support for their efforts which show solidarity.
Evangelization:
Collaboration of Priests and Laity: That within parishes, priests and lay people may collaborate in service to the community without giving in to the temptation of discouragement.
---
---
---

By Marshall Connolly (CALIFORNIA NETWORK)
Measure what is measurable, and make measurable what is not. This maxim from Galileo Galilei is part of the basis of modern science. The work of a scientist is to make things measurable and devise tests. Such a test has now been developed for a possible modification to ... continue reading
---

By Marshall Connolly (CALIFORNIA NETWORK)
What are the odds of the world coming to an end in any year? According to experts, those odds are more likely than most assume. LOS ANGELES, CA (California Network) - Experts have calculated the odds of global catastrophe and concluded there's a better chance of the ... continue reading
---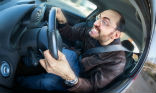 By Marshall Connolly (CALIFORNIA NETWORK)
It turns out you are the reason we can't have nice things. Mercedes Benz CEO, Deitmar Exler told people at AutoConference LA, that humans, not technology, are the reason why self-driving cars are not quite available now. LOS ANGELES, CA (California Network) - ... continue reading
---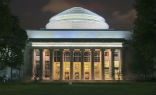 By Marshall Connolly (CALIFORNIA NETWORK)
Scientists at MIT are about to celebrate a 'Gold Mass' as a way to affirm the compatibility of faith and science. LOS ANGELES, CA (California Network) - There has been a long debate for the past few centuries over the compatibility of faith and science. Science deals ... continue reading
---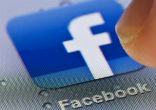 By Kenya Sinclair (CALIFORNIA NETWORK)
Mark Zuckerberg and Facebook CEO Mike Schroepfer unveiled the social media giant's 10-year plan - and you're not going to believe what they have in store! LOS ANGELES, CA (Catholic Online) - At the F8 conference, Zuckerberg and Schroepfer took the stage to announce ... continue reading
---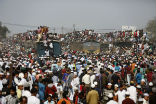 By Marshall Connolly (CALIFORNIA NETWORK)
Another day brings another warning from someone in the know that the robots are coming to steal your jobs. What will people do when all labor is performed by robots? How will people support themselves and feed their families? Elon Musk proposed universal basic income. ... continue reading
---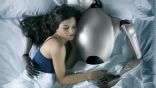 By Marshall Connolly (CALIFORNIA NETWORK)
The robot revolution is troubling enough with its anticipated impact on jobs. But there may be an even greater problem on the horizon. People are likely to fall in love with their robots. LOS ANGELES, CA (California Network) - What happens when your spouse starts ... continue reading
---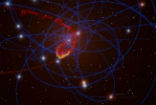 By Marshall Connolly (CALIFORNIA NETWORK)
There is a massive cloud of gas on a collision course with our galaxy, closing in at 700,000 MPH. What happens when this cloud arrives? NASA has the answer. LOS ANGELES, CA (California Network) - In 1963, a Dutch astronomer discovered a massive cloud of gas in space ... continue reading
---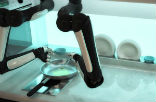 By Marshall Connolly (CALIFORNIA NETWORK)
Do you hate cooking, but love gourmet food? Then we have good news for you. The world's first robotic chef is coming to market and it can cook fully gourmet meals and even clean up after itself. LOS ANGELES, CA (California Network) - The world's first commercially ... continue reading
---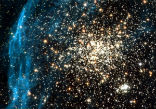 By Marshall Connolly (CALIFORNIA NETWORK)
Astronomers have discovered the 'galactic fossil' of the Milky Way. Known as Terzan 5, it is a 12.5 billion year-old globular cluster near the center of the galaxy. In addition to this knowledge, scientists made a remarkable second discovery. LOS ANGELES, CA ... continue reading
---
All Technology News